Retired headmaster Siddiqui: Nitish best CM in Bihar's history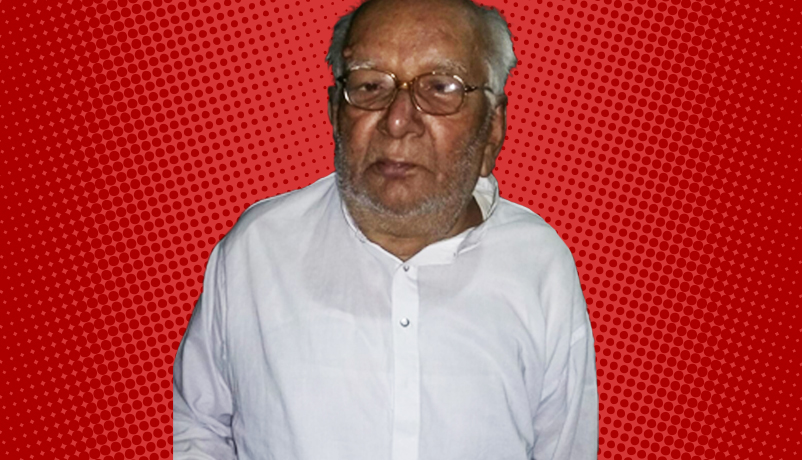 Elections are not just about politicians. They're about people and issues. And what will really drive their vote.
Catch is, therefore, starting a 'People of Bihar' series, which will daily capture what different impact groups across the state are feeling. This is true insight on the Bihar election: up-close and hyper-personal.
Tanweer Ahmad Siddiqui has remembers the moment of India's independence as a blurry but proud moment. He was nine years old at the time.
"We had to pay a great price for freedom. We got our beloved India, but it was divided into two and Pakistan took birth. The policies and politics weren't clear at the time. People who wanted to go to Pakistan went there and people who wanted to stay here, stayed," says the 77-year-old retired headmaster of Sasamusa High School, Gopalganj.
"Things haven't changed much. Now political parties pave the way for a casteist and communal agenda."
When India's literacy rate was only 28%, Siddiqui did a double MA. Being an educator, he understands its value very well.
"Education can change the whole scenario of politics. But then again, why aren't educated people joining politics? Just a look at our HRD minister [Smriti Irani] and we will get a clear picture where our country is heading. How can an intermediate degree holder change the education system of India?
"Earlier, we wanted to make India better. Now, [elections are] all about religion and caste"
"A country which had a visionary scholar like Maulana Abul Kalam Azad as its first education minister now has an intermediate degree holder, who has no clue about our history. She is planning the future for our coming generation. One can learn from experience, but education is altogether a different matter. To understand the education system one must have a high degree and an intellectual mindset."
Here's more from our conversation with him regarding the state of things in Bihar, with an eye on the assembly polls.
How much has Bihar changed in the 68 years since Independence?
It has changed drastically. From infrastructural changes like roads and buildings, to lifestyle and the standard of living; from financial changes and education to electricity - Bihar has changed a lot.
In addition, I believe casteist and communal politics have gone to an all time high. Earlier, we wanted to make India better. Now, it's all about religion and caste.
You have seen all 23 chief ministers of Bihar - from SK Sinha to Nitish Kumar. Who according to you has been the best?
Earlier, the development work was static or very slow, because India was not aware of its problems. Bihar was nowhere to be seen, compared to other states.
But, under Nitish Kumar, Bihar took a huge leap in terms of development. In my view, he has been the best CM for Bihar. See the work he has done. See the roads, schools, electricity and safety issues that he has tackled so efficiently.
What's your view on caste-based politics in Bihar?
It only became an issue around the 1990s. Caste and religion-based politics got set in concrete around that time. Now the scene is so bad that elections start with casteism and end up taking a communal shape in no time.
How safe Bihar is for senior citizens?
There are no special facilities for senior citizens here but yes, they are safe here. In any case, what does a senior citizen want? Social respect and a timely pension.
What's your dream for Bihar?
I dream of a Bihar where there is no poverty, no illiteracy and no crime. I just want the plans and schemes which lie buried in files to be implemented.
Even 68 years after independence, there are areas which desperately require schools and hospitals.
All I want is a happy and prosperous India.
Also read: Bihar's Brahmins ask: why is our vote taken for granted?
Dalit PhD student Krishna: 7/10 for Nitish, 3/10 for Modi
An ATM guard who's always with a book, and why he'll vote NOTA
Banka Silk founder Udayan Singh wants a third term for Nitish
Graduate Azra feels Modi isn't inclusive enough to vote for
Whoever comes to power must create jobs: front-office boy Divyanshu
Nitish is a better leader than Modi: Student politician Zeeshan
Nitish has ruined his chance by joining Lalu: Lakshmi, graduate, Muzzafarpur
There's little to choose between Modi and Nitish: wannabe cop Vinit argues for NOTA
Lawyer Indira Sharma: Nitish started well, but has now lost his mind
Farmer Ali Ashraf: 'Dadri is jungle-raj. I don't want that in my state'
Researcher Sunita: don't like BJP but today's Nitish is worse
Social worker Munna Jha: no matter what surveys say, I'll vote for Nitish
Madrasa student Ahmed: Modi's promises fake, I'll vote for Nitish
Entrepreneur Imran: give BJP a chance to prove secular credentials
BCA graduate Manish gives Modi a 10/10. Find out why he's not voting Nitish
Farmer Pawan Yadav is angry with Lalu, but may still vote for him
Left activist Vineet: grand alliance lesser of two evils
Unskilled worker Ajeet: no interest in politics, but will vote Nitish
PhD student Tejee: I don't want development with riots in Bihar