Punjab polls: Badal races against time to shower sops on voters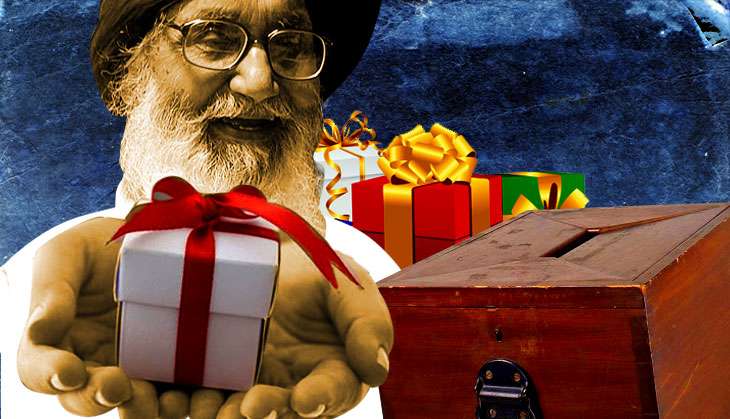 For Shiromani Akali Dal (SAD) chief minister Parkash Singh Badal, it is now a race against time.
Battling heavy anti-incumbency ahead of the forthcoming assembly polls, he is trying to shower sops on the electorate with the hope of wooing them into supporting the Akali-BJP combine government and vote them into office for a third successive time.
The concessions
Over the last few weeks, Badal has been working overtime giving away sops and making emotive announcements, trying to make the best use of the time he has before the Election Commission of India (ECI) implements the model code of conduct.
Also read - Swaraj India to test Punjab's political waters and push for a third front
The most major announcement that Badal has made has come on the eve of Diwali: his government has decided to regularise the services of over 30,000 employees working on contract, adhoc or as daily wagers in various government departments, boards, corporations and societies across the state.
Not a new tactic
Regularising a large number of employees is something that the Badal administration has done in the past. During his previous tenure, Badal regularised 45,000 employees.
The Akalis are playing up this move while alleging that no such regularisation of jobs was done by the Congress government headed by Captain Amarinder Singh during its 2002-2007 tenure. On the contrary, they are conveying that the Amarinder government had slapped a blanket ban on fresh recruitment and regularisation. Even posts that became vacant when employees retired were scrapped or allowed to lapse so that they could not be filled even at future date.
Both Badal and his deputy Sukhbir Badal have said that these contractual employees had come to the aid of the government when the government required their services at a short notice and have been working diligently and conscientiously since then.
'Adopting workers'
In another significant decision, the government has decided to "adopt" all the employees who have been taken through private outsourcing agencies or contractors. These employees will no longer be on contract with the private contractors but would be shifted straightaway to a direct arrangement with the government.
"They now become government's own contractual employees and will be eligible to benefits which were normally available to other contract employees in their respective categories," said a government spokesperson.