Punjab polls: Badal races against time to shower sops on voters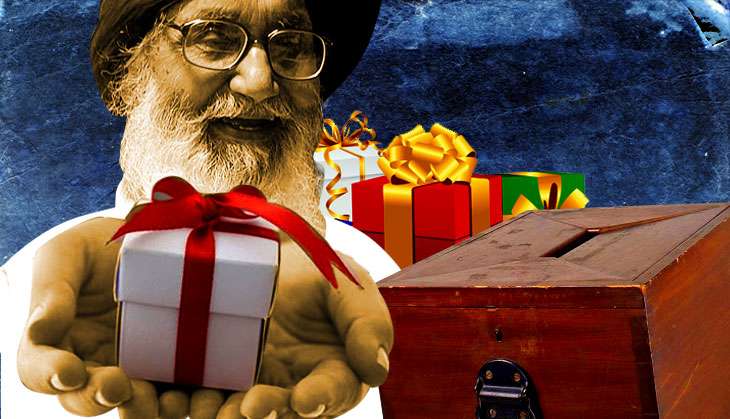 For Shiromani Akali Dal (SAD) chief minister Parkash Singh Badal, it is now a race against time.
Battling heavy anti-incumbency ahead of the forthcoming assembly polls, he is trying to shower sops on the electorate with the hope of wooing them into supporting the Akali-BJP combine government and vote them into office for a third successive time.
The concessions
Over the last few weeks, Badal has been working overtime giving away sops and making emotive announcements, trying to make the best use of the time he has before the Election Commission of India (ECI) implements the model code of conduct.
Also read - Swaraj India to test Punjab's political waters and push for a third front
The most major announcement that Badal has made has come on the eve of Diwali: his government has decided to regularise the services of over 30,000 employees working on contract, adhoc or as daily wagers in various government departments, boards, corporations and societies across the state.
Not a new tactic
Regularising a large number of employees is something that the Badal administration has done in the past. During his previous tenure, Badal regularised 45,000 employees.
The Akalis are playing up this move while alleging that no such regularisation of jobs was done by the Congress government headed by Captain Amarinder Singh during its 2002-2007 tenure. On the contrary, they are conveying that the Amarinder government had slapped a blanket ban on fresh recruitment and regularisation. Even posts that became vacant when employees retired were scrapped or allowed to lapse so that they could not be filled even at future date.
Both Badal and his deputy Sukhbir Badal have said that these contractual employees had come to the aid of the government when the government required their services at a short notice and have been working diligently and conscientiously since then.
'Adopting workers'
In another significant decision, the government has decided to "adopt" all the employees who have been taken through private outsourcing agencies or contractors. These employees will no longer be on contract with the private contractors but would be shifted straightaway to a direct arrangement with the government.
"They now become government's own contractual employees and will be eligible to benefits which were normally available to other contract employees in their respective categories," said a government spokesperson.
The Badal cabinet has also directed the chief secretary to ensure that all the cases related to employment on compassionate grounds in all departments should be decided and disposed off on priority within a period of three weeks.
Special recruitment drive
In another land-mark decision, the state cabinet has decided that the entire backlog of posts related to all reserved categories which include scheduled castes, backward classes, physically handicapped should be immediately filled up through a special recruitment drive.
Badal has intervened to ensure that the employees are given benefits of the services they have already put in and must not be taken in as fresh recruits. They will be given pay protection and will be allowed to draw pay equivalent to the last pay drawn by them.
Aiding war widows
In yet another sop announced by Badal, the Punjab government has approved the special grant-in-aid of Rs 50 lakh to be given to the war widows or their legal heirs, of the valiant soldiers who had laid down their lives in the 1965 and 1971 Indo-Pak wars and 1962 Indo-China war.
A policy in this regard had been announced in 1975 and over 1,500 war-widows who had applied in time had been allotted up to 10 acres of rural agricultural land or cash equivalent in lieu of land at the rate notified from time to time.
However, there were nearly 100 cases in which the applicants, for one reason or another had failed to apply within the stipulated cut-off date. Above 100 such cases had applied till the extended cut-off date of 4 January 2010.
The residual agricultural land available for allotment was either locked in litigation or was under unauthorised possession, which rendered it practically impossible for the war-widow allot tees to take over possession of the land.
Therefore, keeping in view the demands of war-widows and their representatives, the state cabinet decided to honour the remaining duly verified and deserving cases of war widows with the cash grant. The grant would be payable in three half yearly installments of Rs 20 lakh and Rs 15 lakh twice.
Memorials and education
The education department has also completed the recruitment process of 4,560 master cadre and 2005 elementary trained teachers. According to education minister Dr Daljit Singh Cheema, the Akalis have recruited 84,000 teachers during their nine-year regime.
Badal is also continuing with his inauguration spree and announcing memorials across the state. He recently dedicated the newly-built heritage street from Townhall to Sri Harmandir Sahib besides a magnificent entrance gate under the Amritsar beautification project.
Having already dedicated memorials like Virasat-E-Khalsa, Chotta and Wada Ghallughara, Baba Banda Singh War Memorial, and State War Heroes Memorial and Museum recently, Badal would be inaugurating ang-E-Azadi Memorial, Baba Jeevan Singh (Bhai Jaita Ji) Memorial, Guru Ravidass Ji Memorial and Bhagwan Valmiki Sthal in the days to come.
Sops for farmers
Not forgetting the crucial segment of farmers who are, at present, annoyed with the present regime, Badal has recently announced the creation of a price stabilisation fund with the purpose to save them from sheer exploitation while selling of their crops in the open market.
He said that this step would result in a self-sustaining mechanism to ensure better remunerative prices to the peasantry for their produce besides offering marketing support to offset the negative impact of marketing forces.
Badal has also approved appointment of educated farmers and commission agents on the state level Agricultural Debt Settlement Tribunal and district level debt settlement forums to ensure fool-proof and efficient implementation of "The Punjab Settlement of Agricultural Indebtedness Act 2016".
The chief minister has directed the authorities at Punjab State Power Corporation Limited (PSPCL) to clear the backlog of general category tube well connections pending since 1992 at the earliest. He has the officials to immediately release the tube well connections under priority category of farmers owning 2.5 acres and five acres. Badal has also called for issuing tube well connections for farmers having land across the international border fence on the top priority.
No criticism over sops
The announcement of sops is something that even the opposition cannot criticise. In fact, it has given way to competitive populism.
Amarinder came out welcoming Badal's decision on regularisation of employees. "Better late than never," he said while saying that the decision was long overdue. "I had promised to regularise all contractual employees as soon as I came to power but I am happy to see that they have been given their due just a few days before Diwali," he added.
Amarinder said that even if it is in view of the upcoming assembly elections, the Badal government has finally seen sense. He described the development as a victory for the contractual employees who had for long been agitating for regularisation.
The Aam Aadmi Party (AAP) on its part has come out with the promise to reintroduce old pension scheme in Punjab that was discontinued from January1, 2004.
"After coming to power we will withdraw the new pension scheme which was introduced after the year 2004 and will revert to the old pension scheme for the benefit of the employees," said AAP's state convener Gurpreet Singh Waraich.
He said the old pension scheme would benefit employees of nearly 46 departments of the state government who are over 1,15,000 in number. Of these nearly 20,000 beneficiaries are from Punjab Police department.
Waraich said the old pension scheme was more beneficial for the employees due to its various facilities such as commutation of pension, retirement gratuity, death gratuity, service gratuity, leave encashment, family pension and group insurance.
More in Catch - Punjab polls: Drugs, paid news and halqa in-charges main threats, says EC
Kejriwal sells Delhi model in Punjab. Congress, Akalis not impressed