Opposition Unity Exposed: Trinamool Congress, BSP, AAP to skip Congress-led anti-CAA, NRC meeting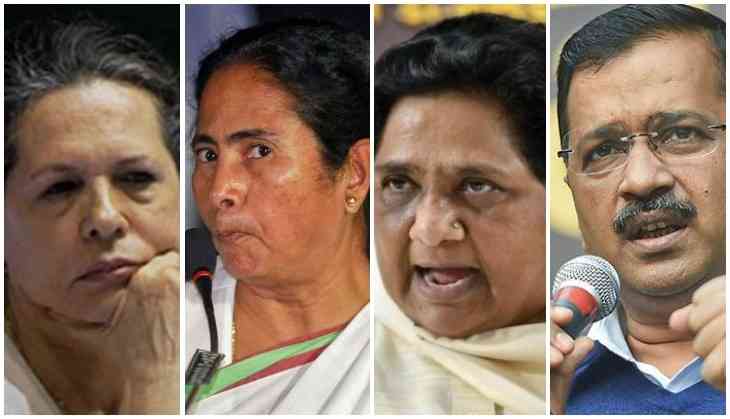 The Opposition parties will be meeting on Monday at around 3 pm to chalk out strategies against the Citizenship Amendment Act (CAA) and National Register of Citizens (NRC).
Bahujan Samaj Party(BSP), Mamata Banerjee's Trinamool Congress(TMC) and Aam Aadmi Party (APP) will not join the meeting, which has 'exposed' the unity of Opposition parties.
The agenda of the Congress president Sonia Gandhi-led meeting will be to formulate a joint strategy against CAA, NRC and 'police brutality' on students.
Taking to Twitter BSP Supremo Mayawati said: "Despite of support of the BSP to the Congress-led Rajasthan Government, it (Congress) has broken the BSP MLAs for the second time and added them in the party which is completely unfaithful."
"In such a situation, BSP's joining in the meeting called by the opposition today under the leadership of Congress will be demoralizing the morale of the party workers in Rajasthan. Therefore, BSP will not attend this meeting, " she added in another Tweet.
However, Mayawati said, BSP is against CAA and NRC. There is again an appeal to the Central Government to withdraw this divisive law and unconstitutional law.
It is unfortunate to politicize students in JNU and other educational institutions, she added.
The Arvind Kejriwal-led AAP, which will be contesting the Delhi Assembly Polls in February against the BJP, will also be not sharing the dais with the Congress and other Opposition parties.
Speaking to the news agency, ANI, senior AAP leader, and Rajya Sabha MP Sanjay Singh said, "We have no information about any such meeting. So, makes no sense to attend a meeting we have no information about."
Apart from BSP and AAP, the West Bengal ruling party TMC will not be part of the meeting.
As per sources, Mamata Banerjee, who has been very critical to Modi govt and its policies, including the newly enacted Citizenship Law, will not be attending the Sonia Gandhi-led meeting to chalk out strategies against CAA, NRC, and NRP.
The meeting will also hold a discussion on the current political situation in the country.
After Mamata led TMC, Mayawati's BSP and AAP's refusal to join the meeting, Congress' new alliance in Maharashtra Shiv Sena is expected to attend the meeting.
The Left, Nationalist Congress Party(NCP), Dravida Munnetra Kazhagam (DMK) and the Rashtriya Janata Dal(RJD) are likely to attend the meeting against the Narendra Modi-led BJP govt's policies.
Also Read: Left-Wing violence in campuses: Over 200 academicians write to PM Modi