Nitish's next Grand Alliance is with prohibition campaigners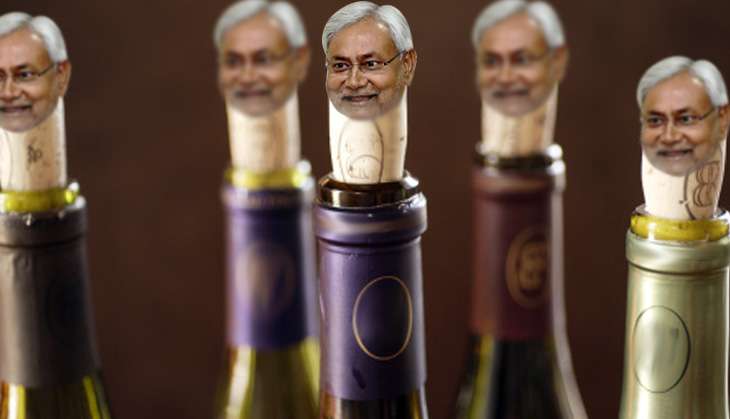 After failing to stitch-up Bihar-like grand alliances in other states like Assam and Uttar Pradesh, Bihar Chief Minister Nitish Kumar appears to have resorted to an alternate plan. His prohibition-drive is cloaked as a social movement and the JD(U) president is trying to expand it from his home-state to an all-India level. The objective is to create a nation-wide space for himself on a plank that appeals to many across the country.
In the last two months after the declaration of prohibition in Bihar, Kumar has toured several states as part of his prohibition drive. On these visits, he has aligned himself with individuals and organisations that have been running anti-alcohol campaigns for several years. In the months to come, he plans to continue this campaign, hoping that close to the next Lok Sabha elections it will become a major national movement that will propel him at the centre of an anti-BJP alliance.
Also read - Cheers! Jayalalithaa joins prohibition bandwagon. But can she afford it?
Prohibition is already the hottest issue in Bihar, with the state government said to be going all-out to strictly implement it. Police raids to seize alcohol have become commonplace. With the Patna High Court recently ruling that mere possession of alcohol was not illegal, the government is reportedly mulling making the concerned law more stringent to plug such loopholes. JD(U) leaders claim that the movement has empowered women so much that they are showing courage to report their alcoholic husbands to the police.
Possibly excited at its prospect of gaining huge traction, JD(U) has decided to take the prohibition drive to other states, in collaboration with local players. From Uttar Pradesh to Rajasthan and from Uttarakhand to Maharashtra, here is a look at some individuals and associations in various states with whom JD(U) has aligned.
Jharkhand
Bihar's neighbouring state was the first one to show interest in this drive, thanks to JD(U)'s workers in Jharkhand as well as the former Chief Minister of the state, Babulal Marandi. Marandi has allied with Kumar and may eventually merge his Jharkhand Vikas Morcha with JD(U). The coal-town of Dhanbad was the venue of the first prohibition event in which Kumar participated outside Bihar.
शराबबंदी के लिए आयोजित कार्यक्रम का झारखंड नारी संघर्ष मोर्चा के सदस्यों से निमंत्रण पात्र प्राप्त करते हुए. pic.twitter.com/EsMs1f9q7m

— Nitish Kumar (@NitishKumar) April 27, 2016
Uttar Pradesh
Kumar has appeared at two events in Uttar Pradesh in this period, at Lucknow and at Pindari near Varanasi, where he has dared the Samajwadi Party government in the state as well as the NDA government at the centre to impose prohibition. A JD(U) leader told Catch they were invited to UP by an organisation called Kisan Manch that claims to be inspired by former prime minister VP Singh.
Kumar has another gathering scheduled in Mirzapur on 18 June.
Rajasthan
Kumar has been invited to at least two prohibition-related events in Jaipur and Alwar. In Jaipur, the invitation is from Pooja Chhabra, daughter-in-law of former MLA Gursharan Chhabra who died after sitting on a long fast demanding imposition of prohibition in the state. Pooja now runs her father-in-law's campaign.
पूजा छाबड़ा जी द्वारा राजस्थान में पूर्ण शराबबंदी व सशक्त लोकायुक्त क़ानून लागू कराने हेतु उठाये गए कदम सराहनीय हैं. pic.twitter.com/w9TVGn5wDa

— Nitish Kumar (@NitishKumar) May 9, 2016
Kumar has also been invited to Alwar by an organisation called Gulabi Brigade. According to the JD(U) leader, the Brigade is a group of vigilante women who have physically attacked and destroyed liquor shops in at least 50 villages in Rajasthan.
Another organisation associated with Vinoba Bhave and Jayaprakash Narayan's Sarvodaya movement also wants Kumar to campaign for prohibition in the state.
Maharashtra
Kumar has been invited by women belonging to the ashram set up by Mahatma Gandhi in Wardha near Nagpur. Some followers of Mahatma Jyotiba Phule and his wife Savitribai Phule have also invited him. Kumar also claims that women activists in Chandrapur have successfully campaigned for imposition of prohibition and they went all the way to Patna to thank Kumar and pledge to run an agitation across Maharashtra.
श्रमिक एल्गार ग्रुप की महिलाओं ने बिहार में शराबबंदी पर बधाई व महाराष्ट्र में शराबबंदी कार्यक्रम का आमंत्रण दिया. pic.twitter.com/NrYNPbWuoO

— Nitish Kumar (@NitishKumar) May 9, 2016
Uttarakhand
The JD(U) leader also said that some tribal women in Tehri Garhwal are also running a prohibition campaign there and want Kumar to visit them too.
Odisha
According to the JD(U) leader, prohibition campaign was so strong in Odisha that legendary former Chief Minister Biju Patnaik was once gheraoed by 10,000 women demanding a ban on alcohol. JD(U) believes this state also has fertile ground for a large movement.
More in Catch - Nitish declares prohibition in Bihar. Is it worth the cost and effort?
Uttar Pradesh: Liquor sales increases in Ballia district after prohibition in Bihar