Nitish Kumar reacts to Aam Aadmi Party's mega victory in Delhi polls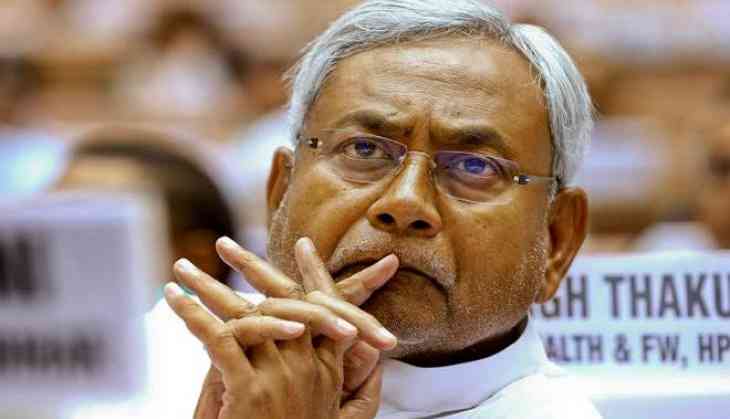 Bihar Chief Minister Nitish Kumar on Tuesday bypassed questions on the results of assembly elections in Delhi, where the coalition consisting of his party JD(U), BJP and LJP has been battered by the Aam Aadmi Party, with a blunt remark will of the people is ultimate.
Janta malik hai, said Nitish Kumar with his hands folded above his head as he strolled past a group of reporters tossing questions on the sidelines of a function where he unveiled a statue of Deen Dayal Upadhyay.
The JD(U) had contested in two assembly constituencies in Delhi's Burari and Sangam Vihar.
Notwithstanding the fact that the JD(U) has never been a key player in Delhi, the current elections were notable because it was the first time that the BJP chose to take its smaller allies in Bihar along to take on the huge challenge posed by Aam Aadmi Party.
The tie-up in the national capital had been disapproved by JD(U)'s Pavan Varma, who aired his views in the open and faced the axe.
Similar was the destiny of Prashant Kishor whose position in the JD(U) had become increasingly insupportable because of his collaboration with Arvind Kejriwal in the capacity of an election strategist.
A discontented Kishor has threatened to visit Patna after the situation settles in Delhi and disclose his future strategy, apart from exposing the chief minister.
The stagnant opposition in Bihar, led by RJD with the Congress as a major ally, is likely to undergo a burst of vigour on account of the results in the national capital, regardless of their poor performance.
However, the development is likely to be accepted with a sence of solace by the JD(U) as the party will now be more hopeful that Kumar's critics in the BJP will be kept on a leash.
Following the Lok Sabha elections in 2019, many BJP leaders in the state had started to make comments that tie had come for the saffron outfit to stake claim for the chief ministerial post, as a result of that threatening to end the alliance with the JD(U).
A lid was, however, put on the controversy with repeated assertions by Union Home Minister Amit Shah, that Nitish Kumar will head the NDA charge in the assembly elections.
Nevertheless, JD(U) sources say that a better than expected result in the national capital could have encouraged Nitish baiters in the BJP and not augured well for the ties between the two parties, re-stitched with thin threads in the wake of the recent acrimony that continued for a four year period during which the chief minister remained outside the NDA and pledged to make a 'Sangh mukt Bharat'.
Also Read: AAP's Amanatullah Khan takes a dig at Amit Shah over Shaheen Bagh, says 'current laga diya'
Also Read: Delhi Election Results: 'We accept poll results and congratulate Arvind Kejriwal,' says Gautam Gambhir