Navjot Sidhu's dilly-dally adds to confusion in Punjab politics, BJP-SAD slam his 'self interest'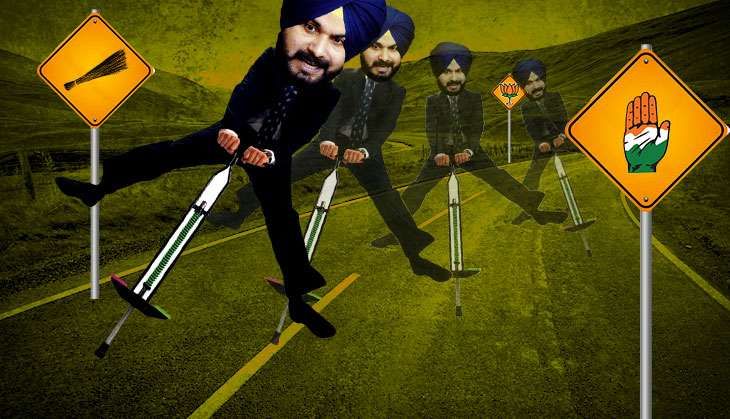 Cricketer-turned-politician Navjot Singh Sidhu dilly-dallying over whether he will join the Congress or the Aam Aadmi Party (AAP) is adding to the chaos and uncertainty in Punjab's political scenario.
The most affected are the parties and groups who want to cobble together a united front that can take on the three key players - AAP, Congress and Shiromani Akali Dal (SAD)-BJP combine - in the forthcoming Assembly polls. Also on the fence are, for the time being, those who presently stand with Sidhu.
And amidst all this confusion the Bains brothers (Balwinder Singh and Simarjeet Singh) have announced the Lok Insaaf Party even as they continue to be a part of the Awaaz-e-Punjab forum floated by Sidhu along with former hockey Olympian Pargat Singh.
According to reports, the Bains brothers, who are independent MLAs in the present State assembly, had already applied to the Election Commission of India for getting their party registered even before the drama over Sidhu's resignation from the BJP started unfolding.
They are well entrenched in Ludhiana and claim to be having the support of local-level leaders there.
They have also said that the final decision over which way Sidhu will go will be taken only after Diwali. For now, Awaaz-e-Punjab remains a broad-based political forum.
Picking sides
Observers say that unlike Sidhu and Pargat, who are looking for a political destination for themselves and are expected to go together to whichever party they decide upon, the Bains brothers do not need to align themselves with any political force.
They are very clear in their outlook and would be demanding tickets for both of them even if they ally with any political party.
But, this would be a problem in the Congress where the State President Captain Amarinder Singh has till now been saying that there will be only one ticket per family.
The same would hold true for Sidhu in case of the Congress as it is unlikely that both him and his wife, Navjot Kaur, who also recently quit the party, would get tickets to contest the Assembly polls.
Sources say that there are chances that Sidhu might not contest the Assembly polls for now and stick to campaigning for the Congress. He might contest Amritsar Lok Sabha by-poll if Amarinder vacates the seat after the Assembly polls.
Among different hypothetical scenarios being discussed, one states that Congress might also offer Sidhu a Rajya Sabha seat.
Adding to the confusion
Meanwhile, Amarinder has chided his rival and his predecessor Partap Singh Bajwa for his continuous Sidhu rants saying that this must be stopped as it adds to the confusion.
Over the last few days, Bajwa had been giving statements on Sidhu's possible inclusion in the Congress. Sources said that things took the turn for a worse when a series of tweets from a fake account in the name of a senior journalist went on to suggest that Congress president Sonia Gandhi and Vice President Rahul Gandhi were upset with Amarinder.
Observers say that in case Sidhu decides to go the AAP way, he would try to extract a hard bargain for himself.
Left in a lurch
Meanwhile, as the situation regarding the Sidhu couple and their associates remains fluid, the worst hit are smaller forums and groups who want to stitch together a united front.
People like Dr Dharamvira Gandhi who has floated a political front lately, Succha Singh Chhotepur who formed Aapna Punjab Party (APP), Swaraj Party, Swaraj India and other smaller groups have said in the past that they would want Awaaz-e-Punjab to be a part of a larger conglomerate.
But till Sidhu takes a final call, this conglomerate also remains in its infancy.
The AAP leadership has been saying that it would want Sidhu to join its ranks unconditionally. Despite Sidhu having called an anarchy in the garb of democracy, the party is keen to have him as it desperately needs prominent Sikh faces in Punjab. AAP leadership has also been saying that Sidhu has a clean image with no history of corruption.
Both AAP and the Congress want Sidhu as he can turn out to be a star campaigner and a crowd puller. They want to cash in on his clean image despite the fact that Sidhu has never taken a clear political stand on any of the issues concerning Punjab.
Hammer & tongs
Meanwhile, it is the SAD leadership that has been hammering at Sidhu on daily basis. It has also been using the desperation being shown by the Congress and AAP to woo Sidhu to carry out scathing attacks on these two parties.
Senior Akali leader Mahesh Inder Singh Grewal has stated that the Congress and AAP efforts to woo a 'political deadwood' Sidhu only reflects on their desperation in face of an impending humiliating defeat in the ensuing Assembly polls slated for next year. These parties are desperately hoping that Sidhu will bail them out from troubled waters.
Taking pot shots at the two parties Grewal wondered why Sidhu and his Awaz-e-Punjab have become crucial saviors for the Congress, which is over 130 years old and has ruled the country for a maximum number of years, or even for AAP, which even though being very new, aspires to become pan-India in the shortest time.
"Has Sidhu talked about any program or vision for Punjab or its people? Has Sidhu discussed what the new government would do for farmers or traders? Are there any ideological differences on national or state issues coming in way of alliance or understanding with the Congress and AAP ?" asked Grewal .
Saying that for Sidhu it is just "I, me and mine" first, Grewal said that Sidhu's whole focus is first on deciding whether he or his wife will be offered the deputy chief ministerial post or not.
Grewal has also hit at Amarinder for his flip flops on Sidhu. "Is it not strange that Amarinder had initially welcomed Sidhu in by saying that Sidhu's father was in the Congress and it would be his natural choice but subsequently derided him dubbing his Awaz-e-Punjab as a tonga party and him a clown. Why is he again taking a complete U-turn? And why should Sidhu look up to the Congress after facing such humiliation at Amarinder's hands?" he asked.
Even Chief Minister Parkash Singh Badal has been attacking Sidhu persistently saying that rather than pursuing the politics of opportunism by negotiating favorable deals with the political parties, the former BJP MP should better sit at home.
Saying that Sidhu is non-decisive about joining any party because he is trying to strike a deal which suits his own interest best, Badal has been saying that people who have no stand on any issue are bound to go into political oblivion.
He recently said that wise people of the state are totally against those who ditch their mother party and would teach Sidhu a befitting lesson. He said that the person who has backstabbed his mother party can never be sincere to the people.
Edited by Jhinuk Sen
Also read: Amarinder meets Rahul Gandhi, insists no discussions on Sidhu joining Cong
Also read: SC asks Navjot Sidhu to face trial in 2009 LS polls case
Also read: No discussion over Sidhu's Awaaz-e-Punjab's merger with Congress: Amarinder Singh
Also read: Navjot Sidhu is a 'human bomb', he'll 'explode' after joining Congress: Sukhbir Singh Badal