Mulayam sheds his ideals, fields son of Ranvir Sena founder
N Kumar
| Updated on: 13 February 2017, 5:16 IST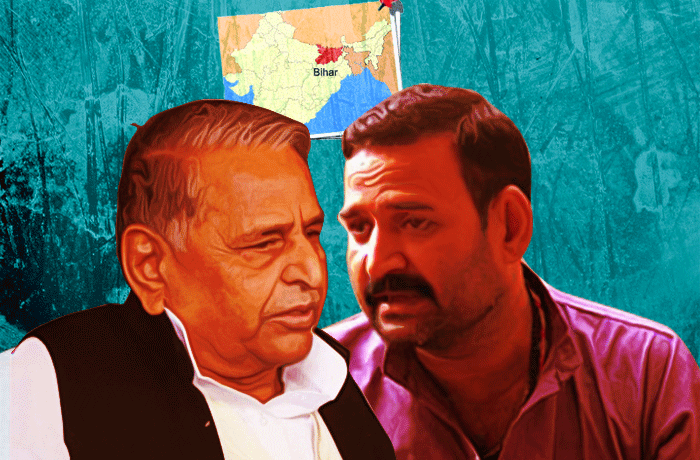 The deviation
SP has given a ticket to the son of Ranvir Sena founder Brahmeshwar Mukhia
Ranvir Sena is involved in several massacres of Dalits
Clearly, SP has forgotten its ideal of social justice
The candidate
Mukhia\'s son Indu Bhushan Singh is openly pro-BJP
By fielding him, SP seems to be invoking Mukhia\'s legacy
More in the story
What does Mulayam Singh Yadav really want?
Who is Indu Bhushan Singh
Taking political about-turns appears to have become a habit with Samajwadi Party chief Mulayam Singh Yadav. Yadav, who claims to be a follower of Ram Manohar Lohia's principles of social justice and equality, appears to have forgotten all that he learnt from him.
Mulayam's party has given a ticket to the son of Ranvir Sena founder Brahmeshwar Mukhia for the upcoming Bihar Assembly elections.
Mukhia's son, Indu Bhushan Singh, will be contesting from the Tarari Assembly constituency. Tarari is in Arrah district, where Mukhia hailed from. It was in Arrah that Mukhia was gunned down in 2012. It is evident the the SP is trying to cash in on Mukhia's popularity in the area.
Singh is considered the de-facto heir of his father's controversial legacy.
Mulayam's gameplan
Critics say that the SP has deviated from its core principles by invoking the Bhumihar warlord's legacy.
JD(U) General Secretary KC Tyagi said that the SP will gain nothing by fielding Mukhia's son. "SP and their allies are non-entities in the Bihar elections. It makes no difference whom they give tickets to," Tyagi said.
Mukhia's son Indu Bhushan Singh is openly pro-BJP. Yet the SP has given him a ticket
It is believed that the SP's sole aim in the elections is to defeat the Grand Alliance of the RJD, JD(U) and the Congress. He has joined hands with Lalu Prasad's bete noire Pappu Yadav and has even deputed his son, Uttar Pradesh Chief Minister Akhilesh Yadav, to campaign against the Grand Alliance.
His nephew, Mainpuri MP Tej Pratap Yadav, will also be campaigning in the state, even though he is married to Lalu's youngest daughter.
Who is Indu Bhushan Singh?
Singh had contested the Lok Sabha elections from the Patliputra constituency. There was speculation that this was Lalu's way of splitting Bhumihar votes to ensure the victory of his daughter Misa Bharti. But this didn't work out and his friend-turned-foe Ram Kripal Yadav rode to victory on a BJP ticket.
During his Lok Sabha campaign, Singh was quite open about being "a BJP supporter at heart, irrespective of which party fields him". Yet the SP, which claims to be anti-BJP, had no qualms in adopting him.
Tarari is one of the high-profile seats in the Bhojpur region. It was represented by JD(U) strongman Sunil Pandey, who was arrested a few months ago.
The BJP shied away from fielding Singh, despite his professed loyalty to the party. This could be due to the fear of a backlash from Dalit voters.
Ranvir Sena's bloody past
The Ranvir Sena's bloody history is well known. It conducted several massacres of Dalits through the late 1990s. The most gruesome massacre was in in 1997 when 61 Dalits were butchered in Lakshmanpur Bathe in Jahanabad.
It hit the headlines recently after a Cobrapost expose alleged that BJP leaders like Sushil Modi tried to scuttle the probe into the massacres.
There are allegations that the Ranvir Sena was behind the gangrape of six Mahadalit women in Bhojpur's Kurmuri Bazar, some months ago.