Modi helps Shivpal's son-in-law get out-of-turn transfer. What's the deal?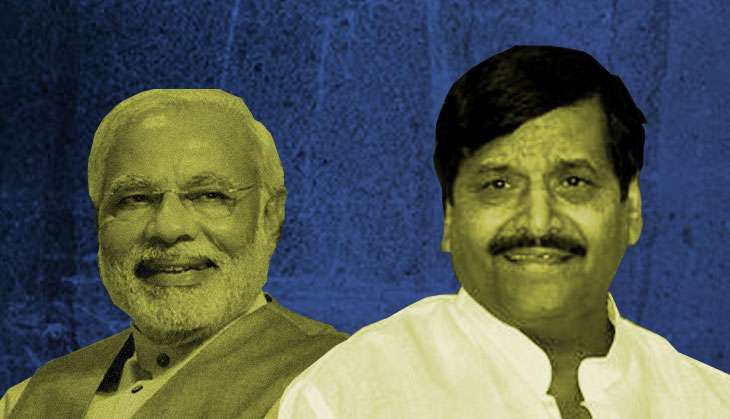 On 28 October 2015, the Appointments Committee of the Cabinet "approved the proposal for inter-cadre deputation of Ajay Yadav, IAS from Tamil Nadu cadre, for a period of three years on personal grounds, in relaxation of policy, as a special case".
It is pertinent to point out that before the Appointments Committee of the Cabinet, which is normally headed by the Prime Minister, relaxed cadre deputation norms, the Centre's department of personnel and training (DoPT) had thrice turned down Ajay Yadav's request to send him to his home cadre of Uttar Pradesh on deputation for three years.
Also read - Brother against brother: Mulayam backs Akhilesh, shatters Shivpal's dream again
The DoPT policy makes the eligibility criteria for cadre deputation unambiguous. The rule for inter cadre deputation says, "Inter cadre deputation will be available to the officers only after completion of nine years of service in his or her cadre and before reaching Super Time Scale in his or her home cadre."
A 2010 batch officer, Ajay Yadav did not meet this criteria yet he wanted to move to Uttar Pradesh. So who is this Ajay Yadav, who was then posted as joint commissioner, commercial tax, in Coimbatore and why did the PM himself overrule the DoPT?
The connection
Ajay happens to be married to the daughter of Mulayam Singh Yadav's younger brother Shivpal Yadav, UP's minister for PWD. Shivpal himself wrote to Prime Minister Narendra Modi requesting inter-cadre deputation for Ajay.
V. Sheshadri, director in the prime minister's office, refers to Shivpal's letter in his communiqué to the DoPT dated 26 August, 2015. Sheshadri's note says, " A copy of the self-explanatory letter of UP minister Shivpal Yadav in regards to the inter cadre deputation of Ajay Yadav, which is addressed to the prime minister, is being attached for necessary action."
Shivpal's letter coincided with Ajay Yadav's letter of 25 August, 2015, to the secretary, DoPT, for his cadre deputation request to be reconsidered on personal grounds. Subsequent to these two letters the under-secretary to the government of India, Pankaj Gangwar, issued an office memorandum asking the director, DoPT, to immediately send Ajay Yadav's report to the ACC.
Ajay Yadav first wrote to the secretary, DoPT, for inter cadre deputation on 7 November, 2014, citing personal issues. As his home state's permission was also required, he had marked a copy to the chief secretary, government of UP. With Ajay Yadav's father-in-law being a powerful minister in the ruling dispensation, it's hardly surprising that the permission was promptly granted on 1 December 2014.
A meeting of the DoPT committee was held under the chairmanship of secretary, Mr Sanjay Kothari, on 14 January 2015 to consider the cases of inter cadre deputation/inter cadre transfer requiring relaxation of provision(s) of the guidelines. Out of seven, Ajay Yadav's was case number two on the list.
The officer had requested inter cadre deputation from Tamil Nadu to Uttar Pradesh on the grounds that he was blessed with a baby in a hospital at Lucknow. The child, the officer said had to be referred to AIIMS, New Delhi, after developing "serious health complications". He also mentioned that his father passed away on 15 September 2014 and that he was "duty bound to give proper medical attention to his child and take care of his mother who is staying alone in home town of Saharanpur".
While rejecting his request, the DoPT committee said, "The officer being of 2010 batch has not completed minimum 9 years period in his parent cadre. As such the proposal for his inter cadre deputation to Uttar Pradesh cadre is not covered under the policy...The committee observed the grounds quoted by the officer were very general in nature which does not justify for consideration of his request...In view of this, the committee decided not to recommend the case of the officer for inter cadre deputation..."
He made another request on 4 June, 2015 which too was turned down.
All that changed after Shivpal's letter to the PM. Ajay Yadav's request was granted and the UP government posted him as district magistrate, Barabanki, barely 25 kilometers from his sasural in Lucknow.
Did PM grant Shivpal a favour expecting one in return during the monsoon session of parliament? It will be clear very soon.
More in Catch - Family drama: Uncle Shivpal skips Akhilesh's cabinet expansion
Mathura violence: IPS Amitabh Thakur blames Shivpal Singh Yadav, 'lust for money' for clashes