Mamata tears into Modi at UP rally, asks masses to fight 'notebandi' with 'votebandi'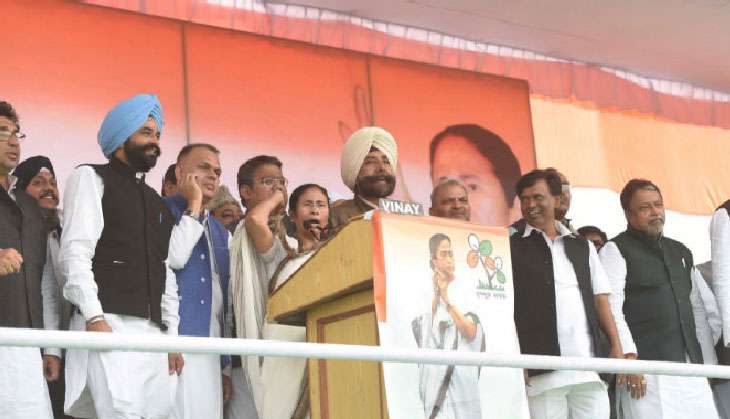 Attacking Prime Minister Narendra Modi for asking all BJP members of parliament to furnish details of their bank transactions after 8 November, Bengal Chief Minister Mamata Banerjee said that he and Amit Shah should be the first to disclose their transactions.
In her rally at Lucknow, Mamata alleged that BJP leaders purchased a lot of land just before the PM declared old Rs 1000 and Rs 500 notes as illegal tender.
The Akhilesh factor
Thanks to the Samajwadi Party, Mamata mostly managed to save face in Lucknow as she addressed a sparse crowd of mostly SP workers during her protest rally on 29 November.
Also read - BJP paid crores in cash to buy land before note ban. Amit Shah authorised deals
While the Bengal CM tore into PM Modi's note ban, there were hardly a few hundred people gathered at the 1090 Crossing, not far from Uttar Pradesh Chief Minister Akhilesh Yadav's official residence at 5, Kalidas Marg.
Akhilesh, who personally received Mamata on her arrival at Amausi Airport the previous night, did not join her in the tirade against the PM but sent his core team of young leaders like ministers Arvind Singh Gope and Ravidas Mehrotra, Pawan Pandey and Anand Bhadauria to attend the event, along with a few hundred of party workers.
It was rumoured that UP CM had planned to join Mamata on the dais, but was restrained by his father, party supremo Mulayam Singh Yadav. Mamata, however, called it a joint protest by the SP, Aam Aadmi Party (AAP) and the Trinamool Congress (TMC).
The TMC has no presence in Uttar Pradesh. Its lone legislator Shyam Sundar Sharma had joined the Bahujan Samaj Party in June.
The tirade
Telling the people that they should retaliate to 'notebandi' with 'votebandi' for the BJP, the TMC leader said that all the parties were working for the same purpose (against demonetisation) although Opposition unity was nowhere to be seen.
She said that the decision was politically motivated in view of the coming assembly elections in Uttar Pradesh, Punjab and Uttarakhand.
She said that at one stroke all the people had been made to look like thieves as if the prime minister was the only big saint in the country. "It is people's fight and we won't retreat till the decision is rolled back," the TMC chief said.
She said that Indira Gandhi had declared Emergency while Modi, "who says something and does something else", had "looted the country without declaring Emergency".
Mamata warned the people that after snatching 'stree dhan', the future of children, jobs and money, Modi would now snatch their houses.
"After Independence, the country was progressing but look the country is going today. Shops are closed and agriculture is at a standstill as banks don't have 100 and 500 rupee currency notes," the Bengal CM said.
She repeated the charge that the decision was implemented without any proper planning and that the PM was yet to bring back black money stashed abroad despite knowing the details of the account holders.
"He could not bring back money from Swiss accounts but has snatched away people's money, which did not happen even during the Emergency," Mamata said.
Challenging Modi to put her behind bars, Mamata said that the NDA government was not doing any work while the BJP was busy inciting riots. "Hindus, Muslims, Sikhs and Christians are all part of this country but BJP is trying to impose only its brand of Hindu religion in the country," claimed Mamata.
While Mamata's speech lasted barely 22 minutes, the wait for her was much longer. Originally slated to speak at 1 pm, the Bengal chief minister reached the venue an hour late. It was said that she was trying to persuade Akhilesh to join the rally but her UP counterpart did not oblige.
Much of the crowd thinned after learning that Akhilesh won't be addressing them.
Edited by Aleesha Matharu