Mamata's silence on surgical strikes has the Opposition in Bengal riled up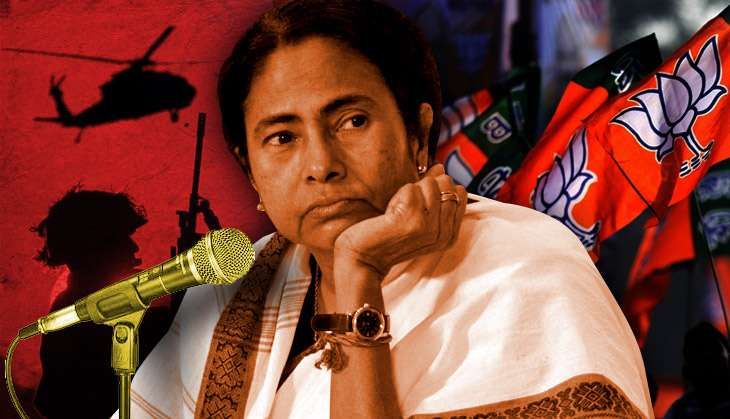 In Bengal, India's surgical strike has become a hot topic for the BJP and CPI(M) as Trinamool Congress supremo and Chief Minister Mamata Banerjee is yet to release a statement.
Mamata's silence has raised eyebrows amongst Opposition leaders as they feel that Mamata should make a clear stand on the surgical strike conducted by India.
Also read - In the aftermath of India's surgical strikes, who will be Pakistan's next army chief?
While CPI(M) leaders claim that Mamata's under the table understanding with the BJP has gotten clearer because of her silence on the matter, BJP leaders say that Mamata's silence proves that she is "not happy with the surgical strike" as all other political parties have congratulated Prime Minister Narendra Modi for taking action.
CPI(M) leader Sujan Chakraborty said, "Mamata's silence once against highlights her under the table secret alliance with the BJP."
BJP state president Dilip Ghosh said, "All political parties have congratulated the PM, but TMC remained silent on the strike. The nation wants to know who they are supporting - India or Pakistan."
Professor Amol Mukherjee, a political analyst, believes that Mamata's silence has created an uneasy atmosphere for the state BJP politically, which is why they want her to make a statement immediately.
The compensation issue
According to the BJP, even when all states have decided to provide Rs 10 lakh compensation to the soldiers for the Uri attack, the West Bengal government has declared compensation of Rs 2 lakh to two soldiers from Bengal who died in Uri attack.
A senior BJP leader asked, "Why is there discrepancy in terms of providing compensation when other states have increased the compensation for the soldiers?"
Congress leader Adhir Ranjan Chowdhury, while welcoming the surgical strike, has demanded government jobs for the family members of the soldiers who died in Uri attack.
Keeping communal tension at bay?
Senior Trinamool Congress ministers have said that the consequences of the surgical strike are yet to be seen, and that without looking at the consequences it is not possible to comment anything.
A senior TMC minister said, "It is too early to comment on anything regarding surgical strike now and our chief minister will comment after assessing the situation."
Top sources in the state government said that Mamata's appeasement towards Muslims might take a back seat if Mamata publicly gives a statement regarding surgical strike and so she is waiting for the right moment to comment on the strike.
Moreover, Mamata Banerjee is already up in arms against Centre regarding deprivation of funds for the state, and it is yet to be seen how far Centre negotiates in case of providing fund for the state.
According to experts, Mamata does not want to ignite any kind of communal tension as she is always vocal about such matters when the BJP is accused of stirring communal trouble. That's why, they say, she is taking time before commenting on the strike.
Edited by Aleesha Matharu
More in Catch - Why Pakistan may be compelled to retaliate
Indo-Pak standoff: Be on guard, avoid chest-thumping, say experts