Mamata rushes another protest letter to Centre: withdraw CRPF deployed for tax raids
Continuing her attack on the Narendra Modi regime over demonetisation, Chief Minister Mamata Banerjee Friday wrote to Home Minister Rajnath Singh asking why 15 companies of CRPF had been deployed for providing security to Income Tax officials in her state.
She demanded that the decision "should be withdrawn immediately" since central forces can only be deployed at the request of the state government.
Income Tax officials had earlier complained of "non-cooperation" from the Kolkata police during search and seizure operations related to black money, after which they had approached the home ministry for deployment of central forces.
Income Tax officials in Kolkata claimed they have seized nearly Rs 25 crore in "black money" - including Rs 4 crore seized from a businessman Friday - since demonetisation was announced on 8 November.
The state government, however, denied having received any complaint from the Income Tax department about "non-cooperation" of police officials. "We did not receive any communication from the Income Tax department that the Kolkata police officials are not cooperating with them," said Home Secretary Malay De said. "If they receive any such communication, the Kolkata police will definitely help."
Also Read: Bengal snubs Modi govt, says no to cashless payment in PDS
State officials also pointed out that the Kolkata police had helped income tax sleuths during earlier operations, so there were no reason for not cooperating, if asked, this time around.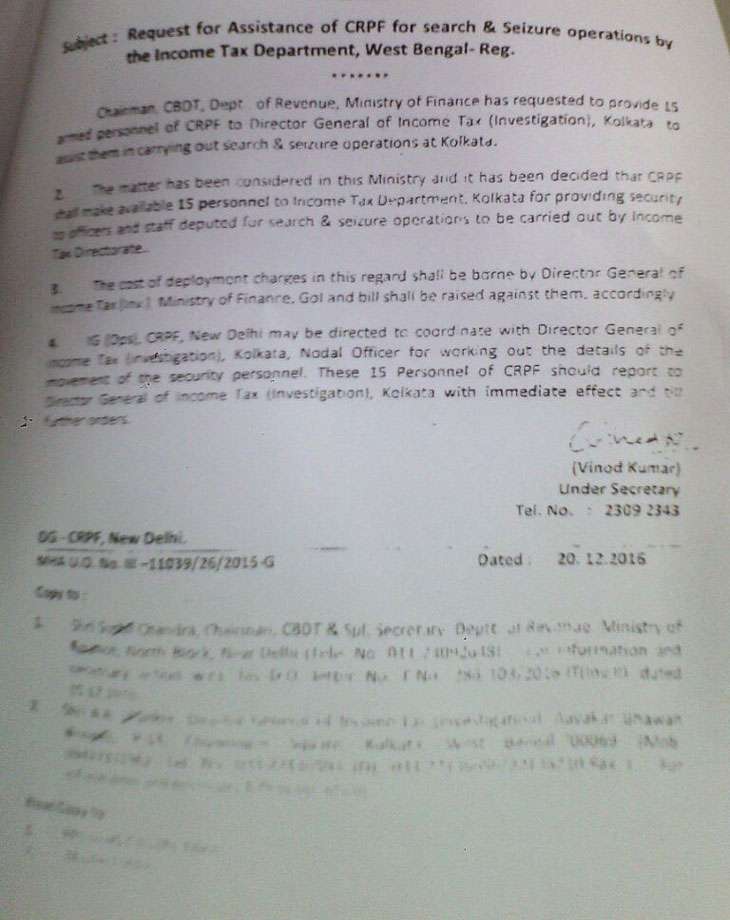 Income Tax department's request for central forces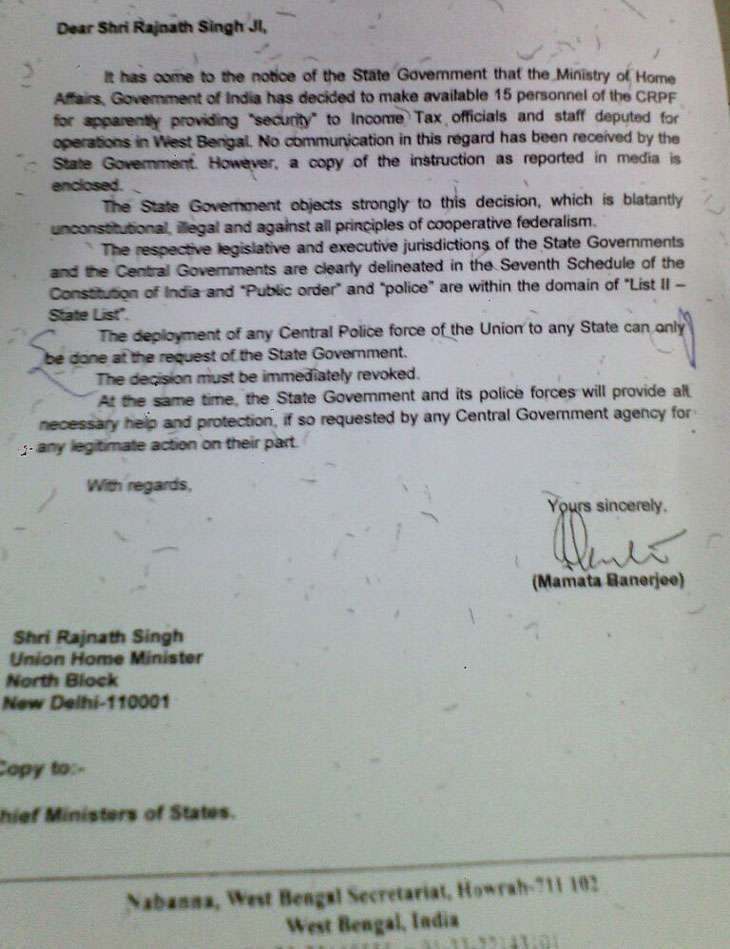 Mamata's letter to Rajnath Singh
In its letter to the central home ministry on 20 December, the Income Tax department had asked for deployment of 15 companies of central forces to assist in search and seizure operations. The letter mentioned that the cost of the deployment would be borne by Director General of Income Tax, Kolkata
The home ministry directed IG, CRPF, to coordinate with DG, Income Tax, and work out details of the deployment. This was duly done.
It only infuriated Mamata, who has now demanded withdrawal of the forces. In her letter to Rajnath, Mamata said her government "objects strongly to the decision of the deployment of CRPF without the state's permission". The decision, she insisted, is "blatantly unconstitutional, illegal and against all principals of cooperative federalism".
Asked about Mamata's latest protest letter to the Modi government, BJP secretary Rahul Sinha said, "If this government doesn't want to cooperate with the Income Tax department, then the latter have no other option but to take the help of the central government. There is nothing wrong in asking the Centre to deploy CRPF during tax raids and seizures."
Also Read: Army deployed at toll booths in Bengal, Mamata labels it 'coup-like situation'