Is Nitish harming his 2019 campaign by banking on Ajit Singh?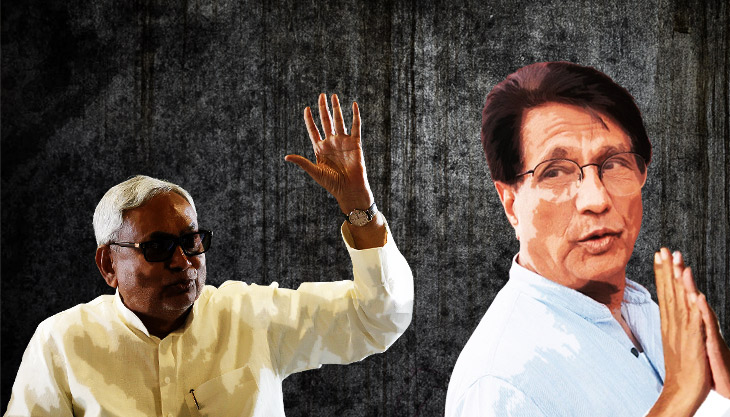 Over two months after its announcement, the merger of Nitish Kumar's Janata Dal (United) and Ajit Singh's Rashtriya Lok Dal is already reported to be stalled for the moment. However, the bigger question to ponder over at this point of time is: did Kumar not realise what a slippery customer Singh is before entering into business with him.
With eight MLAs in the Uttar Pradesh Assembly, RLD is the largest party among the ones in talks with JD(U) for a prospective merger. One of the main reasons the talks are said to be held up is Singh's two-point wish-list - a berth in Rajya Sabha for himself and projection of his son Jayant Chaudhary as the face of the campaign in the UP polls next year.
While reports suggest that Kumar may be amenable to the RS-seat demand, at least, the Bihar CM appears to have ignored factoring in his calculations Singh's chequered political career. His father Chaudhary Charan Singh was India's prime minister for merely six months from July 1979 to January 1980 in the heady post-Emergency phase of Indian politics. However, Singh has always believed and projected himself as inheritor of a grand legacy.
Also read: Nitish shouldn't project himself as PM candidate. Not yet
Legatee of a short-term PM
The 77-year-old is a leader of the influential Jats in western Uttar Pradesh and is said to have pockets of influence in about 45 seats in the region, although his party's current strength is zero in Parliament and 8 in the UP Assembly. Singh himself began his national electoral career with a Rajya Sabha seat in 1986 and went on to serve six terms in the Lok Sabha.
He inherited the mantle of president-ship of the Bharatiya Lok Dal from his father, continued in prominent positions in the many avatars of his outfit subsequently and eventually founded RLD in 1999.
His political partnerships are the stuff of legend in Uttar Pradesh as well as at the Centre, possibly next only to the equally legendary Ram Vilas Paswan. RLD was in alliance with Mayawati's Bahujan Samaj Party in the state government in 2002 and managed to ally with her arch rival Mulayam Singh Yadav's Samajwadi Party the very next year. It had 2 ministers in Mayawati's cabinet and 6 in Mulayam's.
Also read: Nitish aims at a wider platform and a new symbol
Partner of all rivals
It had a long association with BJP at the centre till 2011, when it joined hands with the Congress. It fought the 2009 Lok Sabha elections as a part of the BJP-led National Democratic Alliance and 2014 polls with the Congress-led United Progressive Alliance. Ajit Singh himself was Agriculture Minister in Atal Bihar Vajpayee's cabinet from 2001 to 2003 and then Civil Aviation Minister in Manmohan Singh's cabinet from 2011 to 2014.
As his record suggests, Singh is looked upon as somebody desirous of the perks and privileges that come with power, even if only by association. He is known to defect and change loyalties easily, depending upon his reading of who is in the winning position and has the best offer for him. There are reports that to check Nitish Kumar's rising graph, BJP too has offered Singh a Rajya Sabha seat, essentially to wean him away from aligning with Kumar.
Also read: Lalu endorses Nitish as PM candidate in 2019. What's his play?
BJP's 'victim' in 2014, partner now?
Singh has also reportedly not said no to the offer, in spite of RLD's bitter run-in with the BJP soon after it came to power in 2014. The party had been holding on to the official Lutyen's Delhi bungalow allotted to Singh when he was an MP, even much after the end of his tenure. While it claimed that the property was virtually a memorial to Charan Singh, the Union government forcefully made it vacate after snapping water and power supply.
Singh had then claimed political vendetta and threatened a movement against the government, but was eventually forced to vacate. Much water seems to have flowed since then as the acrimonious episode appears to have been temporary relegated to the background by both parties. It seems surprising that Nitish could be interested in this kind of a partner for his 2019 campaign. He has enough obstacles already.
Also read: JD(U) makes its ambitions clear: its mission is "Nitish Kumar 2019"