'I won't vote for people who ask us to eat beef': khaini seller Kanhaiya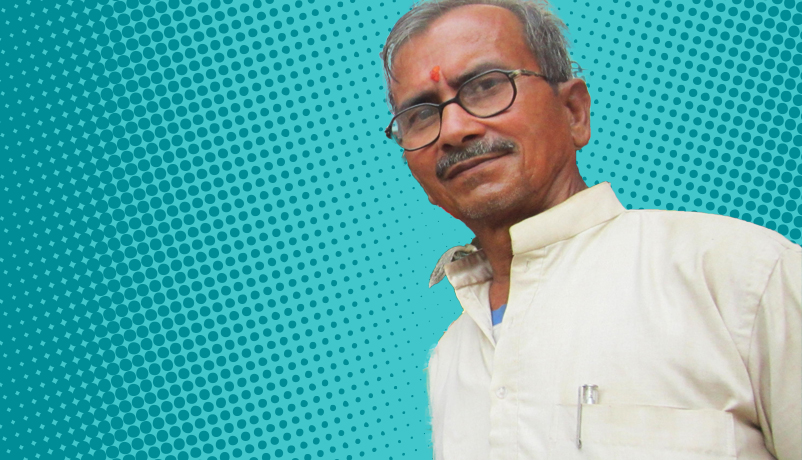 The person
Kanhaiya Prasad owns a tobacco shop in Aurangabad, Bihar
He belongs to the OBC swarnkaar caste
The choice
He is upset with his local BJP MLA, but he\'ll still vote for the party
He believes that both Narendra Modi and Nitish Kumar have done good work
More in the story
Why is Kanhaiya angry with the Grand Alliance?
Despite being an OBC, why is he opposed to the present system of reservations?
Elections are not just about politicians. They're about people and issues. And what will really drive their vote.
Catch is, therefore, starting a 'People of Bihar' series, which will daily capture what different impact groups across the state are feeling. This is true insight on the Bihar election: up-close and hyper-personal.
Fifty-seven-year old Kanhaiya Prasad sells khaini (tobacco) at his small shop just outside Mahakal Mandir near the main Ramesh Chowk market in Aurangabad. He is also attached with the temple and assists in the conduct of prayers there.
Belonging to the swarnkaar caste listed in the state's OBC list, Prasad supports the RSS' contention that the reservation policy needs to be reviewed because the basis of reservation should be economic status. He says he has no objections even if it means reduction in the OBC quota. Prasad spoke to Catch on the Bihar assembly polls and his preferences.
Are you satisfied with the performance of your local MLA, BJP's Ramadhar Singh?
Ramdhar Singh's tenure hasn't been commendable. My colony still gets electricity for only eight to ten hours. None of the over 100 houses receive pipe-water supplied by the government. Every fourth or fifth household is dependent upon one person who has dug a bore-well. Singh hasn't really done anything for this place.
What about education and healthcare? Do you have good schools, colleges and hospitals here?
The state of educational institutions is satisfactory, but healthcare is in shambles. Look at the Sadar Hospital. It neither has doctors when you need them nor is it well-stocked with medicines. My wife fractured her hand a few days ago and I was forced to take her to Narayan Medical College, 35 km from here.
How do you assess Chief Minister Nitish Kumar's performance?
Crime came down under Nitish Kumar. However, administrative work during his tenure wasn't up to the mark. And after his split with the BJP, development work completely stopped.
Does that mean you will vote for the BJP in these assembly elections?
Of course. In fact, my assessment is that my entire community will support the BJP this time.
How do you assess the tenure of the BJP-led government at the centre so far?
NDA's work so far has been praiseworthy. Especially, their foreign policy has been very good. Be it China, US or Arab-nations, everywhere people have been influenced by Prime Minister Narendra Modi's thoughts. The fact that he has promised a special package for Bihar is another factor that goes in his favour.
Would you give full marks to the NDA government or do you see some shortcomings as well?
Well, some promises were not fulfilled. Like the one on black money. But it is not an easy task to accomplish in one-and-a-half years.
Do you support the RSS' contention that reservation policy should be reviewed?
Yes, I support that view. The basis of reservations should be economic status and not caste. There are poor among the upper castes as well. Why should they be deprived of any help that the state can extend?
So are you comfortable with reducing the quotas for OBCs if need be?
Yes, I am fine with that.
What are your views on the RSS' message of "one well, one temple and one crematorium" for everybody in a village?
I do not agree with this. One well, one temple and one crematorium is not possible. This will only give rise to social discord.
Going back to what you said earlier, why do you want to vote for your sitting MLA again, when you are not happy with his performance?
It is true that I am not happy with his performance. But who else should I vote for? On the other side, are those people who are asking us to eat cow-meat.
Are you referring to Lalu Yadav?
Yes.
But he didn't really say that. Didn't he say that some Hindus too eat cow meat?
Whatever words he might have used, what he implied was essentially this. And even this statement is wrong. No Hindu can eat cow meat. We revere the cow and worship it as our mother. I will never vote for people who say such things or support such ideas.
Read more from our #PeopleofBihar series: Bihar's Brahmins ask: why is our vote taken for granted?
Dalit PhD student Krishna: 7/10 for Nitish, 3/10 for Modi
An ATM guard who's always with a book, and why he'll vote NOTA
Banka Silk founder Udayan Singh wants a third term for Nitish
Graduate Azra feels Modi isn't inclusive enough to vote for
Whoever comes to power must create jobs: front-office boy Divyanshu
Nitish is a better leader than Modi: Student politician Zeeshan
Nitish has ruined his chance by joining Lalu: Lakshmi, graduate, Muzzafarpur
There's little to choose between Modi and Nitish: wannabe cop Vinit argues for NOTA
Lawyer Indira Sharma: Nitish started well, but has now lost his mind
Farmer Ali Ashraf: 'Dadri is jungle-raj. I don't want that in my state'
Researcher Sunita: don't like BJP but today's Nitish is worse
Social worker Munna Jha: no matter what surveys say, I'll vote for Nitish
Madrasa student Ahmed: Modi's promises fake, I'll vote for Nitish
Entrepreneur Imran: give BJP a chance to prove secular credentials
BCA graduate Manish gives Modi a 10/10. Find out why he's not voting Nitish
Farmer Pawan Yadav is angry with Lalu, but may still vote for him
Left activist Vineet: grand alliance lesser of two evils
Unskilled worker Ajeet: no interest in politics, but will vote Nitish
PhD student Tejee: I don't want development with riots in Bihar
Engineer-entrepreneur Sonu: Nitish did a great job for agriculture sector
Folk singer Chandan Tiwari is voting NOTA - to protest neglect of art & culture