Activist Nayyar: Our last PM was on silent mode, this one's on flight mode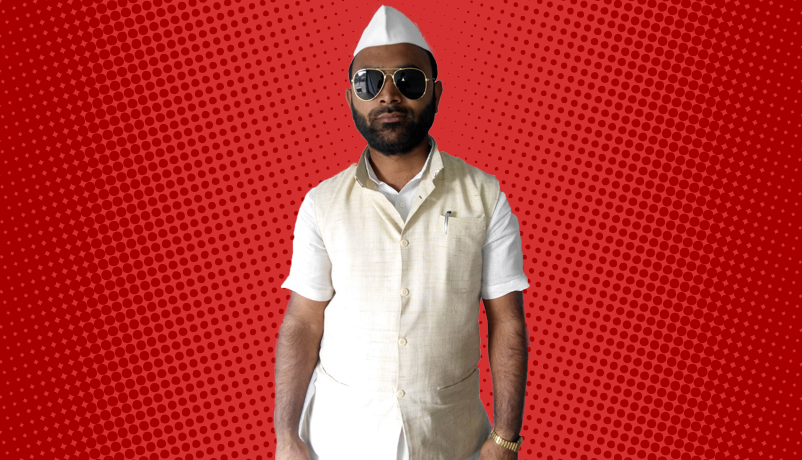 The activist
Raju Nayyar is the national president of a body called the Human Rights Protection Council
He is 26, a physics graduate, and considered politics before decided to serve the society
The viewpoint
Nayyar feels the human rights situation in the country is rapidly deteriorating
In Bihar, he thinks the state of human rights is still quite bad
More in the story
Why Nayyar believes PM Modi has been a failure
Whom he\'ll vote for and why
Elections are not just about politicians. They're about people and issues. And what will really drive their vote.
Catch is, therefore, starting a 'People of Bihar' series, which will daily capture what different impact groups across the state are feeling. This is true insight on the Bihar election: up-close and hyper-personal.
"It's not necessary to go into the army or study medical or engineering to serve the society. After doing my graduation in physics, I chose to join the Human Rights Protection Council in order to commit myself to human rights protection," says 26-year-old M Raju Nayyar.
Nayyar is the national president of a body called the Human Rights Protection Council. He hails from Muzaffarpur, and studied at the Bhim Rao Ambedkar University there.
Nayyar initially thought politics was the sole path to bring a change in the society. But having seen the current scenario in Indian politics, he chose a rather different path to help people.
"Take the recent Dadri lynching case, or the incessantly growing communal tensions. India is witnessing massive human rights violations these days. Even human rights watch organisations are politically motivated. That's why from Muzaffarnagar to Muzaffarpur, the communal plague has spread everywhere in the country," Nayyar says.
With an eye on the Bihar assembly elections, here are excerpts from our conversation with Nayyar.
Whom would you like to vote for?
I would choose the grand alliance. The reason for that is simple - though the RJD-JD(U) alliance isn't the perfect option, unlike the BJP, these parties are never silent on communal issues.
What is current scenario of human rights violations in Bihar and India?
There are thousands of pending cases lying in courts. Many young men have been accused for false reasons, and their acquittal seems impossible.
And of course, we don't have enough fast track courts for independent and quick verdicts. Even human rights watch organisations are mired in corruption. The increasing communal tension is proof that these organisations aren't working properly.
"The RJD-JD(U) alliance isn't perfect, but unlike BJP, they aren't silent on communal issues"
As far as Bihar is concerned, human rights are mere puppets in the hands of political leaders and bureaucrats.
If Bihar is being deprived of human rights, then why would you vote for the grand alliance?
That's because marginalised communities don't have an option. Being with Nitish ensures that everyone would be safe from communal clashes. Bihar is definitely much better than any other Indian state in terms of communal clashes. If changes are required, the Nitish government can certainly work on them.
How has the Modi government done so far on the issue of human rights?
It's been a complete failure. Just look at what is happening in this country.
Creating jobs and better lives for farmers are a completely different issue. But tell me, is that greater than the life of a common Indian?
Just because there is an important election in Bihar, Modi ji is in India; otherwise he is always on tour mode.
Ek PM (Manmohan Singh) silent mode pe the aur doosre (Modi) flight mode pe.
It's only during the elections that they are talking about farmers, otherwise who cares?
Why didn't communal clashes become an issue in Bihar?
Some parties brought up this issue, but the Bihar government took good control over the situation. Human rights organisations are now working with political parties, so one can't blame a single party. But it's true that people definitely need to speak up and demand their human rights.
Read more from our #PeopleofBihar series: Bihar's Brahmins ask: why is our vote taken for granted?
Dalit PhD student Krishna: 7/10 for Nitish, 3/10 for Modi
An ATM guard who's always with a book, and why he'll vote NOTA
Banka Silk founder Udayan Singh wants a third term for Nitish
Graduate Azra feels Modi isn't inclusive enough to vote for
Whoever comes to power must create jobs: front-office boy Divyanshu
Nitish is a better leader than Modi: Student politician Zeeshan
Nitish has ruined his chance by joining Lalu: Lakshmi, graduate, Muzzafarpur
There's little to choose between Modi and Nitish: wannabe cop Vinit argues for NOTA
Lawyer Indira Sharma: Nitish started well, but has now lost his mind
Farmer Ali Ashraf: 'Dadri is jungle-raj. I don't want that in my state'
Researcher Sunita: don't like BJP but today's Nitish is worse
Social worker Munna Jha: no matter what surveys say, I'll vote for Nitish
Madrasa student Ahmed: Modi's promises fake, I'll vote for Nitish
Entrepreneur Imran: give BJP a chance to prove secular credentials
BCA graduate Manish gives Modi a 10/10. Find out why he's not voting Nitish
Farmer Pawan Yadav is angry with Lalu, but may still vote for him
Left activist Vineet: grand alliance lesser of two evils
Unskilled worker Ajeet: no interest in politics, but will vote Nitish
PhD student Tejee: I don't want development with riots in Bihar
Engineer-entrepreneur Sonu: Nitish did a great job for agriculture sector