Hard times: AAP is heading for a split in Punjab and it won't be pretty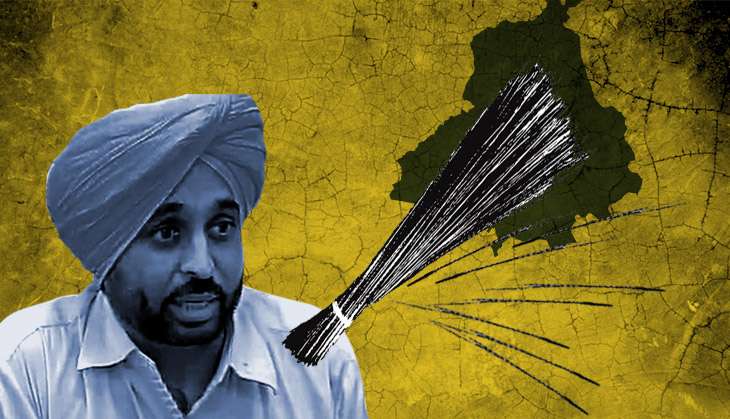 The Aam Aadmi Party (AAP), that was riding the crest of a political wave in poll-bound Punjab till a couple of months ago, is now on a collision course and is facing a split.
Having taken too long to address the issue pertaining to its two suspended MPs - Dr Dharamvira Gandhi and Harinder Singh Khalsa - the party has miscalculated the ramifications of firing its state convener Succha Singh Chhotepur.
Also read - Navjot Sidhu launches Awaz-e-Punjab. Was it needed?
The rift widens
While Gandhi has already floated a new front, Chhotepur is yet to make the next move but has reportedly declined to go back to AAP. This is despite the party having reiterated that he has just been removed from the post of the state convener and not from the party.
Punjab party in-charge Sanjay Singh says, "It has been decided at the party level that we will not make any comments against anyone till an internal inquiry into the matter pertaining to Chhotepur is over."
But the probe has been a non-starter as Chhotepur has refused to appear before the two-member inquiry panel as one of the members is a signatory on the letter seeking his ouster that was sent to national convener and Delhi Chief Minister Arvind Kejriwal.
What Chhotepur's next move will be is still not known but speculations are rife about his floating a new party or joining hands with the Awaaz-e-Punjab front that cricketer turned politician Navjot Singh Sidhu plans to float along with suspended Shiromani Akali Dal (SAD) MLA and hockey Olympian Pargat Singh.
Although Congress president Captain Amarinder Singh has made overtures to him, he is unlikely to join the Congress.
His immediate next step includes a possible tour of Punjab starting with a visit to the holy city of Amritsar.
A big jolt
The fallout of Chhotepur's sacking has jolted the AAP leadership. On the ground level, seven zonal in-charges are backing Chhotepur. Several party members have also given a weeklong ultimatum to Kejriwal to reinstate Chhotepur, failing which they say they will quit the party.
Chhotepur's removal has also been marked by protests at several places that even included burning of Kejriwal's effigy and AAP caps at Nawanshahr. There have been demonstrations against the party leadership across Punjab and the main issue being highlighted is that the central leadership is ignoring the Punjabi leadership.
Voices continue to be raised against the group of leaders from outside particularly Sanjay Singh and organisation in-charge Durgesh Pathak who have been working in Punjab for the last two years. The common grouse is that the party is being remote controlled from Delhi and the importance of Punjabis is being undermined.
Veteran political observer Jagtar Singh has pointed out, "Chhotepur may not have been the man of the masses, but he has always been a man of the party workers and that has always been his main strength. With the amount of support that he is being promised, he is full of enthusiasm."
Among those who have threatened to quit are members of the party's intellectual wing. RR Bharadwaj who heads the wing told Catch, "We have around 2,000 members across Punjab. We are agitated at the way Chhotepur was removed from the post after being insulted and humiliated. We are also annoyed with the dictatorial functioning of the party and lack of transparency in the administrative and financial dealings."
Members of the intellectual wing have demanded that the party reinstate Chhotepur and put in place a transparent system for administration and financial dealings to remove any doubts that are raised and lead to allegations and counter allegations.
"The Delhi coterie is no longer required. If Punjabis can be made ministers in Canada and elsewhere, they can surely manage a party in their homeland. We also want that the feelings of old volunteers who have given their time, money and energy in erecting the organisation in Punjab should be respected and they should have a say in decision making," Bharadwaj says.
The next step
All eyes are now set on Kejriwal's next visit to Punjab, which may be later this week. While AAP's agitated cadre plans to hold protests during the visit, others look forward to see what measures he takes to control the continuing damage to the party.
This isn't the first time that AAP has seen a rift in its ranks. Several members had left the party ranks when Yogendra Yadav and Prashant Bhushan had parted ways with the party. "But that was a very silent departure and those leaving were not heavyweights. They were mainly intellectuals and professionals. This time, the departure will be with a bang," an observer based in Chandigarh says.
The icing on the cake
To make matters worse, AAP MP Bhagwant Mann's attack on media at Fatehgarh Sahib rally on 1 September also proved to be counterproductive for the party.
The media fraternity is particularly annoyed with him for having said that all journalists have sold out. Various press clubs and other forums have condemned his statements.
"Does he mean that the journalists in AAP ranks including Ashutosh, Ashish Khetan, Major Singh, Kanwar Sandhu and Chander Suta Dogra have all been taking money to write or telecast stories? How can he generalise people? Mann also said that AAP does not need media coverage for its event. So should we stop accepting their press notes and statements?" says a senior journalist at Chandigarh.
In his reaction to Mann's outbursts against the media, Amarinder said, "These are the signs of utter frustration on part of the AAP leaders like Mann, who seem to have lost their mind over the developments that have taken place in their party."
He suggests that the Sangrur MP should be referred for medical examination before being pronounced fit to address public functions lest he provokes and instigates more people to violence.
"Such behaviour must not be let go unchecked and unexamined lest it leads to serious law and order problem," he said.
Edited by Aleesha Matharu
More in Catch - AAP inducts Akali icon Gurcharan Tohra's kin to cash in on his legacy. It backfires
All quiet on the western front: Kejriwal's silence not working for AAP in Punjab