Fearing 'anti-national' tag, Congress takes tough line on Kashmir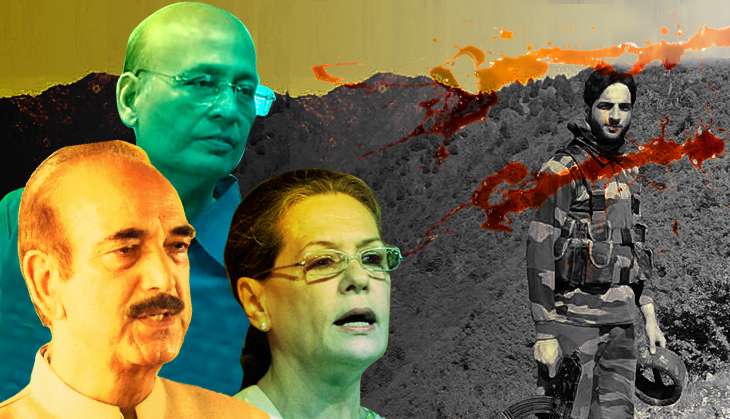 Having burnt their fingers over the recent Jawaharlal Nehru University controversy where the party was seen to be backing alleged "anti-national elements", the Congress on Monday came out united condemning the spate in violence in Kashmir. Presenting a united front, party leaders claimed no compromise on matters relating to internal security and no question of supporting a declared terrorist.
Back in February, the Congress vice president Rahul Gandhi paid a visit to JNU in support of students who allegedly organised a protest against the hanging of Parliament attack convict Afzal Guru. The move backfired and gave the BJP a chance to project the Congress as a party backing "anti-national elements". Even senior leaders had on multiple occasions labeled Rahul's decision to visit the university as unfortunate.
Also read - Toll rises to 30, Kashmir stares at summer of unrest if killings don't stop
However, it was not to be so on the ongoing crisis in Kashmir where 30 people have died in violent clashes that erupted after security forces gunned down 21-year-old Hizbul Mujahideen commander Burhan Wani on Saturday. Unlike the JNU event, the Congress opposed "senseless violence" in the state and senior leaders issued statements condemning those supporting Wani the "terrorist".
Tough line
Earlier in the day, Union Home Minister Rajnath Singh spoke to Sonia Gandhi who later released a statement expressing deep anguish at the loss of innocent lives and said, that terrorism must be dealt with firmly. In her statement, the Congress President said, "There can be no compromise on matters relating to National Security. Terrorism must be dealt with firmly. Even so, the death of so many of our citizens and attack on security forces is very painful. The political process has made many gains in J&K particularly over the last two decades and these must not get lost. I appeal to my brothers and sisters in the Valley to allow political parties to find durable and enduring ways of fulfilling their aspirations meaningfully in a peaceful and democratic manner."
Similar statements were issued by senior Congress leaders including Ghulam Nabi Azad who expressed profound grief and sorrow over the untimely death of those who died. Even Congress spokesperson Abhishek Manu Singhvi reiterated the party line and said that there is "no question of support for a declared terrorist".
Expressing deep concerns on the deteriorating law and order situation, Azad, a senior leader from Kashmir, spoke of irreparable collateral damage in the state. He further stated that the need of the hour is to ensure law and order is restored at the earliest without any further loss of lives.
While both Sonia and Azad refrained from making any comments on the handling of situation by the central government, Singhvi attacked Prime Minister Narendra Modi's efforts to build personal relations with Pakistan.
Reacting to the Pakistan's prime minister extending support to Wani, Singhvi said, "It is a matter of regret, misfortune, rather would say disgrace, that while our Prime Minister and the NDA Government is completely absorbed in self-promotion, self-congratulatory back-pats, optics, photo opportunities and event management from Kashmir to Pakistan, to China, to Australia, the concrete achievements of foreign policy are exactly in the reverse direction i.e. downwards."
Calling Wani a "terrorist", Singhvi added that there is no question of supporting someone with "a history of terrorist activity which is what Wani's case amounts to". On those supporting Wani, Singhvi suggested that they must be dealt carefully with sympathy but also with firmness - both in police and Army action. "Every care should be taken not to allow them to be converted also into a deviant philosophy," he added.
Despite showing solidarity with the government on the issue, the Congress didn't shy away from targetting the government, especially Prime Minister Narendra Modi, for its failed diplomacy. Reacting to Pakistan Prime Minister Nawaz Sharif expressing grief over Wani's death, Singhvi said, "You get this kind of a reply that is the result of all your diplomacy."
More in Catch - Grenade blast in Srinagar's Nowhatta area, 3 CRPF personnel injured
J&K protests: Valley hospitals struggle to accommodate over 700 injured