Cowed down: Modi pleads his helplessness against Gau Rakshaks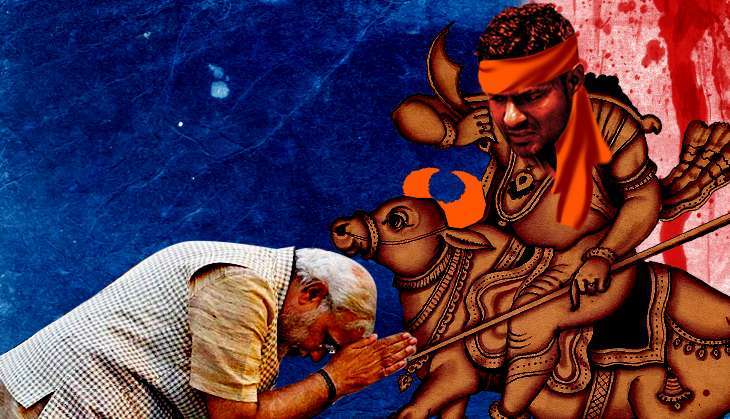 The Dalits of Gujarat have not only shaken the ground from beneath the BJP's feet in the state, they have also rattled the throne of Gau Mata's self-proclaimed sons sitting in Delhi.
Prime Minister Narendra Modi rightly sensed that the protests following the Una incident threatened to derail his two-year long efforts to woo the Dalit community.
At a time when Assembly elections in half-a-dozen states are approaching, Dalit discord could cost the BJP dearly. This was the reason the Prime Minister was forced on the back-foot by the intensity of the Dalit agitation.
Breaking his silence on cow vigilantism, Modi said on Saturday that "those indulging in anti-social activities during the night, don the mantle of cow protectors during the day to bolster their image". The statement was hailed across political quarters. People heaved a sigh of relief at this belated, but necessary reaction from the Prime Minister.
However, all Modi seems to be doing is to distance himself from the cow vigilantes. Nothing more than that. There was neither any warning nor any rebuke. Not even a hint of tough action.
Also read - Una effect: Dalit rage forces Modi to take Gau Rakshaks by their horns
And barely a day after the shedding of crocodile tears, we saw an apologetic Modi willing to bend before before the Gau Rakshaks. Modi even offered himself on the firing line of cow vigilantes instead of Dalits. "Shoot me, don't shoot Dalit brothers," he said.
He would have done better by promising Dalits security. What prompted this volte face on the part of the Prime Minister who had termed the cow protectors as 'anti-social' during his town hall address?
Dalits are "brothers" but what about Muslims?
It appears Modi's remarks have not gone down well with some senior leaders of his own political family. However, the crisis won't end merely with the PM's surrender. It runs much deeper and is nothing but a pretext by the Hindutva brigade to attack Muslims.
While talking about cow protection on Saturday, Modi narrated how "Badshahs" used cows to prevent attacks from "Rajas". The communal worldview behind this remark is quite obvious.
Modi calling Dalits "brothers" and completely ignoring Muslims clearly shows what his politics is all about. He offers lip service to Dalits because he needs their votes but Muslims don't exist.
This is especially worrisome as the Muslim minority has been at the receiving end of the violence in the name of cow protection. How can we forget the lynching of Mohammad Akhlaq in Dadri or the hanging of two Muslim cattle traders in Latehar?
Neither of these two incidents evoked even one word of consolation from Modi.
His silence on Muslims while urging cow protectors to spare Dalits, could well be interpreted as a message that Muslims are fair game.
Contrary to his proclamation of Sabka Saath Sabka Vikas, Modi seems to be creating a divide between backward castes and Muslims.
After the Una incident, Muslims came out in support of Dalits and protested on the street along with them. This Dalit-Muslim unity is the worst nightmare of the Hindutva brigade.
Modi's remark seems to be an attempt to break this unity. Such cherry-picking of victims by the PM is against the spirit of democracy.
Impunity of cow protectors
Modi has time and again played politics in the name of cow protection and this has given legitimacy to Gau Rakshaks. During the Lok Sabha election campaign, Modi cried "Pink Revolution" on a number of occasions while referring to rising beef exports.
We must not forget how Modi had made cow as the face of his party's advertisements in Bihar elections. He had shed tears over the plight of cows before polling in Seemanchal and coined divisive slogans.
Therefore, it is no coincidence that cow vigilantes have risen in number and prominence after Modi came to power.
So after having milked the cow for political ends, he now wants to wash his hands off now that it has become politically counter-productive.
Modi may have shown his anguish over the attack on Dalits but did he announce any action against vigilantes? No. He didn't even issue a warning.
His criticism of their actions and pleas like "shoot me, don't shoot Dalits" are nothing but theatrics to assuage Dalit anger.
By appearing to be weak in front of cow protectors, Modi has given a tactical victory to Hindu fringe elements.
Modi's comments work against the social unity. It reflects the Prime Minister's apathy for minorities and his sympathy for cow protectors. He is trying to run away from the constitutional propriety by pleading helplessness. Speaking of helplessness, where's the 56 inch chest that he loved talking about?
Translated by Deepak Sharma
More in Catch - Modi government's clean chit to gau rakshaks: why BJP must watch its actions
Mandsaur: was the attack on Muslim women a plot to stoke communal riots?