BJP national executive: has note ban broken Modi & Shah's confidence?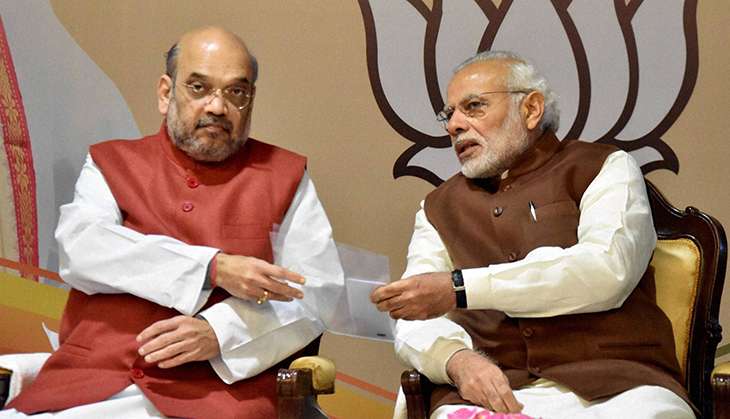 If BJP's previous national executive meet, in Kozhikode, was gripped by the post-Uri anger, the just concluded two-day meet in Delhi was subsumed by scepticism over demonetisation.
What is clear after two days, two resolutions and three press conferences, is that the scepticism even within the party over the note ban is still quite palpable.
Silent mistrust
Almost every senior leader who spoke at the national executive including Prime Minister Narendra Modi, party president Amit Shah, Finance Minister Arun Jaitley, HRD minister Prakash Javadekar, and several others, devoted huge time to praising demonetisation.
Also read - Day 1 of BJP's national executive meet: Javadekar lauds demonetisation, surgical strikes
The need to keep reminding party cadre of the wonders of banning Rs 500 and Rs 1000 currency notes, even 60 days after the Prime Minister announced the demonetisation policy clearly indicates the silent mistrust among BJP party workers.
A senior national-level BJP functionary told Catch, "For the first time, we saw that the confidence of the top two leaders - Modi and Amit Shah - was low. It looked like they were worried about the impact of demonetisation on the upcoming Assembly elections. It did not reflect in their words, but it was clear from their body language.
More so, Amit Shah, who is not known to be an emotional person, unlike Modi who has broken down in public in the past, gave an emotional speech and appealed to all delegates and executives to "please support" demonetisation and help the party and the government.
Another matter that rankled and concerned party members is that despite this government being in power for almost three years, it does have many concrete achievements to show for its tenure.
There was chatter about how if some big goals are not achieved over the next two years, it would become very difficult for the party to emerge victorious in 2019.
No BJP leader has accepted the upcoming five elections as referendums on demonetisation. If the currency ban policy were such a huge success, the party would have made it into a poll issue, as it did right after the 'surgical strikes'. But party leaders have so far only talked about making progress and development as polls issues.
In fact, party workers from South and from poll bound Uttar Pradesh, are learnt to have expressed their doubts about note ban in several meetings with their party president Shah. The latest such meeting was held in December.
A focus on poverty
After demonetisation, the most oft repeated word in the two-day session was poverty. All senior BJP leaders, in press conferences and speeches made in the national executive talked about how the poor and poverty was the primary focus of the BJP government.
"Our priority are the poor people. Main gareebi mein janma hun. Gareebi ko jiya hun," senior BJP leader and law minister Ravi Shankar Prasad quoted Modi in his National Executive speech. BJP leaders have talked about how poor are going to benefit most from demonetisation, about how they're celebrating this year as 'Gareeb Kalyan Varsh'.
Some leaders, like the Delhi unit president Manoj Tiwari, have even claimed huge support from the jhuggi clusters for demonetisation. It is based on the huge support from poor section of the society that the party will win the next five poll bound states, BJP leaders have claimed in press conferences.
However, the party has not highlighted even one manner in which the poor have benefited from the currency ban. Quoting Jaitley, Nirmala Sitharaman in her press conference on 7 January, said that the farmers have benefitted hugely. But Sitharaman did not elaborate on how this sector, which according to news reports has taken a huge hit because of the cash crunch, been benefitted.
Frivolous spending
Sitharaman quoted the finance minister also saying that demonetisation has reduced 'fizuul kharchi' to a great extent. How, and if at all, this phrase, which sounds more like sarcasm coming from the opposition camp, helps workers on the ground spread government's message is unclear.
What is clear, at the moment, is that revenue generation in some states has taken a hit after demonetisation. Sitharaman said that according to Jaitley, revenue generation in big states - like Uttar Pradesh, Madhya Pradesh, Maharashtra - has not been impacted due to demonetisation.
However, she claimed that according to Jaitley's own assessment, West Bengal seems to have been hit by note ban. Sitharaman also did not answer what the finance minister's assessment is about smaller states like Kerala, whose finance minister has claimed revenue cut by as much as 30% due to demonetisation.
Electioneering
Modi also used this national executive to promote the idea of simultaneous elections. Prakash Javadekar claimed that a committee would be formed to study all the hurdles that may come in implementing this step, and to guide the party about how to build a national consensus on the issue. Expect more developments on this front in days to come.
What is also clear at the end of this national executive is that the party is how affected the party and Modi himself, are by the huge wave of criticism against them because of demonetisation. In his New Year's Eve address to the nation, Modi had said that that while the masses at large had accepted and welcomed demonetisation, the bhuddijeevi (intellectuals) had not.
In his speech to the National Executive, Modi is learnt to have told the audience to keep doing the good work and not be bogged down by criticism.
Edited by Aleesha Matharu
More in Catch - BJP's 2-day national executive meet kicks off, demonetisation, candidate lists for polls on the agenda
How BJP used the Gujarat co-operative bank sector to 're-monetise' its funds