Day 1 of BJP's national executive meet: Javadekar lauds demonetisation, surgical strikes
Catch Team
| Updated on: 11 February 2017, 5:46 IST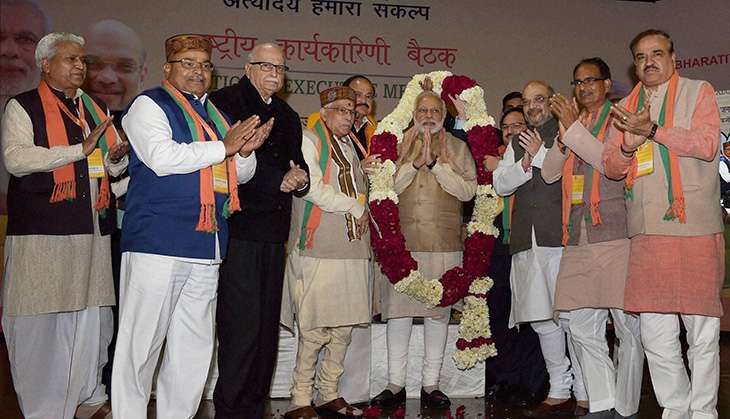 Every survey that BJP has conducted in the five poll-bound state has shown an 'overwhelming' support for demonetisation, senior BJP leader and HRD minister Prakash Javadekar said on Friday.
Javadekar was speaking at the end of the first day of BJP's two-day national executive meeting. He, however, did not confirm whether with this huge perceived support from the public, BJP will make demonetisation the poll issue in the five states or not.
Javadekar named all the poll-bound states, except Punjab, and claimed that the party was going to form government in each state.
He also said that BJP has formed a committee to study the issue of conducting simultaneous elections. "All nationalist parties we are sure will support it," he added.
The reason for it, Javadekar said, will be that it will allow for a greater transparency in poll budgets and reduce the money various parties put into winning elections.
According to the minister, all the BJP leaders have gave the PM a standing ovation for his demonetisation scheme.
"We have observed that the fake currency business has ended. In fact, the kingpin of fake currency racket, based in Pakistan, has also committed suicide. This shows the serious impact we've had because of demonetisation. Similarly Naxal operations, other terrorist activities, corruption and drug mafias have taken a huge hit."
Championing causes
Recounting what party president Amit Shah said in the national executive meet, Javadekar said, "In the context of demonetisation, the party president said how previous budgets had only 4-5 lakh crore budget for new projects and this was because a huge section of economy remained untaxed."
However, Javadekar did not clarify whether the new budget will have a greater component for new projects.
Javadekar said the party had begun working in the areas where they had lost in the 2014 general elections, and was deploying 10 workers in each of nearly 200 of those constituencies.
Currency ban, was a historical move, Javadekar quoted Shah adding that it was, "one that will be written in the chapters of our history books".
In the context of demonetisation, Javadekar explained that the decision was not taken overnight.
"Nearly 2.5 years of work went into taking this decision. Opening Jan Dhan accounts and looking at the wherewithal required, 109 crore mobile connections, 109-110 crore Aadhar cards, 147 crore savings bank accounts. We factored in everything and only after this took the decision."
He, however, did not elaborate on whether a deadline had been set by when all the economic, personal and national, troubles would end.
Javadekar also claimed that the recently launched mobile ewallet app by Modi, called BHIM, had been downloaded more than 70 lakh times and transactions worth crores had already been done through it.
Javadekar claimed that voting on nearly 10,000 seats had been held since demonetisation and in 8,000 of them the BJP had registered victory.
The other big highlight of the day was the issue of the surgical strikes. Javadekar said all BJP members appreciated how India, for the first time, had crossed the border and attacked the terrorists thereby setting a tough example.
Edited by Jhinuk Sen