BJP's 2-day national executive meet kicks off, demonetisation, candidate lists for polls on the agenda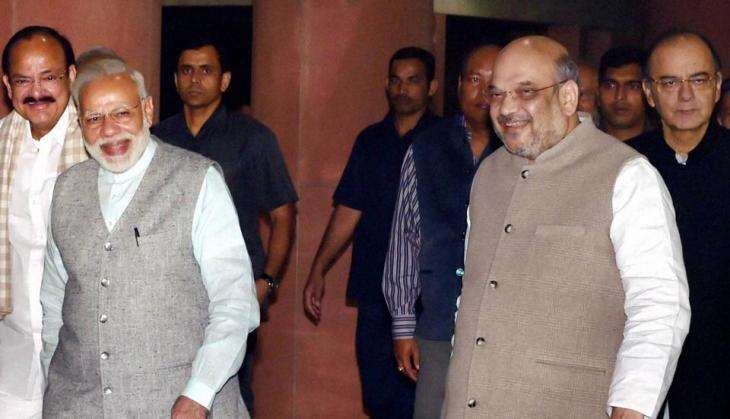 For the first time since demonetisation, and for the last time before the upcoming state elections, the BJP top brass is holding its crucial national executive meeting in Delhi today (6 January).
Top leaders of the party, including the state presidents from the five poll-bound states, are expected to be part of BJP's two-day national executive beginning today.
According to sources, discussions over the next 48 hours will be held on demonetisation, elections, GST and surgical strikes.
After the party president, Amit Shah, who inaugurated the two-day executive meeting on Friday morning, the prime minister will also be addressing the gathering. Sources say that he's expected to speak on party affairs and express his views on the latest developments related to demonetisation.
BJP's national executives are mainly held to streamline party workers' views on the economic and political affairs in the country. Usually, in each national executive, two presentations are made by senior party functionaries who talk about the big economic and political developments that have occurred since the last national executive.
At the end of the two-day session, resolutions - without holding any discussions - are passed, which all party members have to abide by.
But this time, according to party sources, a presentation on economics will not be held. The party will, however, discuss the results of surveys the party has conducted in poll bound states on demonetisation.
"The resolution on economic affairs has been replaced with a resolution on demonetisation. We will discuss the implications of demonetisation and reactions we've observed from other political parties and from the public. There are four to five major topics that we will focus on. But largely we will be discussing organisational matters of the party," said a senior party functionary who is attending the event.
The 'organisational matters' will mainly be about the assessment that the party has made in the poll-bound states, around 40 days before the first ballot is cast.
There will also be discussions on the candidate list that is to be announced in the five states going to polls. BJP is expected to announce their list for Punjab and Uttar Pradesh around Makar Sakranti, on 14 or 15 January.
Edited by Jhinuk Sen