Big B at 74: A seamless journey from Rajiv Gandhi's star sidekick to Modi bhakt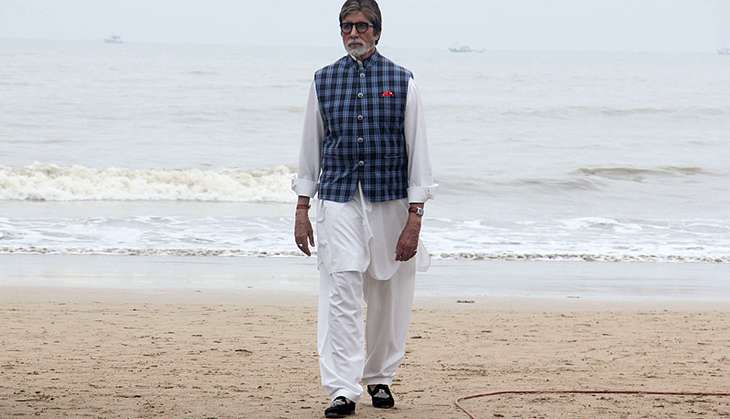 Last month, speaking during the 'Off the Cuff' talk show hosted by the journalists Barkha Dutt and Shekhar Gupta, superstar Amitabh Bachchan confessed to his only compunction in life. He regretted not fulfilling the promises he had made to the people of Allahabad when he contested the election from there in 1984.
"I made a lot of promises to the city of Allahabad and to its people but I was not able to fulfil them. I try to do whatever I can in any social capacity but I know it is something that the people of Allahabad will always hold against me," Bachchan said.
Much water has flowed in the Sangam since Bachchan's forgettable foray into politics two generations ago. One cannot say whether Allahabad still nurses a grudge against one of its most illustrious sons, but the fact that Big B, on the cusp of his 74th birth anniversary, continues to feel guilty about those broken promises evokes many questions. Is it sentimentality or cynicism? A clever ploy or self-reproach plaguing the heart of the superstar?
Also Read: BigB for President did you say? Here's what it will look like
There is no doubt Bachchan is a living legend, but his image has, over the years, taken a beating, not least because his flirtation with politics did not always go well.
Riding his popularity as a megastar, Bachchan contested the 1984 election from Allahabad as the Congress nominee and trounced the heavyweight HN Bahuguna. The Bofors scandal soon followed and taught Bachchan the harsh realities of politics. He returned to the tinsel town in 1988. But after his the success of his comeback film Shahenshah, a series of movies fell flat at the box office - Jaadugar, Toofan, Main Azad Hoon, Ajooba, Khuda Gawah. The marginal success of Agneepath (1990) gave little respite to his sagging career. The writing appeared on the wall, and Bachchan was staring at the prospect of retirement.
It was also a period of great upheaval in Indian politics. The Congress was in free fall. The assassination of Rajiv Gandhi, his former friend and mentor, in 1991 further alienated Bachchan from politics. He tried concentrating on his career - as an actor, film producer, even Miss World organiser - but none of it clicked. So much so that Bachchan's production firm, ABCL, was crippled by heavy debt.
It was at this juncture that Samajwadi Party leader Amar Singh entered his life as no less than a saviour. He introduced him to Mulayam Singh Yadav's circle of politicians and industrialists such as Subrata Roy. He was now far removed from his Congress legacy, and from the Gandhi family, though he never acknowledged it.
Professionally, and thereby economically, though, Bachchan continued to struggle, with one after another of his movies - Bade Miyan Chote Miyan, Lal Baadshah, Sooryavansham and Hindustan Ki Kasam - failing.
It was a time of introspection. He was long past his prime, and his social image had taken some drubbing. From a trendsetter in the entertainment business, Big B was now at the mercy of the market. He had to overhaul his image, and he did, to a great extent, with help from several brand managers.
Thus began the third phase of Bachchan's life, which was to see him become the brand ambassador of Narendra Modi's Gujarat.
Also Read: Panama leak: Amitabh, Aishwarya among 500 Indians with off-shore firms
While he remained estranged from the Gandhis, the closeness to Modi did not come at the cost of his ties with the SP. Indeed, political observers often marvel at how he managed to balance the dual loyalties.
At the Congress kept sliding in the first years of the new century, countering the BJP's communal politics was left to parties such as the SP, BSP and RJD. In fact, the "secularism" of these offshoots of the Janata Party hinged on the communalism of the BJP. As the veteran journalist Javed Naqvi once put it, "A secular-communal combine was running the nation at that time."
Bachchan batted for both sides of this divide. Well versed in the art of silence on contentious issues, he managed to retain his "secular" image in the eyes of the public even though, at the same time, he was endorsing the "Gujarat model" being touted by Modi.
Bachchan eventually became the brand ambassador of Gujarat in 2010, three years before Modi became the BJP's PM designate. It's possible his closeness to Modi was dictated only by professional considerations, not by any affinity for the Gujarat strongman's politics. In any case, like any good Saudagar, he read the mood of the "market" long before others woke up to the formidable alliance of corporate and communal forces.
Bachchan admitted as much last month, saying he was not surprised by Modi's victory in 2014. He said so while dedicating a poem to the prime minister on his 67th birthday.
Big B may well be accused of insulting his poet father Harivansh Rai Bachchan's legacy by singing songs of sycophancy to Modi, but it has benefited him. He is now more secure financially, socially and politically than perhaps he ever was. And he has averted the danger of fading away, anytime soon at least, by perfecting the art of bending both ways - while he sings paeans to Modi, his wife Jaya Bachchan remains a Rajya Sabha MP from the Samajwadi Party. Ironically, this runs counter to the words of his father that he often invokes: "Main hoon unke sath khadi/Jo seedhi rakhte hain apni reedh (I stand with people who are always upright)."
It's in this context that Bachchan's "regret" of not keeping his promises to Allahabad has to be placed. Apart from his father, Allahabad finds frequent mention in Bachchan's reminiscences. In the years since that election, this Saudagar has made many deals, political and otherwise, that may be lying heavily on his conscience. Perhaps, he yearns to lighten that burden, and uphold the legacy of his father, by repaying some of the debt that he owes Allahabad.
Also Read: Is he, isn't he? Amitabh Bachchan on hosting Modi govt's 2-year anniversary event