Bengal CPI(M), Cong keep their distance from TMC's call for united protests against demonetisation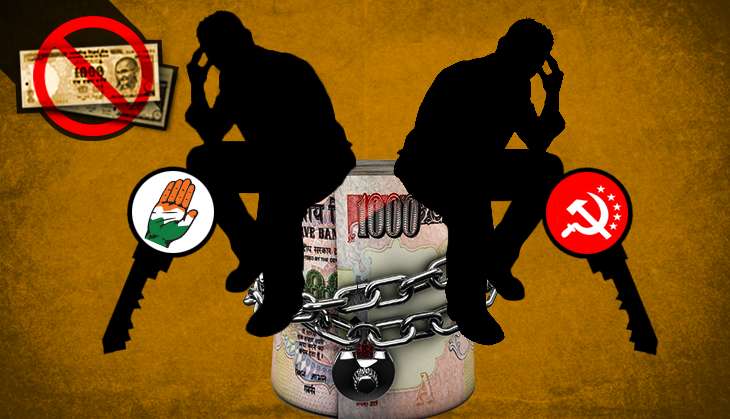 The Bengal Congress and CPI(M) are in a fix about how they should be protesting against demonetisation and how they are to move the protests to politically work in their favour. The Congress high command and the Politburo CPI(M) are yet to give them a clear gameplan for the issue.
Senior leaders of CPI(M) and Congress in Bengal have, however, said that they will be taking their protests to the streets of Kolkata as they wait to hear from high command. According to them, the common people have been affected by demonetisation and that needs to be dealt with.
There is a clear divide amongst the CPI(M) and Congress leaders in Bengal, in lending their support together with TMC for the protest against demonetisation. The state CPI(M) feels that going with TMC against demonetisation will only tarnish their image.
A senior CPI(M) leader said on condition of anonymity, "We have already intimated the matter to the Polit Bureau and we have been asked to organise a protest movement in the state against demonetisation and demand that Centre should allow the usage of the notes till alternative arrangements are put in place."
However a section of CPI(M) leaders feel that there is a need for a whole-hearted support from the Opposition and to raise the issue in Parliament and oppose it unitedly so that it is addressed properly for the benefit of the masses.
CPI(M)'s Dr Surjya Kanta Mishra said, "We cannot join hands with the TMC for the protests as most of the leaders of TMC have been accused in the Saradha chit fund scam."
Congress leader Adhir Chowdhury echoed the same and said, "We do not want to join hands with TMC on this issue as TMC has got no moral right to speak on black money. Her (Mamata Banerjee) entire party was sitting on sacks of black money."
Political analysts are of the opinion that both CPI(M) and Congress does not want to give Mamata the space to project herself on the national forum.
As a result, both Opposition parties distanced themselves from going to Rashtrapati Bhavan with the TMC on Wednesday to meet the President and vent out their anger against demoneisation, said eminent political analyst Prof Amol Mukherjee.
Mamata posted a series of tweets on Wednesday regarding her meeting with President Mukherjee.
Please save the people. If normalcy is not restored there will be a calamity.
More deaths. Starvation. Will this lead to an epidemic? 3/3

— Mamata Banerjee (@MamataOfficial) November 16, 2016
It may be mentioned that chief minister had given a clarion call to all Opposition parties to join hands against Modi's demonetisation move, but only Shiv Sena, AAP and Samajwadi Party have responded so far.