Anti-nationals or champs of jurisprudence? 4 lawyers speak out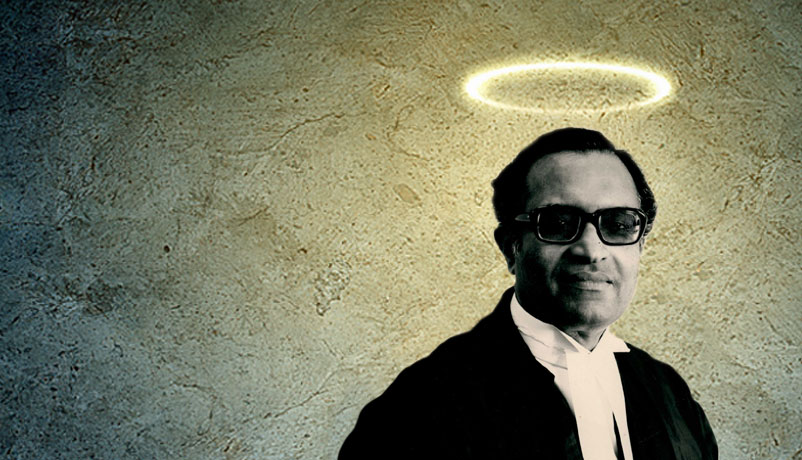 There is no middle position to take on the arrests of JNU students. It has become a question to which everyone's patriotism is being tied. Nobody is immune from being asked whether they're national or anti-national.
Least of all lawyers, some of who go out of their way to protect the vulnerable few who face the might of the state and the anger of, so to speak, this nation.
Also read - #PatialaHouseViolence: SC team's report damns Delhi Police
The hooligans in black coats we saw beating up students and teachers from Jawaharlal Nehru University and journalists at Patiala House Courts do not represent the lawyer fraternity in any way.
Members of the profession have often taken great personal risk, even given their lives, to defend those falsely accused of terror charges and called anti-nationals.
The incident of Shahid Azmi is still fresh in mind: the lawyer successfully defended several people falsely accused of being involved in terrorism, earning the wrath of many extremists. He was intimidated and attacked several times, and finally gunned down in February 2010.
Catch spoke to four lawyers who've taken the risk of representing 'anti-nationals' and asked them what it takes to have their names associated with those of the accused: What makes them take such cases? What are the pressures involved?
Indira Jaising
Senior Advocate, Supreme Court; former Additional Solicitor General
Jaising is representing Kanhaiya Kumar in the apex court. She represented Surinder Koli and just before the morning he was to be hanged, got a midnight hearing with the judge, and successfully argued against his death sentence.
This is a time when human rights defenders are under attack and need protection by law. I believe the right to legal representation is a fundamental right for the terrorist as much as it is for the saint. Hence, to target a lawyer for representing Kanhaiya ("anti-national element") or a terrorist (Afzal Guru or Yakub Memon) is unconstitutional in itself.
We, the people, have no weapons to defend ourselves except the rule of law. When it is threatened by denial of access to justice, I feel threatened and my profession is compromised. This is the reason why I chose to file a petition for ND Jaiprakash who was beaten up while attending court proceedings and while he was trying to prevent another person form being beaten up in full view of the police.
Keeping silent is not an option when your right to represent a person is under attack: Indira Jaising
The issue is one of police accountability, and the manner in which they have behaved must and has been exposed. Sure, as a democratic lawyer, I do feel like an endangered species; but who will defend us when the guardians of society turn against society?
You ask, does this pose a risk for you? Yes, it does.
But remaining silent is not an option, when your very right to represent a person is under attack. This is what it means to be professional about your work. The attempt to drive away lawyers from defending Kanhaiya has been thwarted.
More than 200 lawyers marched form the Supreme Court to the Bar Council of India to protest against the manner in which access to justice was denied and to demand access to justice for all. There is still hope and the courts have come to our rescue.
Anand Grover
Senior Advocate, Supreme Court
Represented Yakub Memon and got a midnight hearing just the night before which he was hung.
I joined the legal profession to help those who don't have access to justice. Thus I and Lawyers Collective have been working for pavement dwellers, women, people living with HIV, drug users and also those who have been given death penalty.
My commitment has been to those who are not able to access the justice system for one reason or another.
With Yakub Memon, I was asked by the National Law University, Delhi, Death Penalty Project, to appear as an intervenor during the hearing on 27, 28 and 29 July. Those matters were decided against him.
I acted according to my conscience, my commitment to values of access to justice: Anand Grover
Thereafter, in the early evening of 29 July, I was informed that a fresh petition was being filed on the basis of Shatrughan Chauhan's case to give him 14 days. Later, at about 9 pm or so, I got a call from the lawyers that though they had asked as many as 25 Senior Advocates of the Supreme Court to appear for Memon, no one was prepared to do so.
They also requested me to appear. As this involved access to justice on an issue of death penalty, which was in accord with my commitment, I had no hesitation. Consequently, I did appear that night. Of course, I have been termed as anti-national, etc. But, in my opinion, I did what was in accord with conscience, my commitment to values of access to justice and in consonance the traditions at the bar.
Also read - Bassi's U-turn on Kanhaiya bail plea reflects his confused state of mind
Vrinda Grover
Noted criminal lawyer
Has fought several cases for victims of domestic violence and custodial torture. Was listed among the 100 most influential people in Time's 2013 edition. Has taken up JNUSU President Kanhaiya Kumar's case.
As a professional lawyer, I can't decide not to represent somebody just because there is a mood swing in the nation against them. The entire judicial system is dependent on the presumption that there will be effective legal representation of every accused.
But often we see some lawyers resorting to violence or some bar council passing decrees prohibiting lawyers from representing some or the other 'anti-national' accused.
It is very unfortunate. And it betrays the fact that the bar and lawyers in it are not acquainted with their own role in the judicial process. Moreover, what we're noticing right now is that the lawyers who're trying to intimidate others are getting away with violence because they know they clearly enjoy a clear political patronage and protection.
Executive is giving signals that you can get away with doing whatever you want: Vrinda Grover
For, because of this, I think the situation is becoming much more grim. Those in the executive are giving clear signals that you can do whatever you want and get away with it.
Lawyers today are much more afraid to take up such cases. Because they don't want to be in the firing line of other lawyers. Thinking about picking such cases makes you feel that you may be the next target.
I will continue to do this work and provide legal assistance to such vulnerable people and I hope my colleagues will respect that just as I respect their right to represent smugglers, murderers, and rapists.
Mehmood Pracha
Noted criminal lawyer
Pracha is representing the accused in 2010 German bakery blasts and 2011 Delhi High Court blasts. He has faced a lot, including physical assault for representing terror accused.
You see lawyers have been murdered, and have been assaulted before. Take the case of Shahid Azmi or the lawyers representing UP blast accused who were beaten up. In the German Bakery case, the Bar Council of Pune passed a resolution that no lawyer from the council will appear for the accused. Despite that, some lawyers took up the cases and they were assaulted.
I have seen pressure in a lot of forms. For a lawyer who takes the distance to represent somebody whom a lot of people hate, there is pressure from friends, from family, to pull out. Physical assault is still bearable. What isn't bearable is the way people begin to look at you when they find you're helping an 'anti-national'.
The government hassles you in ways you couldn't even imagine. They threatened me, and when they find they can't harm me, they threaten my clients.
But we face all this for the satisfaction of seeing the innocent freed. I have seen a young doctor's career being destroyed completely, in the case of Delhi High Court blast, and that's what I am working to prevent.
I take up these cases because catching hold of real culprits is crucial: Mehmood Pracha
I'm still working in a protected environment, I think. What happens to lawyers who're not part of the mainstream, so to speak, I dread to think.
I think there is more pressure on lawyers today to abstain from taking terror-related cases. Tempers are running quite high, and the electronic media is a big reason for it. Electronic media which focusses on instant opinion and instant justice works on basis of emotions. Entire opinion is formed, crystallised and judgement is pronounced, based on how one is able to whip up a sentiment.
I take up these cases because catching hold of real culprits is crucial. I don't like the look of them roaming around freely and laughing at us.
More in Catch - Sad but true: the law is ill-equipped to punish violent Patiala House lawyers
Will judges ever be accountable? Govt's new Bill ensures they won't