Amarinder's US visit: questions on 1984, Khalistan slogans spoil the party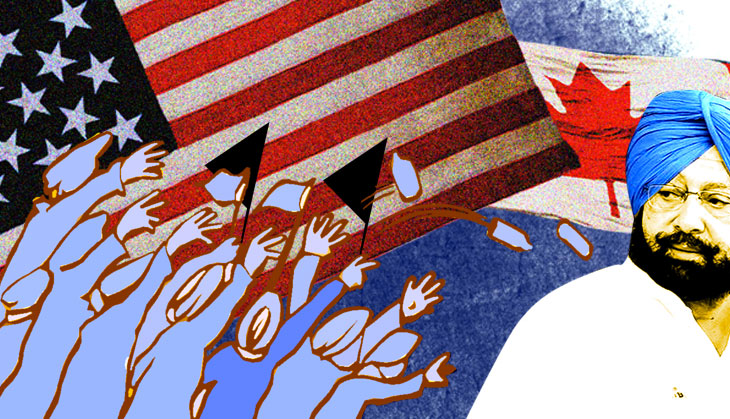 The visit
Amarinder\'s foreign visits seem jinxed
After an embargo in Canada, he had to face tough questions on 1984 in US
Some people even shouted Khalistan Zindabad
More in the story
Amarinder\'s response
Badal\'s criticism
Who was behind the slogans?
What was supposed to be a morale boosting trip for Congress ahead of the forthcoming Assembly polls in Punjab has turned out to be a sojourn full of controversies for state Congress chief Captain Amarinder Singh -- his scheduled visit to the United States and Canada has been marked with an unsavoury incidents that have led to a section of his political rivals back home circulating pictures and recordings on the social media in a move to embarrass him.
Read: Amarinder Singh cancels Canada visit after Sikhs For Justice file complaint
The latest incident is the shouting of 'Khalistan Zindabad' slogans outside the venue of Amarinder's meeting with the Sikh non-resident Indians (NRI) at Fresno in California. While the function at the venue had gone off well, the Congress leader had to be escorted to his vehicle amid a security cordon as a handful of people started sloganeering. A video being circulated shows various objects, appearing to be empty bottles and cans, being hurled at his car as he left the venue.
Amarinder has taken strong exception to media reports saying he was heckled and shoes and other objects were thrown at him. He said the video has been circulated by Sikhs for Justice (SFJ) group and the rumour of hurling of shoes was deliberately spread to overshadow the successful meetings he has been holding with Punjabi NRI community in the United States. "Isn't it strange that the media took note of the pro-Khalistan slogans raised by a handful of people outside the venue, but totally ignored the meeting inside which was attended by about a 1,000 people and lasted for three hours?" he asked.
Tough questions
There are reports that Amarinder has been questioned at almost every venue about a statement made ahead of the last Lok Sabha polls where he had said that the people should move on while forgetting the 1984 riots. This was construed as giving a clean chit to Congress leader Jagdish Tytler in the 1984 anti-Sikh pogrom. He has reportedly said many times that he wants those guilty of the 1984 riots, punished.
The protests come as a surprise given the fact that it was Amarinder who had protested vehemently against Operation Bluestar in 1984. Despite his being on very good terms with the then Indian prime minister Indira Gandhi, he had gone on to resign both from the Lok Sabha as well as the Congress party. He is also the same man who has reportedly addressed meetings of Sikhs in the past with banners of Khalistan in the backdrop.
Also read: Can Punjab Congress crawl back to victory after Amarinder's full overhaul?
Just a week back, he had to cancel his trip to Canada when the authorities there invoked provisions of its Global Affairs Policy (GAP) that prevent foreign governments and individuals from conducting election campaigns in Canada. All that he could do was to lodge a strong protest in a letter to the Canadian Prime Minister Justin Trudeau pointing, "During the last one year, several political leaders including our Prime Minister Narendra Modi and some opposition leaders also visited Canada and they addressed public functions and nobody objected."
Amarinder later decided to go ahead with his pre-scheduled programmes in Canada by addressing gatherings in Toronto and Vancouver through Skype.
"But the purpose stood lost. If the address had to be through Skype, the same could have been done while sitting in Patiala and Ludhiana also," said a senior media person.
Badal's response
When he reportedly accused the Shiromani Akali Dal (SAD) leadership of scuttling his foreign visits to Canada and USA, chief minister Parkash Singh Badal retorted, "When Amarinder says anything just turn upside down to know the reality." Badal said that he was the first one to raise voice against the foreign authorities for not giving permission to Amarinder to interact with the Punjabis settled there and even termed it undemocratic and unfair.
Commenting recently on the SFJ that has been protesting against Amarinder, Badal said though its name was quite attractive and seems democratic but actually they opposed everyone - him, Amarinder or any other political leader from India.
Responding to a question on the cancellation of his trip to Canada due to a case filed against him by SFJ, Amarinder told a gathering in Los Angeles, "Its unfortunate that baseless charges are being raised against me." He said his five years regime in Punjab was the "most peaceful" and these people (SFJ) were playing into hands of anti-national forces by raising such issues.
Read more: Punjab Congress needs to rescue itself from Amarinder, Bajwa. And fast
Earlier, he had taken a jibe at SFJ over its complaint against the Aam Aadmi Party's (AAP) political programmes in Canada, months after the party leaders had already addressed meetings there.
"It is like locking the stable door after horse has bolted. This is just an afterthought by the anti-India group SFJ as I had questioned its silence against AAP holding similar functions in the past,"Amarinder pointed.
Observers feel that Amarinder's tour has been a fiasco as he was pushed on the defensive. Some people feel that it was pertinent for him to undertake the tour as there is a race among he parties to get political funding from abroad.
The SAD has been attacking him from day one since he embarked on the tour. Its leaders said a 'maharaja' living in his own cocoon surrounded by a coterie of sycophants was now making promises to NRIs that had already been fulfilled by the SAD-BJP government.
Party general secretary Maheshinder Singh Grewal said it appeared that Amarinder was now completely devoted to merry making as could be seen from the company he kept in Chicago and he does not have any inkling as to what had been done for the betterment of NRIs in Punjab.
Edited by Aditya Menon
More in Catch:
CBI summons Rawat after sting found genuine, he says it's a BJP plot
By 2050, India may lose 6% of GDP due to water crisis: World Bank
Court-ship of the desert: MP camels to get married in a gala ceremony
Auto industry growth a sign of economic rebound. But is it a false dawn?