Auto industry growth a sign of economic rebound. But is it a false dawn?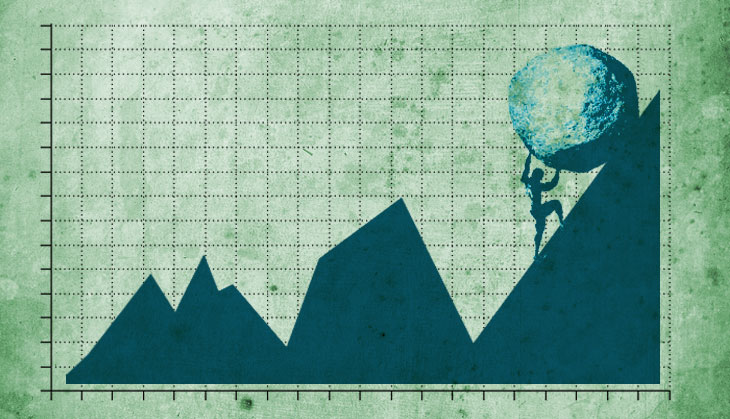 India seems to be on an economic rebound, according to macro economy indicators released this week.
Sales of passenger vehicles have registered a double digit growth in April, and companies like Maruti Suzuki, Hyundai, Renault and Mahindra & Mahindra have witnessed strong year-on-year growth. The top five players in the country posted a 16% growth - the highest in six months.
Read: Why is the IMF afraid of questioning India's GDP numbers?
The two-wheelers segment also indicated a revival of demand, with Hero MotoCorp and Honda Motorcycles and Scooters posting 14.89% and 25.83% growth respectively.
Core sector data, another indicator for the performance of the economy, also showed signs of revival in March.
The combined output of eight crucial infrastructure sectors jumped to a 16-month high of 6.4%, due to a double-digit growth in refinery products, fertilisers, cement and electricity.
That's not all. According to a Mint survey of 76 Bombay Stock Exchange firms, net sales of companies grew at the fastest pace since April-June 2014 at 6.8% year-on-year.
A survey by The Business Standard of 190 listed companies revealed net sales and profits grew by 5.1% and 9.2%, respectively.
Pessimism caused by past
All these numbers are good enough reasons for optimism, when looked at in isolation. But unfortunately, it's too early to break out the champagne. There have been green shoots of hope in the past too, but they haven't gone anywhere.
Also read: RBI cuts interest rate to stimulate economy. Now pray for a good monsoon
The Indian economy, over the past two years, has seen many positive signs, only to fall back into the ditch of sluggish demand.
For example, the core sector grew by 4.4% in May 2015, which was the fastest in the previous six months. But after that, the economy lost steam and, in June and July, the data came down to 3% and 1.1% respectively.
By November 2015, the core sector contracted 1.3% due to decline in steel production.
Similarly, auto sales have also declined drastically after registering double digit growth in 2015. In October 2015, automobile sales had gone up by 14%, but the bumper sales season was followed by a moderate growth of 3.18% in November.
Another fact that raises doubts over the economy actually rebounding is the sluggish growth in the Nikkei Markit Manufacturing Purchasing Managers' Index (PMI), which fell to a four-month low of 50.5 in April from March's 52.4.
The decline in the PMI was due to weak demand, which forced firms to reduce output. While it would be unfair to judge India's growth prospects solely on the basis of the PMI, ignoring it completely would also be wrong.
Experts' view
According to Abdul Majeed, auto industry analyst and partner at PwC India: "The spike in auto sales indicates increased hope among the people. Interest rates have started to come down and banks are ready to lend more, due to increased liquidity.
Read more: No longer India's saviour: service sector shows signs of stagnation
"The Union Budget allocated money for the rural economy. All this has led to people going out to showrooms and buying vehicles. But all this is dependent on a good monsoon. If the monsoon fails, all this positive sentiment will go away."
DK Joshi, chief economist with the CRISIL rating agency, also feels the same.
"The recent data is a result of increased expectations from the monsoon. If we have a good monsoon, we will see a complete economic rebound, as people will have more money in their hands, which they would like to spend. So, we need to wait for the monsoon to announce a real economic recovery in the country," he said.
Edited by Shreyas Sharma
More in Catch:
AgustaWestland: how Singhvi tore apart NDA's case against Congress
Move over pessimism. We just got a beautiful lesson in hope courtesy Leicester City
Uttarakhand: Centre may agree to a floor test. Will 9 Cong rebels vote?
Punjab gangster gunned down in HP. Rivals fight for credit on Facebook