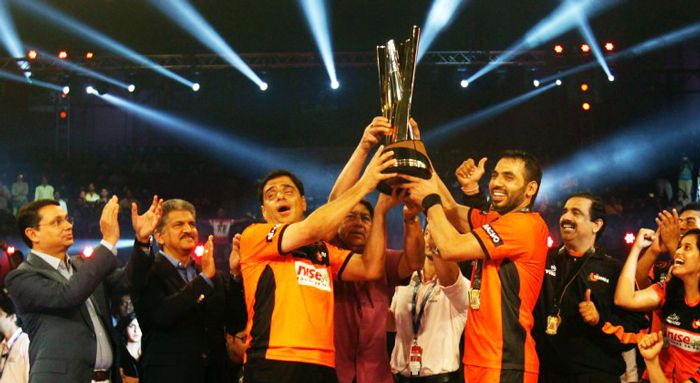 Ronnie Screwvala's claim to public fame may be the mammoth success he made of UTV - but those that know him well have always known him as a man of multiple passions.
Sport, it turns out, is one of them - but not for him the easy road that cricket in India represents.
Instead, he's part of the serious kabaddi revival the country is currently seeing: his company U Sports owns the Pro Kabaddi League franchise U Mumba who were crowned the champions of the tournament's second season on Sunday, 23 August.
He also supports grassroots football through his U Dream Football initiative, and is planning to start a motor-racing event called U Moto 250.
He's perhaps best placed to do so - he has a fervent passion for sport and a deep-seated understanding of entertainment, and the combination of the two is what will be needed to pull eyeballs away from cricket.
Excerpts from an interview to Catch:
U Mumba won the Pro Kabaddi League title with relative ease this season. What is the key to the team's success?
They performed consistently well throughout the season. The team spirit in the squad was excellent, which played a big part in their success in the league. This is a 40-minute game with a lot of unpredictability. Despite the best-laid plans, things can go awry - it's the nature of this game and of most sport. However, the team managed to handle situations very well. There has been constant improvement on all fronts over the course of the season.
The core players of our team, who also played last season, have been absolutely fantastic this term.
There was a high level of consistency from every player, which translated into wins on the mat. I think our mix of three raiders, three defenders and one all-rounder turned out to be a very well-balanced strategy. It helped us turn the games around because of our prowess on both the offensive and defensive fronts.
What prompted you to invest in kabaddi in the first place?
I like doing things which can make a major difference. With kabaddi being a traditional sport in this country, we knew that if we did a few things differently with the Pro Kabaddi League, the sport could become hugely popular here.
We weren't sure how long it would take for the sport to grow in popularity, but there was never any doubt about its scope for growth in the long run. In that context, it made complete sense investing in kabaddi.
The viewership figures are pretty amazing - starting from season one last year, which had a total of 435 million viewers. Did you expect this quick a response?
We didn't expect this kind of response in the first season itself, to be honest with you. We knew it would eventually pick up, so the overall success of the league was not surprising - but yes, we were a bit surprised with the number of people we reached in the first season.
All eight franchises have invested considerable amounts of money since the start of the inaugural season. In how many years are you expecting to break even?
We have already managed to do that. This is the first sports league of the country where teams have broken even in the second season itself. The sponsors' response has been great, the gateway receipts have increased and the broadcast revenues have been picking up.
However, it is important to note that the cost model in this league is slightly different from others. I am sure that the cost will go up in the future as the league continues to grow, but it started at a very low base.
Given its success all over India, do you think the Pro Kabaddi League could expand to include teams from other parts of the country?
I think that's the plan. I can't individually speak for the league, but we would encourage and welcome additional teams to the league. What happens with more teams in the league is that it gets more diverse as a tournament.
There is greater unpredictability with respect to the on-field action, which will make the league more exciting and garner more attention. Right now, the plan is to hold a Pro Kabaddi League season every six months, instead of extending the time-span of one single season.
Apart from kabaddi, you also support football through the U Dream project, for which you've tied up with the German club Hoffenheim. Tell us more...
When it comes to football, we are absolutely focused on long-term talent-building. We are not here as investors. Fifteen kids left for Hoffenheim day-before-yesterday for six years of training. Next year we are planning to send 90 kids under the same program. All these kids are below the age of 14, and the crucial bit is that we will be managing their careers for the next ten years.
And then there's a motorcycle racing event - U Moto 250 in the works? What exactly is the event all about and when is it slated to start?
With U Moto we're trying to make it a destination sport cum motorsport event. It will be held in some of the country's most exotic places. At the moment we're researching and analysing the right locations - so far we've zeroed in on Daman & Diu, Pondicherry, Goa, Ladakh and Leh.
As for the commencement of the event, it will either start in 2016, or in 2017 at the latest. At the end of the day, it will be a racing event, so we will have to do a lot of work with the tracks.
That's an eclectic range of sport - is there any other that you're also keeping an eye on?
Yes, we are also looking to launch a gaming league. Such leagues have become exceptionally popular around the world in the last 2-3 years, and are quite television-friendly. So that is something we are currently exploring.
It's obvious you have a fascination for sport. What aspect of it draws you most?
I want to see India do well in multiple sports disciplines. For that to happen, we need to create an ecosystem where sports becomes a viable career option for youngsters. I am more than happy to contribute to the creation of such an environment.
Right now, not enough people pursue sports as a career. Kabaddi, for example, has become quite popular in India recently. But as a sport it is still not aspirational, which is what we want it to be in the coming years.
So it (my involvement with sports) is mainly about encouraging talent, backing different sports disciplines, creating brands in sports and making sports a viable career path for youngsters.
As an avid sports fan, do you think India can go on to become a major sporting power in the years to come?
Well, I am not an astrologer, so I cannot predict that. All I can say is that we don't have a choice. India as a nation will have to go for it. You can't be one of the largest economies in the world and not be one of the best performing nations in multiple sports disciplines.
At present, we are not doing enough at the grassroots level. People don't want to pursue careers in sports and we don't have too many role models in this industry. If we can gradually bring changes in these areas, I think we will do well. As a country, we don't have any other choice.