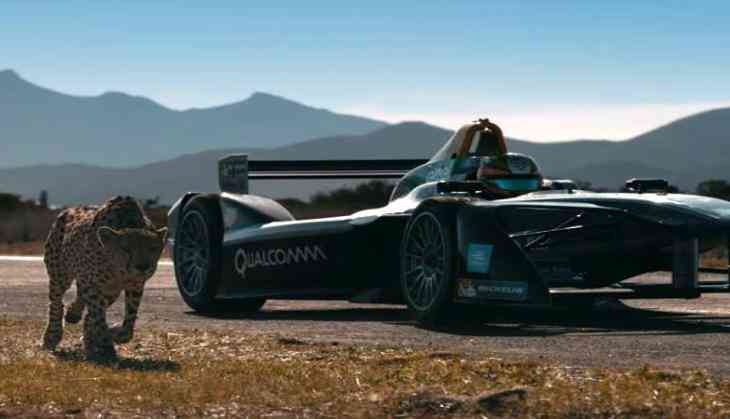 This has to be one of the most exciting races ever as a racing car driver has taken on a cheetah in an extraordinary drag stunt ahead of the Formula E season.
Techeetah driver Jean-Eric Vergne challenged the world's fastest creature in the animal kingdom in his all-electric Formula E car, with both capable of reaching 60mph in as little as three seconds, reports Mirror.
If that does not make you excited, the result of the race surely will.
The cheetah initially raced past ahead of the car, reaching a staggering speed of 62mph (100 km/hour) in just three seconds.
But after taking an initial lead, the cheetah is eventually beaten out by the race car, which can travel at the speed of up to 140mph (225 km/hour).
The footage was released to raise awareness of the threat of climate change to animals such as cheetahs ahead of next week's UN Environment Assembly.
The race was set up by Formula E, and took place on a landing strip in a remote part of the Western Cape of the southern tip of Africa.
Formula E founder Alejandro Agag said, "We knew the similarities in performance between the Formula E car and a cheetah, so we were curious to see the outcome. But, what's even more important is to determine the outcome for the future of not only us, but the cheetah and other animals we share our planet with."
The new Formula E season begins on Saturday (2 December) in Hong Kong.
-ANI