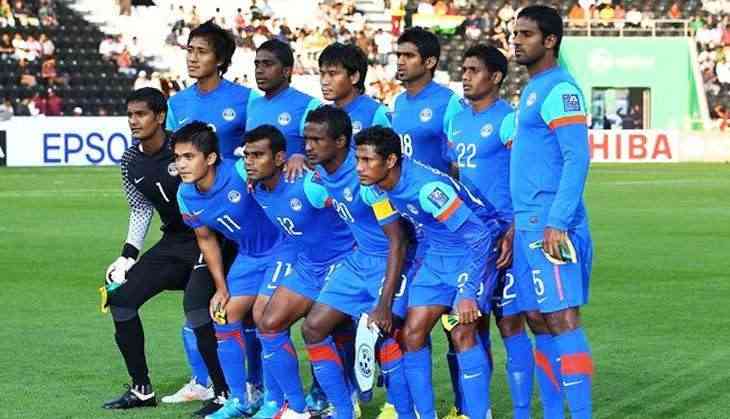 Team India shift focus to match against Kyrgyz Republic
After displaying exemplary professionalism on the field against Nepal, the players of the Indian national football team believe that they need to come out with similar performances in the upcoming matches if the momentum has to be sustained.
'Basking in glory is something which the present crop of players is not willing to wear it on their sleeve.
Sandesh Jhinhgan, for example, who is now making it a habit of scoring in almost every match grins when reminded about it.
"I am happy to help the Team," he utters, moments after India won 2-0 against Nepal, sweat trickling down his forehead. "The clean sheet matters the most. We needed this victory because this gives us a good momentum for the match against Kyrgyz Republic. We need to build on it," he adds, even as the loud cheers from the stands seem to overlay his voice.
Jeje Lalpekhlua whose sublime finish wrapped up proceedings for India after Jhingan's goal insisted that the Team needs to "stay calm."
"It was humid and a very difficult game. We fought hard and stayed together. We did not get any goal in the first half but stayed calm and patient. We kept working in the second half and it paid dividends," he states.
Seven consecutive victories in International Football is no achievement. But Robin Singh isn't much willing to read much into it.
"There is only way, and that is to move forward from here. The match against Nepal was a winning step and it is time to focus on the match against Kyrgyz Republic," he maintains.
The boys had a morning recovery session at the pool and will resume practice again from Thursday.
"The victory against Nepal makes us more confident. We need to carry this confidence into our next match and need to fill in the areas which the Coach will instruct us to," Pritam Kotal, who floated innumerable crosses from the flanks against Nepal, joins in.
Midfield General Eugeneson Lyngdoh feels that the Team played a "good game" against Nepal. But the very next moment, he adds: "This was a much needed victory. We need to capitalise on the win. It will stir up the confidence of the players for sure."
Gurpreet Singh Sandhu, who has now an all-win record in the three matches in which he has Captained India credits the coaching staff, the Coach and all his teammates for all the success.
"Football is not just about one man. It's a Team playing together, and it's not just the Team who is taking the field. I am proud to be a part of the Team," he echoes, and repeats the next moment: "Really proud," he said.
India will take on the Kyrgyz Republic in the AFC Asian Cup UAE 2019 qualifying match which is slated to be played in Bengaluru on June 13.
-ANI