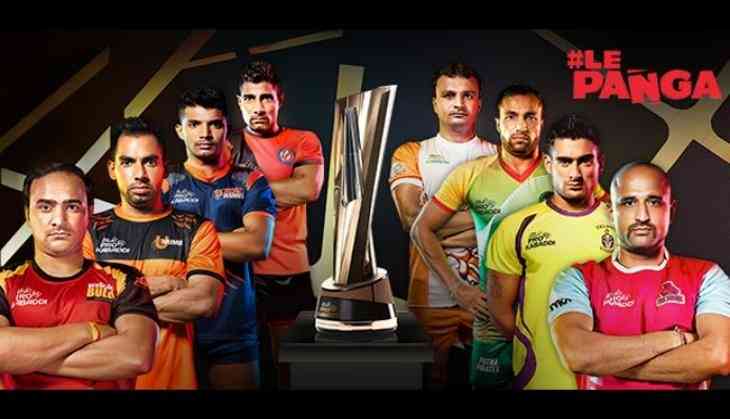 The Franchises of Pro Kabaddi League has broken their bank to bag their desired players. Monu Goyat and Rahul Chaudhari, the most expensive players in the history of Pro Kabaddi League (PKL) and broken the barrier of 1 crore club.
Over the span of two days, Mumbai witnessed 12 teams bidding for 58 foreign players and 87 players from the Future Heroes Kabaddi programme were also up for bidding.
The total 422 players had gone for the sixth edition of Pro Kabaddi League. Each team can have a maximum of 25 players. Further, the squad must have a minimum of 18 players.
Here is the list of full squad including Raiders, Defenders and All-rounders.
Bengaluru Bulls
Pawan Kumar, Mahender Singh, Kashiling Adake, Jasmer Singh Gulia, Raju Lal Choudhary, Dong Ju Hong, Gyung Tae Kim, Sandeep, Jawahar Vivek, Mahesh Maruti Magdum, Mahendra Singh Dhaka, Nitesh BR, Anil, Anand V, Rohit,
Retained players – Rohit Kumar
FKH players – Harish Naik, Amit Sheoran, Sumit Singh
Squad strength: 19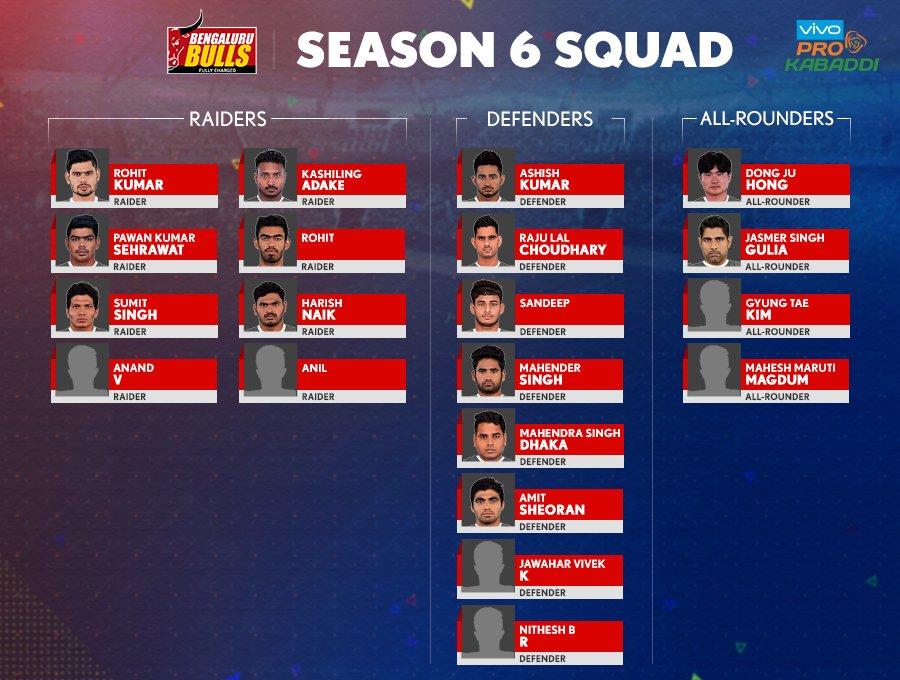 Pro Kabaddi (twitter)
Dabang Delhi
Chandran Ranjit, Vishal Mane, Viraj Landge, Pawan Kumar, Ravinder Pahal, Rajesh Narwal, Shabeer Bapu, Siddharth, Khomsan Thongkham, Anil Kumar, Kamal Kishor Jat, Yogesh Hooda, Joginder Narwal, Satpal Narwal
Retained players – Meraj Sheykh, Tushar Balaram Bhoir, Tapas Pal, Vishal
FKH players – Naveen Kumar
Squad strength: 19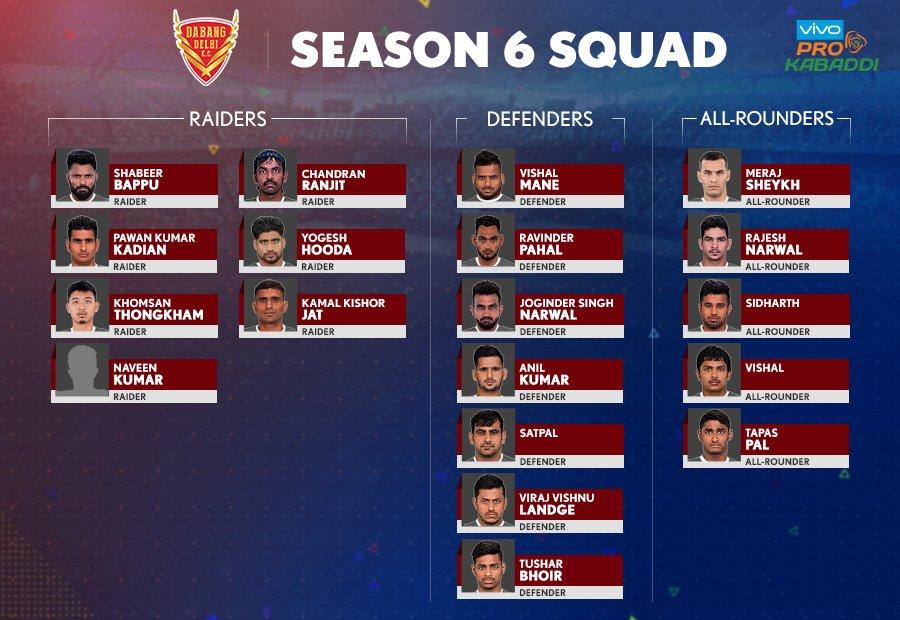 Pro Kabaddi (twitter)
Gujarat Fortunegiants
K Prapanjan, Parvesh Bhainswal, Ruturaj Koravi, Ajay Kumar, Dong Geon Lee, Hadi Oshtorak, Shubham Palkar, Amit Sharma, Dharmender,
Retained players – Sachin, Sunil Kumar, Mahendra Rajput
FKH players – Lalit Chaudhary, Vikram Kandola, Anil
Squad strength: 15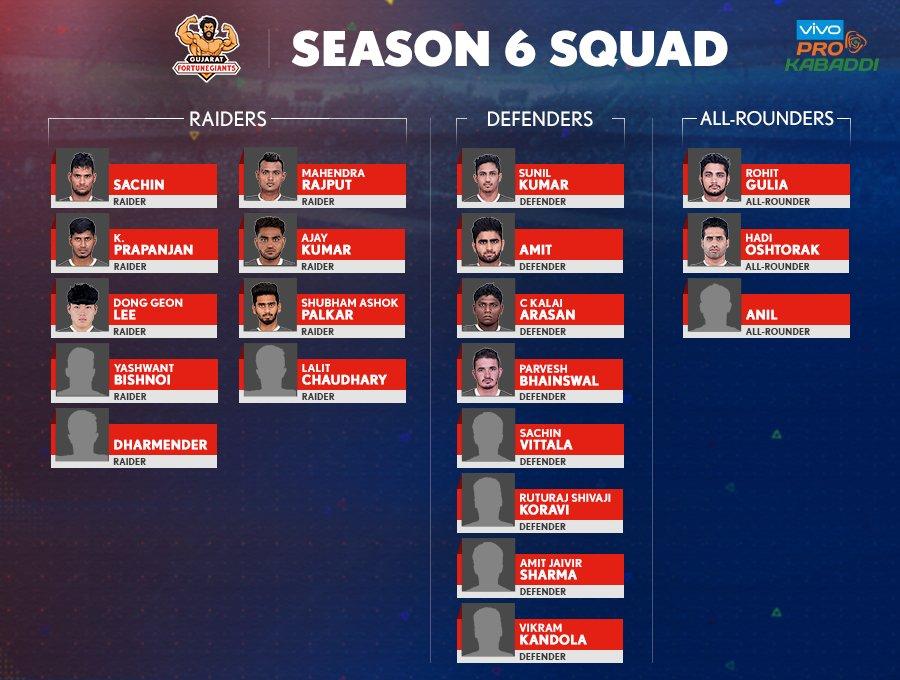 Pro Kabaddi
Jaipur Pink Panthers
Deepak Niwas Hooda, Sandeep Dhull, Mohit Chhillar, Anup Kumar, K Selvamani, Bajirao Hodage, Chang Ko, David Mosambayi, Gangadhari Mallesh, Sunil Siddhgavali, Anand Patil, Shiva Ramakrishna, Brijendra Singh Chaudhary,
FKH players – Lokesh Kaushik
Squad strength: 14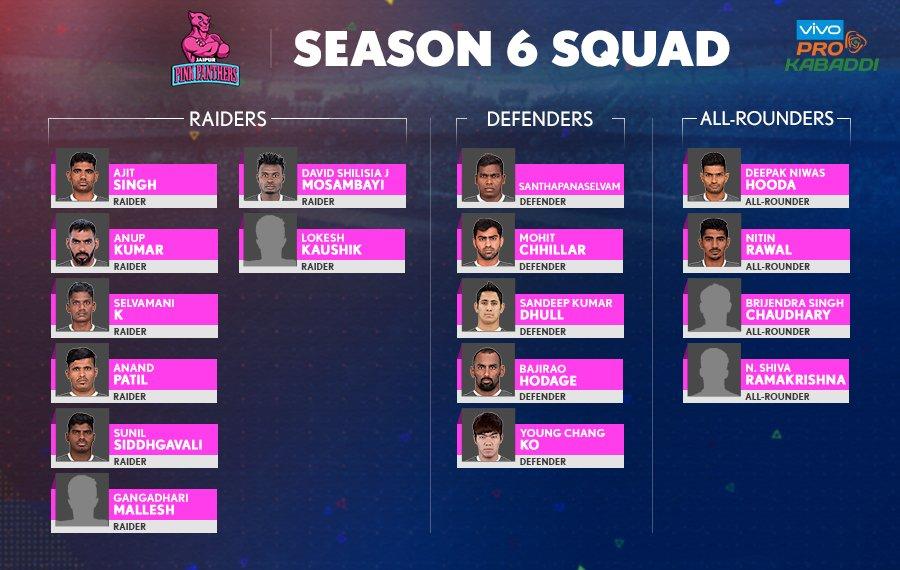 Pro Kabaddi
Tamil Thalaivas
Sukesh Hegde, Darshan J, Manjeet Chillar, Jasvir Singh, K Jayasselan, Atul MS, Chan Sik Park, Anil Sharma, Abhinandan Chandel, D Gopu, Vimal Raj, Jae Min Lee
Retained players – Ajay Thakur, Amit Hooda, C. Arun, D Pradap
FKH players – Rajnish
Squad strength- 17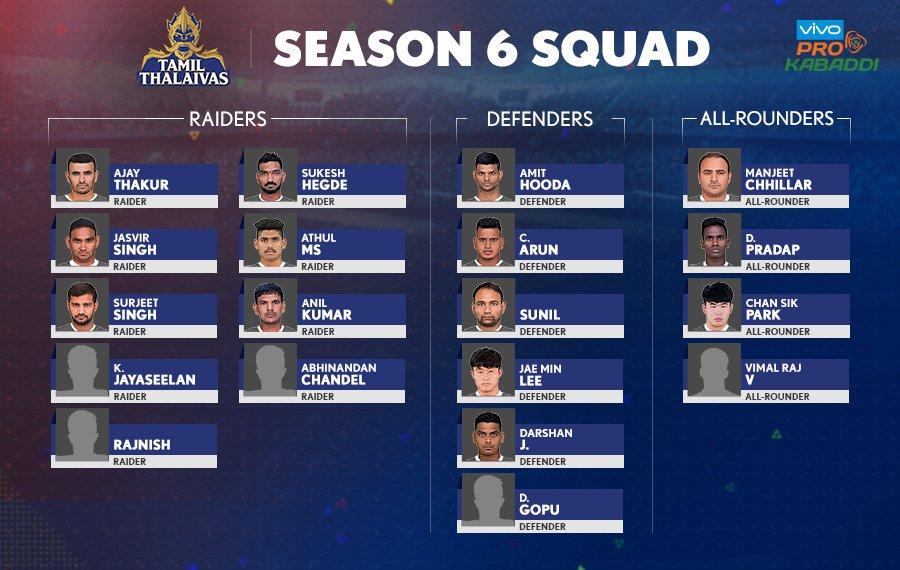 Pro Kabaddi
Dabang Delhi
Chandran Ranjit, Vishal Mane, Viraj Landge, Pawan Kumar, Ravinder Pahal, Rajesh Narwal, Shabeer Bapu, Siddharth, Khomsan Thongkham, Anil Kumar, Kamal Kishor Jat, Yogesh Hooda, Joginder Narwal, Satpal Narwal
Retained players – Meraj Sheykh, Tushar Balaram Bhoir, Tapas Pal, Vishal
FKH players – Naveen Kumar
Squad strength: 19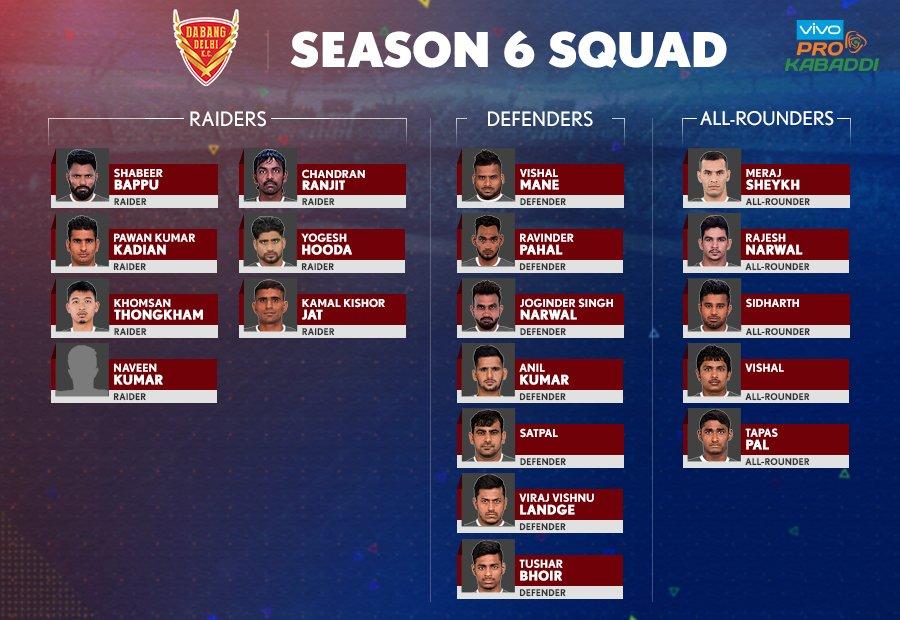 Pro Kabaddi (twitter)
Also Read : Pro Kabaddi League 2018: From Raiders to Defenders, complete squad of teams including Patna Pirates and UP Yoddhas