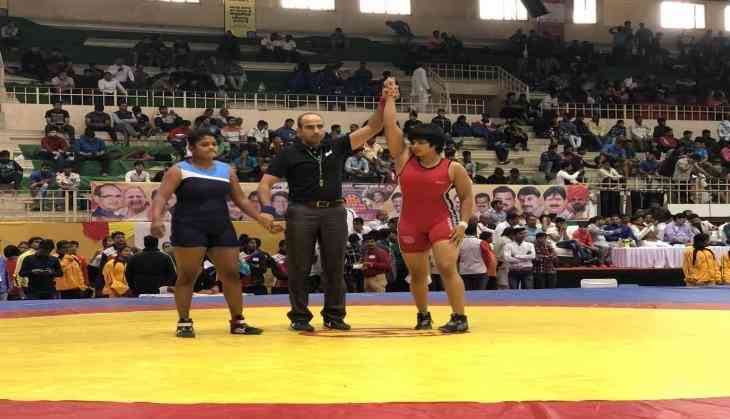 Winning a wrestling match is not new to Divya Kakran who used to fight with boys in the villages of northern India. But a few people know that her father Suraj plays a crucial role in her life.
The story of this wrestler who had won gold medal for the first time at senior level in National Wrestling Championship is very impressive.
But the interesting part of her story is that her father still sells 'langot' whereas his daughter fights in a match. Whenever Divya used to play wrestling in any place, her father used to sell 'langot' sitting outside the Ground.
For becoming a good wrestler, Divya had gone through intense hardwork. Talking about the daughter, the proud father Suraj said, "I was selling langots outside the stadium. She is running our family. She wins, earns money and we live because of that. I thought I'll make some money."
On Friday, after winning the medal in the National Wrestling Championship, the local people welcomed her very well. Divya, who lived in the house of two small rooms in Gokulpuri, East Delhi, was put into this male-dominated game so that the financial needs of the house could be completed.
Divya has a very simple approach to wrestling. On several occasions, without questioning her coach, Divya has accepted everything he said, but before the national championship she had asked a question from her coach.
She asked the coach, "how far can I go to this contest?" In response, Divya was told that she could win the title of the championship, then she began to believe in herself.
"Every time I wrestle, I try to pin. But today I wanted to wrestle for six minutes and score points so the others know that I can do both things. Pinning was an option but I was getting exposed and giving up points too easily," Divya says. "I was tired because I vomited thrice before the bouts today. I think weight cut was the reason. But I am happy I pulled it off as I had planned."
There was a time when Divya had to stop wrestling after winning first major silver medal at the Asian Championships in July. Stones were detected in her kidney after which she had pay regular visit to the hospital. "For three months I went to AIIMS and I was so depressed. It was not the best time for me as I had won a medal in Delhi and was hoping to go to World Championships in Paris," recalled Divya.