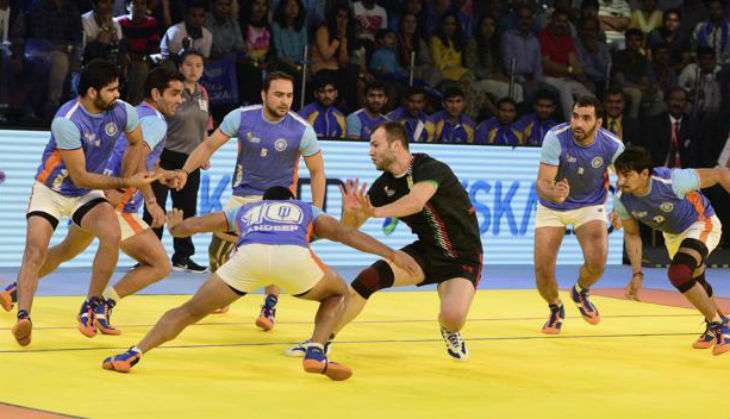 A brilliant second-half performance saw India stage a memorable comeback as they beat Iran 38-29 in the title clash to lift the 2016 Kabaddi World Cup in Ahmedabad on Saturday night.
Riding on a terrific performance by Ajay Thakur's 12 points, India produced a strong comeback at the TransStadia Arena to send the packed crowd into raptures.
The final was like a boxing bout as both teams -- considered kabaddi powerhouses -- traded punches and gave it as good as they got.
India struck the early blows as Sandeep Narwal and Thakur scored raid points to lead 2-0 in the third minute. Meraj Sheykh scored Iran's first point as they levelled the game at 2-2 in the fourth minute.
Iran's defence were up for it as they contained Pardeep Narwal effectively and then sent Thakur to the bench to lead 5-4 in the eighth minute.
The match lived up to its expectations as both teams fought hard and refused to give an inch. Skipper Anup Kumar scored his trademark bonus point to level the scores at 6-6 in the 10th minute. Meraj Sheykh scored with an excellent raid and reduced India to just three men as Iran led 9-7 in the 13th minute.
India's defence had a below-par first 15 minutes as they scored just one tackle point. Iran reduced India to just two men but a brilliant super tackle by Mohit Chhillar the 16th minute to cut the lead to just one point again.
Meraj Sheykh continued to be a thorn in the Indian defence but Nitin Tomar came up with a brilliant raid and scored two points in the 18th minute as India trailed 11-12.
India were again reduced to just one man and Iran inflicted the first all out of the match in the 19th minute to lead 16-12. The first half belonged Iran's defence as they did a brilliant job on Indian raiders as they led 18-13 at the end of the first half. Both Manjeet Chhillar and Pardeep Narwal scored zero points and their subdued performances hurt India's chances.
Iran made India commit errors as Meraj Sheykh forced Manjeet Chhillar off the court during a raid to lead 19-13 in the 23rd minute. Thakur scored two points in the 25th minute as India cut the lead to three points and sent Fazel Atrachali and Meraj Sheykh to the bench.
Iran sent Pardeep Narwal to the bench yet again as they led 20-17 in the 28th minute. The tide turned for India when Ajay Thakur scored his ninth point in the 29th minute to level the game at 20-20. India inflicted their first all out the match in the 30th minute to lead 24-21 as they took their biggest lead of the match.
It has been an enthralling two weeks, as Kabaddi truly become a global game. The 2016 World Cup provided with thrills, excitement and reached out to the hearts of millions across the world. India lived up to their favourites tag and delighted their fans all over the country.--PTI