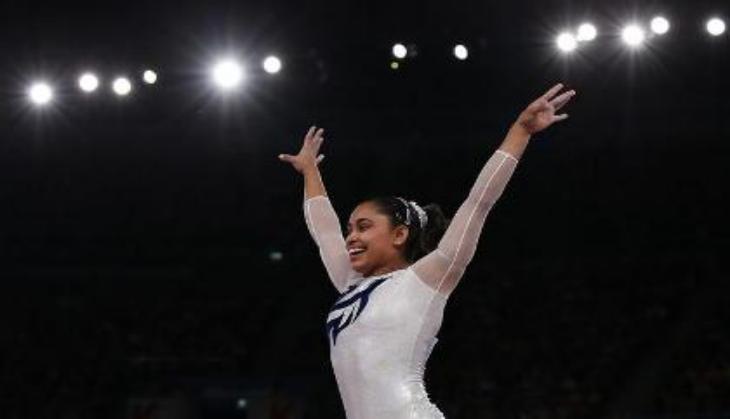 Dipa Karmakar created history by becoming the first Indian woman gymnast to qualify for the Olympics, after she booked a berth for the Rio Games on 17 April after a strong performance at the final qualifying and test event.
The 22-year-old garnered a total score of 52.698 points in the Olympics qualifying event to book a berth for artistic gymnastics in Rio Games to be held in August.
Dipa will become the first Indian gymnast to qualify for the quadrennial extravaganza in 52 long years. Since independence, 11 male gymnasts have participated in the Olympics - two in 1952, three in 1956 and six in 1964 - but this will be the first for an Indian woman.
The Federation Internationale de Gymnastique has confirmed Dipa's Rio Games qualification in its official release. "Following the women's qualification competition at the Gymnastics Test Event in Rio, the International Gymnastics Federation (FIG) herewith confirms the list of nations and individual gymnasts that have qualified for the Rio 2016 Olympic Games," the world body said in its release.
Dipa has been listed as the 79th among individual qualifiers in the list of women's artistic gymnasts who have qualified. Her first vault, the difficult Produnova, gave Dipa 15.066 points, the highest among the 14 competitors. But a poor show in the uneven bars took her points down as she collected 11.700, the second worse among the 14 participants. The Tripura girl secured 13.366 and 12.566 points in beam and floor exercises.
Deepak Kagra, an international referee, had said after Dipa's strong performance that it was "certain" that she would qualify. "It was a very good score from Dipa and we were certain that she would qualify for the Olympics. Now the world body has published the names of the gymnasts who have done so and her name is there. The gymnastics community is proud of Dipa's achievements," he said.
The 22-year-old could not clinch an Olympic berth in the World Championships in November last as she finished outside the podium (fifth place). She was earlier put as second reserve for the ongoing Olympic Test event in Rio but was informed last month that she had sneaked into the shortlist of participants.
Dipa had created history by becoming the first woman gymnast to win a medal, a bronze, in the Commonwealth Games in Glasgow in 2014. She then became the first Indian woman gymnast to feature in the finals of World Championships in November.
The sport of gymnastics has been in turmoil in the country in the the last few years with rival factions holding elections and claiming to be the national federation. Even the camps for the gymnasts has been held under the aegis of Sports Authority of India.
-With inputs from PTI