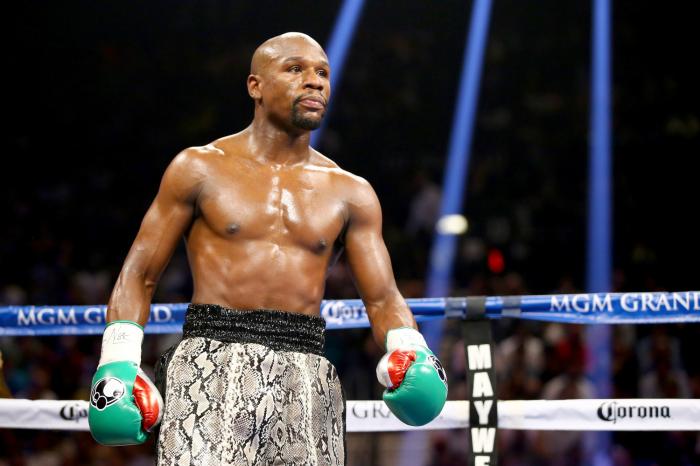 The United States Anti-Doping Agency (USADA) will have some answering to do in the coming days, after it emerged that Floyd Mayweather had taken an intravenous (IV) injection the day before his much-hyped fight against Filipino boxer Manny Pacquiao on 2 May, 2015.
SB Nation, a Vox Media-owned American sports network, reported on Wednesday, 9 September, that evidence of IV being administered to Mayweather had been found when USADA collection agents conducted an unannounced drug test on the boxer on 1 May, 2015, a day before his fight with Pacquiao.
Mayweather's medical team later told the USADA that two mixes - 250 milliliters of saline and multi-vitamins, and 500-milliliter mixture of saline and Vitamin C - had been administered to the boxer to treat concerns related to dehydration.
While the mixes themselves are not illegal, their intravenous administration is prohibited by the World Anti-Doping Agency, whose standards are required to be followed by national anti-doping agencies across the world.
"Intravenous infusions and/or injections of more than 50 ml per six hour period are prohibited except for those legitimately received in the course of hospital admissions, surgical procedures, or clinical investigations," WADA guidelines explicitly state.
Surprisingly, USADA didn't notify the procedure to Nevada State Athletic Commission (NSAC), which had jurisdiction over the fight, until 21 May, 2015, 19 days after the bout took place. On 21 May, USADA did write to NSAC, informing them that a retroactive therapeutic use exemption (TUE), which is usually given during medical emergencies, had been granted to Mayweather.
The resulting correspondence between USADA and NSAC reveals that the Mayweather camp had actually applied for a retroactive TUE on 19 May, 17 days after the bout, and was immediately granted the same by the USADA a day later.
Don Catlin, one of the pioneers of modern drug-testing in sport, said he was surprised by the exemption granted to Mayweather. "It's bizarre. It's very troubling to me. USADA has yet to explain to my satisfaction why Mayweather needed an IV infusion. There might be a valid explanation, but I don't know what it is," he said.
Bob Bennett, the executive director of NSAC, also lambasted USADA for failing to notify about the IV injection on time. "The TUE for Mayweather's IV - and the IV was administered at Floyd's house, not in a medical facility, and wasn't brought to our attention at the time - was totally unacceptable," he said.
"We have the sole authority to grant any and all TUEs in the state of Nevada. USADA is a drug-testing agency. USADA should not be granting waivers and exemptions. Not in this state. We are less than pleased that USADA acted the way it did," Bennett further added.
Floyd Mayweather is scheduled to take on compatriot Andre Berto in his final career bout at Las Vegas' MGM Grand on Saturday, 10 September.