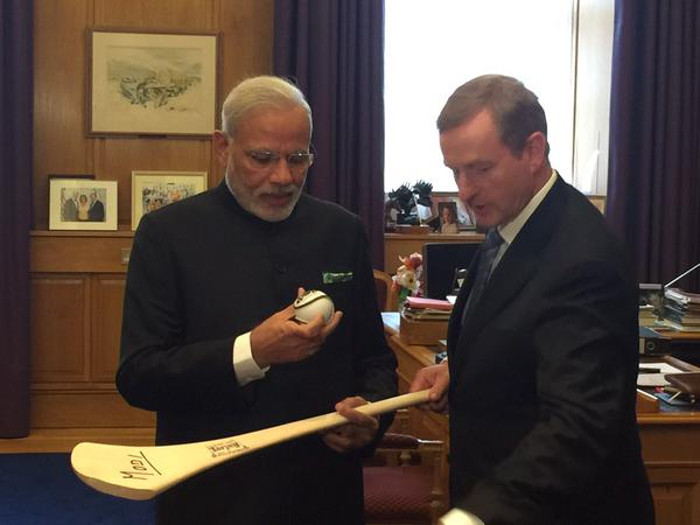 Prime Minister Narendra Modi, who's on a day-long trip to Ireland, was presented with an Irish black and green cricket jersey with his name imprinted on the back by host Prime Minister Enda Kenny. Apart from the cricket jersey, PM Kenny also presented a sliotar and a hurley while explaining the popularity of 'Hurling' in Ireland to his Indian counterpart.
Hurling, touted to be world's fastest field sport, is an outdoor team game of ancient Gaelic and Irish origin. And in an era where cricket and football dominate global viewership in sports, Modi would have surely been surprised to hear about Hurling.
Not only cricket but also hurling...PM @narendramodi gets a sliotar and a hurley. Hurling is popular in Ireland. pic.twitter.com/ei98yNnAvY

— PMO India (@PMOIndia) September 23, 2015
In return, Modi presented his Irish counterpart with the reproductions of selected manuscripts from the National Archives of India. The Indian prime minister reached Dublin earlier on 23 September, to hold bilateral talks with Ireland's top leadership.
Modi is only the second Indian prime minister to visit Ireland after Jawaharlal Nehru, who went to the country back in 1956. In 2013, the total trade in goods and services was recorded to be 2.48 billion euros approximately. Computer hardware and software, pharmaceuticals and machinery are the key items of Irish export.
Connecting through sports...PM @narendramodi gets a jersey of the cricket team of Ireland from Mr. @EndaKennyTD. pic.twitter.com/LgzaY5MNY6

— PMO India (@PMOIndia) September 23, 2015
After meeting the Irish government officials, Modi will also interact with the Indian community at a special event scheduled at Hotel Double Tree Hilton in Dublin. Ireland is home to around 26,000 persons of Indian origin, of which around 17,000 are Indian citizens.
What is 'Hurling'
Considered to be world's fastest field sport, Hurling is one of most popular sports in Ireland. A staggering 82,000 people attended the 2009 All-Ireland Senior Hurling Championship Final between Kilkenny and Tipperary at the Croke Park in Dublin.
The objective of the game is for players to use a wooden stick called a hurley to hit a small ball called a sliotar between the opponents' goalposts either over the crossbar for one point, or under the crossbar into a net guarded by a goalkeeper for one goal - which is equivalent to three points.
The sliotar can be caught in the hand and carried for not more than four steps, struck in the air, or struck on the ground with the hurley. It can be kicked or slapped with an open hand (the hand pass) for short-range passing. A player who wants to carry the ball for more than four steps has to bounce or balance the sliotar on the end of the stick and the ball can only be handled twice while in his possession.
Provided that a player has at least one foot on the ground, a player may make a shoulder to shoulder charge on an opponent- (a) who is in possession of the ball, or (b) who is playing the ball, or (c) when both players are moving in the direction of the ball to play it.
Hurling is played throughout the world, and is popular among members of the Irish diaspora in North America, Europe, Australia, New Zealand, South Africa and Argentina, and South Korea.