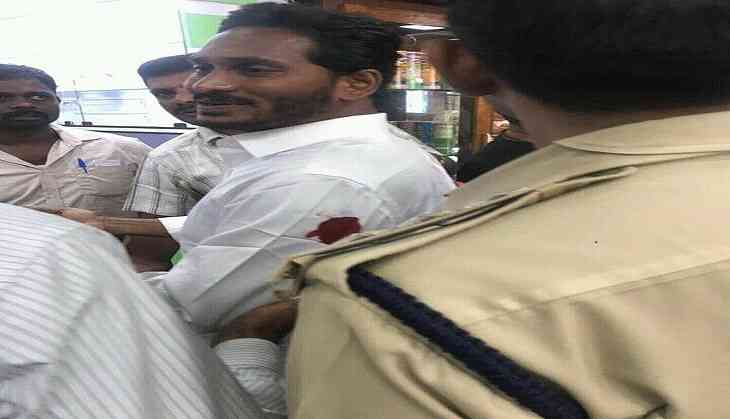 YSR Congress party chief Jagan Mohan Reddy has been stabbed on his arms by unidentified man, while he was at the Visakhapatnam airport.
The Opposition leader, Jagan Mohan Reddy, who has a significant role to play in the upcoming Lok Sabha polls and the Telangana election, has received minor cuts on his arm, when the youth had hit him, near the airport.
As per officials, Jagan had himself allowed the youth to come near to him and take a selfie, "The youth also asked Jagan if YSRCP will win 160 seats in elections next year. After clicking a selfie he turned around and slashed with a blade that is usually used in cockfights. The youth was immediately taken into custody," an official said.
However, the YSR Congress party MLA's are claiming that the man who was allowed to enter the waiting lounge was not checked properly as he was carrying a sharp item with him. YSR Congress MLA Roja Selvamani said that "When you cannot even take in a nail cutter, how did this youth get into the lounge with that sharp instrument." She held the ruling party the Telgu Desam Party responsible for lack in security arrangements to Jagan Reddy, as reported by The Indian Express.
Jagan Mohan Reddy has been in fray since the ruling TDP in Andhra Pradesh, walked out of the alliance with the BJP and held the latter responsible for not granting special status to the State. Their were talks in the corridor of Delhi that BJP might tie-up with the YSR Congress Party in the upcoming Lok Sabha election in Andhra Pradesh, as TDP will be forming an alliance with the UPA.
Also read: Watch: 4 'suspicious' men held from outside CBI director Alok Verma's house; Delhi police probing the case
Andhra Pradesh: YSRCP chief Jagan Mohan Reddy stabbed on his arm by unidentified assailant at Visakhapatnam Airport today. More details awaited. pic.twitter.com/lUmmMiaQCi

— ANI (@ANI) October 25, 2018