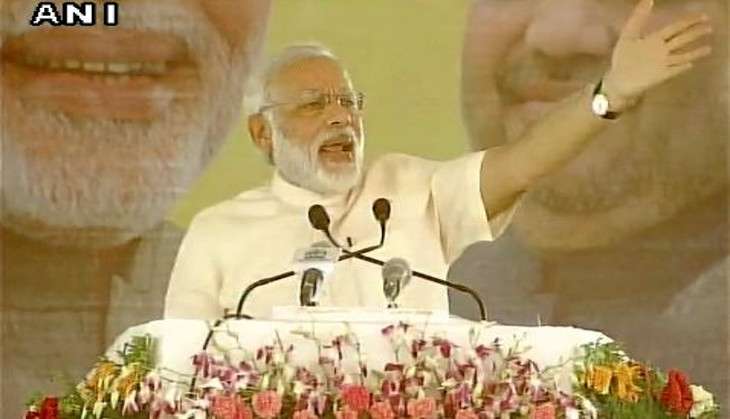 On 26 June, Prime Minister Narendra Modi addressed the nation in the 21st edition of his popular radio programme, Mann Ki Baat.
During his address, he touched upon a number of issues - ranging from the second international Yoga Day celebrations to ISRO's record-breaking launch of 21 satellites.
He also shared his thoughts on crucial issues like the Emergency and tax evasion.
Here are the topics PM Modi spoke about during his address:
Monsoon
"For the last few weeks we have got positive news about rainfall in various parts of the nation".
"I wish all the farmers the best as monsoon arrives across the nation. Scientists have predicted normal monsoons this year".
ISRO
"Like our farmers, our scientists are also working hard to take India to greater heights. Yesterday (25 June), I was in Pune where I met college students who made one of the satellites that was launched along with others a few days ago. This satellite signifies the skills and aspirations of the youth of India. Similar work was done by students from Chennai".
"I congratulate and thank ISRO and all the scientists for their efforts. India is proud of them".
First women fighter pilots
"Beti Bachao, Beti Padhao has touched so many lives. The results of the various examinations show how women are excelling. Induction of women fighter pilots into IAF is a proud moment for us. The women are from small cities and yet they dreamed big and achieved their success".
"I wish Bhawana Kanth, Avani Chaturvedi, and Mohana Singh and their parents well".
2nd International Yoga Day
"International Yoga Day was celebrated at over 1 lakh places in our country with enthusiasm. Yoga has the power to connect the entire world, if only each one of us connect ourselves with Yoga".
"So many people practiced Yoga, all over India and all over the world. Projections of Yoga on the UN building became popular".
"Yoga has abilities that can cure diabetes. Therefore, I urge people to share their experiences related to this on social media".
The Anniversary of the Emergency
"Democracy has given us strength, but the night of 25-26th June 1975 was the darkest night for democracy. All rights of citizens were taken away, country was turned into jail. Many political leaders like Jayaprakash Narayan were put behind bars. We must not forget that our power is democracy, our power lies in every citizen's strength".
Tax evasion
"We lose our peace by violating rules, why not give correct information about our income and assets to the government? People with undisclosed assets have an opportunity to declare their assets before 30 September This will also help them avoid difficulties which they might face after 30 September".
"In a country where a government employee donates Rs 5000 every month out of his monthly pension of Rs 16000, nobody has a right to evade taxes. Retired Govt employee Chandrakant Kulkarni gave me 52 post-cheques as donation for 'Swachh Bharat', he has set an example for us".