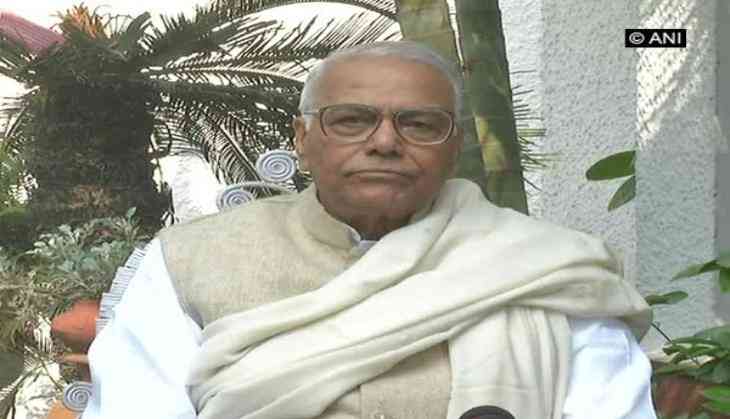 Former finance minister and senior Bharatiya Janata Party (BJP) leader Yashwant Sinha on 13 January demanded clarification on the allegations made by the four senior-most judges of the Supreme Court against the Chief Justice of India (CJI).
Addressing the media, Sinha said, "Regarding the arrangement of appointing selective Benches for some special cases in the Supreme Court, a clarification must be put before the public," adding that those cases should also be revealed.
"Indeed, those selective benches must have been appointed to obstruct the judicial process and manipulate the final verdict," he added.
The BJP leader also appealed the public to raise their voices for demanding the truth behind the allegation, contending that a compromise in the judicial process would lead to denial of justice for all.
"Although I don't intend to interfere in the internal matters of the apex court but when the four senior-most judges of the Supreme Court, addressing the nation, are telling this to the nation, it is our duty to not only listen to them but also raise our voices so that corrective action is taken,"
Sinha also appealed fellow BJP leaders as well as all senior most cabinet ministers to "stand against whatever is sabotaging our democracy and work towards saving it."
On being asked if the political parties should interfere in the internal matter of the apex court, Sinha quipped, "If the four senior-most judges have gone public about it, then how it is an internal matter anymore? The threshold indeed was crossed to compel them to speak up."
"The threshold was also crossed in other areas but people are not speaking up out of fear," he added.
Along with the judiciary, Sinha said the Parliament of India is also compromised, which has clearly "threatened democracy."
"The winter session of the Parliament was shortened because there was an election in one particular state, I have never heard of such short sessions in the parliament," he added.
In the press conference held yesterday, Justices Madan B. Lokur, Kurien Joseph, Ranjan Gogoi and Jasti Chelameswar questioned the conduct of the CJI, alleging that selective Benches were being appointed to preside over certain cases in the apex court.
-ANI