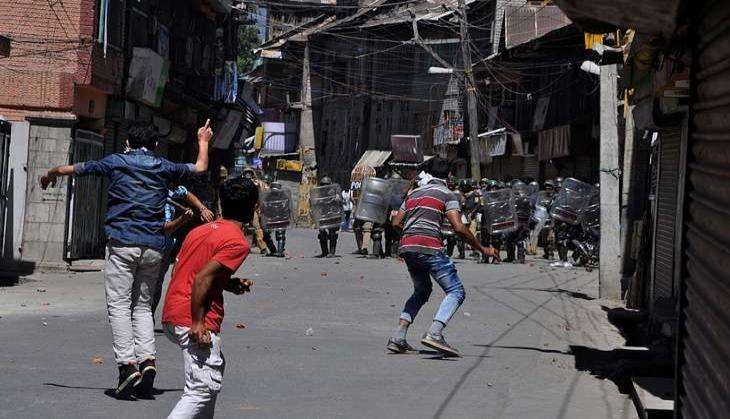 Four districts of south Kashmir - Pulwama, Shopian, Kulgam and Anantnag - have plunged into a state of mutiny as hundreds have been taking part in 'azadi' rallies daily in absence of police forces. The situation has turned so grim that out of 36 police stations in these districts, only one in each district of Pulwama, Rajpora and Awantipora are functioning.
According to a report in Times of India, all cops have evacuated the police stations, which are expected to remain shut for the time being. Most of these police stations have turned into empty shells, now guarded by the Army and CRPF. In places like Anantnag, the forces have been asked to remain mute, as the crowds take over the streets.
It was on 12 July, when a crowd attacked the Hanjipora police station in Kulgam district in south Kashmir, and bolted with 70 semi-automatic and automatic rifles. They had also taken two policemen of Damhal Hanjipora hostage.
While the hostages were later released, the weapons were were not recovered. "We hope these weapons haven't fallen into wrong hands. Some local militants were seen carrying weapons in one of the 'azadi' rallies in Anantnag," a police officer was quoted by TOI as saying.
A senior police officer told TOI that youths in massive numbers have joined the militancy groups and training are imparted to them in camps runs by top LeT and JeM commanders, to turn them into jihadis.
The unrest in the valley started after Hizbul commander Burhan Wani was killed in an encounter on 8 July.
"Army men have been deputed to protect police buildings from arsonists and CRPF men have been asked not to patrol the streets to avoid confrontation with the 'azadi' screaming crowds," another senior police officer said was quoted by TOI as syaing.
Muzaffar Wani, Burhan's father, told TOI on Monday that he would not like to be named as the new icon of protests.