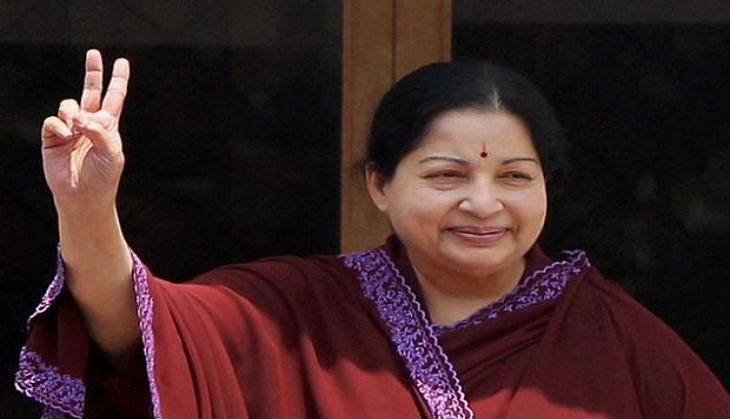 AIADMK authorities are discussing to put a stand-in leadership in place to take control of the government as the state chief minister J Jayalalithaa is admitted in hospital since last two weeks.
Jayalalithaa, 68, was admitted to the Apollo Hospitals in Chennai for fever and dehydration on 22 September. Subsequently, Apollo Hospitals said she was cured of fever and needed to be in the hospital for observation.
There are two options that are being considered by the officials. The functionaries may decide to hand over Jayalalithaa's portfolios to other senior ministers or to select an interim chief minister.
Jayalalithaa will continue to be the chief minister, if her portfolios are given to some other ministers.
According to media reports, senior cabinet ministers Edappadi K Palaniswami and O Panneerselvam are the choices for alternate CM.
Acting governor C Vidyasagar Rao on Friday met Palaniswami and Panneerselvam at Raj Bhavan to discuss issues related to general administratio.
Meanwhile, Bharatiya Janata Party (BJP) leader Subramanian Swamy on 7 October wrote to Union Home Minister Rajnath Singh and urged him to impose President's rule in Tamil Nadu in the wake of Chief Minister J Jayalalithaa's current health.
Swamy alleged that during the "ad hoc administrative situation in the state", there is massive disorder and lawlessness in Tamil Nadu.
"The Union Government should declare President's Rule in Tamil Nadu in view of the administrative disarray in the state following the indefinite hospitalisation of the Chief Minister and her having to remain - for health reasons - incommunicado. A retired Chief Secretary has been allowed to conduct the business of the state," Swamy wrote in his letter.
"During this ad hoc administrative situation, there has been an activation of the sleeper cell of the ISIS in the districts of Ramanathapuram, Tirunveli, Madurai and Kanya Kumari and a collaborative and supportive action by the Dravida Kazhagam, leftover LTTE, and disruptive groups such as underground Naxalites, to create an upheaval in the state causing a massive disorder and lawlessness," he added.
- With ANI inputs