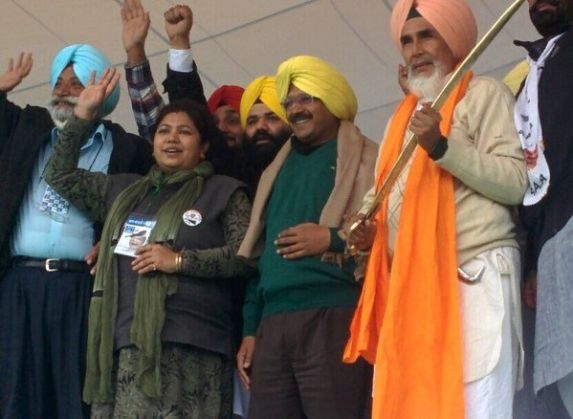 Sounding an early bugle for the 2017 Assembly elections in Punjab, Delhi Chief Minister Arvind Kejriwal addressed his maiden rally in Maghi Mela in Muktsar, Punjab, on 14 January.
Kejriwal used the platform to attack the ruling Shiromani Akali Dal (SAD) party and "lawlessness" prevalent in the state under the Badal regime. He touched upon all major issues, right from Punjab's cancer problem and lack of medical facilities to drug addiction and the recent incident of the Guru Granth Sahib's desecration.
Also read: Catch archive: the drugs and terror track in Punjab
He also said that when the
AAP
government is elected in 2017, he would send the Badals,who "have propagated crime and dynasty politics in the state", to jail. He attacked Punjab revenue and public relations minister Bikram Singh Majithia as well. Majithia had filed a defamation suit against Aam Aadmi Party (AAP) leader Sanjay Singh, as Singh had called him a drug lord, saying: "Punjab cannot progress as long as Majithia is in the cabinet, people in Punjab are scared of him".
On the issue of the desecration of the Guru Granth Sahib, Kejriwal said: "The Sikh holy text is respected by people of all religions. It contains the message of the Gurus. I promise the people of Punjab that when AAP government comes to power, if I don't send all those behind the desecration of the Guru Granth Sahib behind bars, my name not Arvind Kejriwal. All those who ordered firing at peaceful protesters for demonstrating against the desecration will be sent to jail."
Two people were killed in Punjab's Faridkot district in October, 2015, when the police fired at demonstrators protesting the desecration of the Guru Granth Sahib.
Kejriwal also attacked the Prakash Singh Badal government for allegedly failing to stop increasing atrocities against the Dalit community in the state. He cited the recent Abohar incident in which the chopped up bodies of two Dalits were found at the farmhouse of an SAD leader, to prove his point. He said: "If voted to power, we will register cases against all atrocities against Dalits and compensate their families".
Among the other promises made by Kerjiwal was a commitment of a Rs 1 crore compensation each for the martyrs from Punjab who lost their life in the recent Pathankon terror attack. He also promised to come back to Punjab after presenting the Delhi budget in March-April and tour the state extensively to understand the issues in the area.
The Maghi Mela is an annual event to commemorate the martyrdom of 40 Sikh warriors killed during the Battle of Muktsar in 1705. However, it is often used as a political platform by various parties. This year, all the major stakeholders for the Punjab elections are holding their own rallies on Thursday.