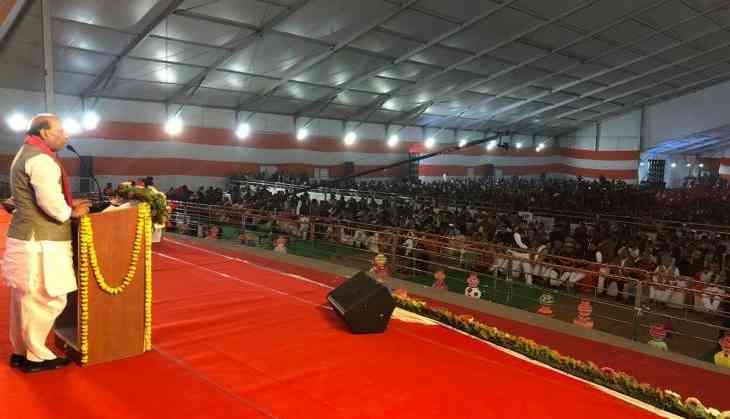 Home Minister Rajnath Singh was in Lucknow yesterday and delivering a speech at a Kumbh event when the audience interrupted him with the chants of Ram Temple.
While Rajnath Singh was delivering his speech, in the middle of it some people from the crowd started raising slogans that they will vote for Ram temple and if the party builds it, then only they will win.
"Jo Mandir Banwayega, vote ussi ko jayega (We will vote for the party, which constructs the Ram Temple)," chanted the audience in between the speech of Rajnath Singh and it created a scene for the BJP party workers.
In the mean time, the organisers had requested the audience to maintain the decorum and by calm in listening the Home Minister. Rajnath, who is a parliamentarian from Lucknow, was speaking at the Yuva Kumbh event in Uttar Pradesh's Lucknow where the member of the right-wing party were in the attendance but the speech was interrupted just after four minutes as it began.
And the audience was asked to be silent and then only the program would resume. Rajnath Singh has been at the center of controversy in UP, since the demand for the Ram Mandir were raised.
'युवा कुंभ' के समापन समारोह में आज लखनऊ में युवाओं से बातचीत करने का मौक़ा मिला। हमारे देश की युवा शक्ति में जो ऊर्जा और उत्साह है वह एक सशक्त एवं समृद्ध भारत के निर्माण में प्राण-पण से जुट गयी है। युवा ही परिवर्तन के वाहक हैं।भारत के युवाओं ने परिवर्तन लाने का संकल्प ले लिया है। pic.twitter.com/af7eA5FoeP

— Rajnath Singh (@rajnathsingh) December 23, 2018
Although, UP CM Yogi Adityanath has been raising his voice to build the temple by surpassing the judiciary and bringing a law in the parliament, to start the construction of Ram Mandir. In every election campaign and BJP's manifesto, the Ram Mandir has been given a space of its own yet even at the heights of this jumla, Ram lala lives in a tent in Ayodhya.
Also read: Congress allots cabinet ministry in Rajasthan with a touch of 2019 polls; lone ally RLD gets place