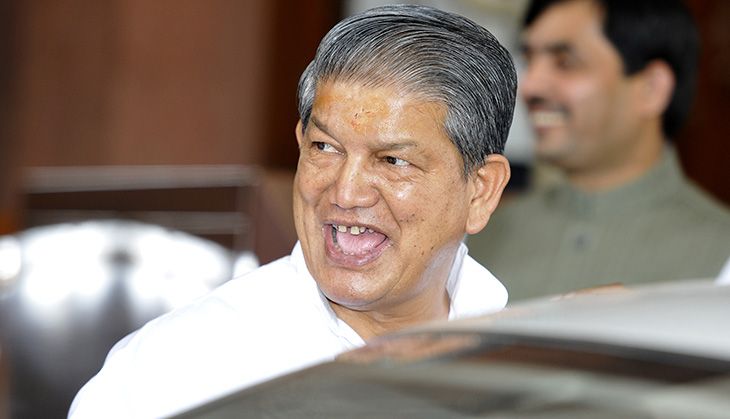 Uttarakhand Chief Minister Harish Rawat questioned why the allegations of horse-trading had been levelled against him when someone else was the true beneficiary.
Rawat said, "Is that person the beneficiary whose party was broken and ten people switched sides to the BJP or that party where ten new people joined? So, allegations of horse-trading are not being levelled against the beneficiary and instead the allegations are made on that person whose party was broken. So, this is a strange justice which the nation should definitely contemplate upon".
The Central Bureau of Investigation (CBI) has called Rawat for questioning in connection with the ongoing preliminary enquiry into an alleged sting operation against him.
Rawat said that he was not being able to carry out his duties as he was being repeatedly summoned. He assured that he would, however, cooperate with the CBI probe into the matter.
"Whenever they (CBI) will call me, I will appear before them. I would appeal to the people to watch the CD on the basis of which I have been summoned. I should definitely be punished if something faulty comes out in that particular CD. I am being summoned repeatedly so that I am not able to carry out my duties in the state which is my responsibility. But despite all this, I am here to honour the agency formed by the Indian Parliament," he said.
"The prestige of this premier organisation is at stake. A through probe must be done on horse-trading if indeed it has taken place in Uttarakhand. They should also probe the comments made by the leaders of both parties.besides tracking down their mobile, landline calls and the truth will come to the fore," Rawat said.
On 24 May, the CBI had questioned Rawat for over five hours in connection with the sting operation - where he was shown offering bribes to rebel Congress MLAs to save his government.
Earlier, the Uttarakhand High Court had refused to quash the ongoing CBI probe into the sting operation, following which the agency had summoned the Chief Minister.
The TV sting operation was done in March, when rebel Congress lawmakers voted against the state budget, triggering a political crisis.
Later, Rawat government was sacked by the Centre and the state was placed under President's Rule. However, Congress knocked the door of the court and Rawat returned as Chief Minister after winning a trust vote ordered by the Supreme Court earlier this month.
-With agency inputs