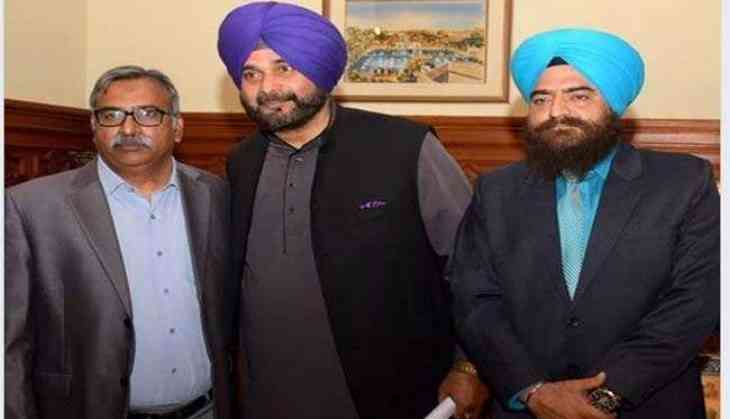 Punjab Minister Navjot Singh Sidhu has been criticised for his visit to Pakistan for the ground-breaking ceremony of the Kartarpur corridor has now returned to India. The cricketer-turned-politician Sidhu has stepped into fresh controversy after his photo with pro-Khalistan activist Gopal Singh Chawla emerged online. Responding to the controversy Congress leader Sidhu said he don't know who is Gopal Chawla?
"There were probably 5-10,000 pictures taken of and with me there(in Pakistan), I don't know who is Gopal Chawla," Sidhu said to ANI.
Navjot Singh Sidhu after returning to India: There were probably 5-10,000 pictures taken of and with me there(in Pakistan), I don't know who is Gopal Chawla pic.twitter.com/jSH3Zrhuaa

— ANI (@ANI) November 29, 2018
The picture of Navjot Singh Sidhu and pro-Khalistan activist Gopal Chawla was shared on the Facebook page of Chawla along with the Punjab minister sharing the frame.
As Sidhu praised Pakistan PM Imran Khan at the event, he was attacked by ruling Bhartiya Janta Party. The saffron party reacted to the Chawla's photo with Mr Sidhu, "Such malicious tactics on Pakistani soil cannot be ignored," said Union Minister Mukhtar Abbas Naqvi. The BJP minister also said that Navjot Singh Sidhu should maintain distance in such meetings.
Meanwhile, The union minister Harsimrat Kaur, who also attended the ceremony attacked Sidhu on his extended love with Pakistan PM Imran Khan. On Thursday, taking a jibe at Union Minister Badal said, "Sidhu was hugging the General who is killing our men. He even spent 3 days with him there. Even his photo is out with the terrorist. He has become a Pakistan agent after going there. Rahul Gandhi should clearly state his stand on this."
Sidhu's picture with Chawla may go wrong with him as he (Chawla) heads the Pakistan Sikh Gurdwara Parbandhak Committee, that provoked anger in India. Chawla recently stopped Indian officials from visiting a Gurudwara in Lahore to meet Sikh pilgrims from India.
Interestingly, Chawla's name has also cropped up in a grenade attack at the Nirankari Bhawan in Amritsar earlier this month that took three lives. Chawla is also believed to be close to terrorist Hafiz Saeed and has also been photographed with him.
Also read: Navjot Singh Sidhu's pic with pro-Khalistan activist triggers fresh controversy; BJP calls him 'Pakistan agent'