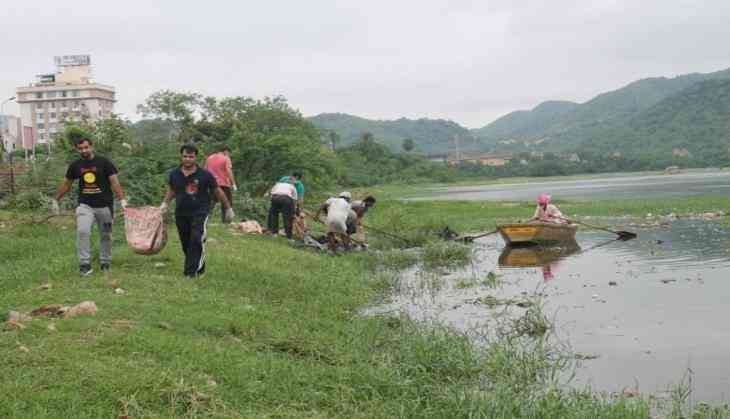 Sailing far off in the beautiful ocean, their hearts beat for Jaipur and its beautiful Jal Mahal that was slowly but steadily vanishing under piles of garbage dumped daily into it. With a common interest, one fine day all of them created a WhatsApp group and every time on reaching a port where they had network in their phones, pinged one another and discussed initiatives for salvaging the wetland, also known as Man Sagar-- how things could be streamlined and when would it be a suitable time to get together on land for this purpose.
It went on like this for months together. Things got delayed due to various reasons but then, of course, as the saying goes, "where there is a will there's a way". Finally the day came when most of the sailors were back in town and able to meet and discuss the state of affairs of Man Sagar.
This particular group, now registered in the name of Rajasthan Merchant Navy Officer's Association, came up with two-day "MY JAIPUR MY PRIDE" campaign under which the Mahal cleanup drive was carried out between July 29 and 30.
From conducting street plays and a music 'chaupal' to tree plantation drives along the roads, they put in all efforts to make the initiative an affair involving all the stakeholders. Catch News caught up with Merchant Navy Chief Engineer Devbrath Singh, who was one of the initiators. Mr. Singh said the group had roped in the members of the local hawkers' association, residents of nearby colonies, Air Force School situated not far from the water body, Jaipur Municipal Corporation, Jaipur Development Authority (JDA) and various NGOs.
"We together managed to take out 20-25 trucks of garbage from the Man Sagar Lake. Besides, there were dead fish as well which too needed to be removed. As many as 200 Jaipur-based Merchant Navy persons who sail away to distance land came together for a cause," Mr. Singh said Acknowledging that a single- day drive was not the ultimate solution, he said the initiative needed both perseverance and follow-up .The very fact that the saplings planted during the drive were uprooted the next day itself pointed to the need for a permanent vigil to keep the lake and its premises clean and green.
He did not hide his disappointment with the civic bodies, JMC and JDA which he said, were responsible for the present state of the historic natural heritage site."As for the people, their ignorance and religious prejudices make them throw bread crumbs and chapatis in the Lake, which the fish feed and fall sick, he observed. Besides, there aren't any guards at the lakeside keeping a watch.
However, Devender Kewaria, Executive Engineer of JDA, who was entrusted with the cleanliness drive, had this observation. "We clean it regularly but nearby vendors, passerby and specially locality people in name of religion throw bread crumbs, chapatis in the water. There have been instances when the locals fought over this when stopped by the guards. Besides, dustbins are placed along the Jal Mahal pavement but nobody seemingly uses them!