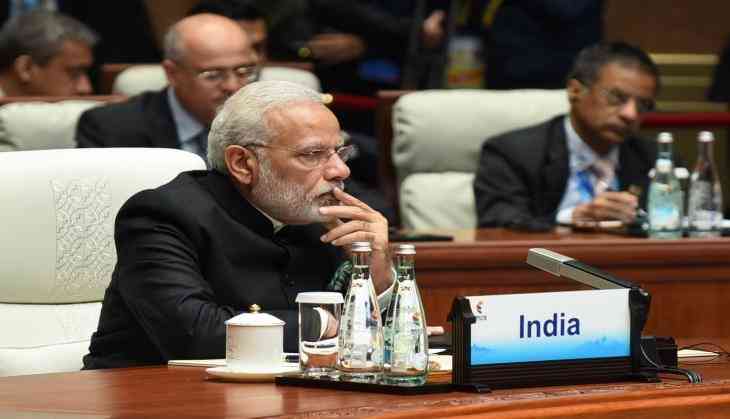 In this era of social media, it has become very common that pictures shared on internet takes no time in getting viral on internet and now Prime Minister Narendra Modi is the person who was targeted for one of his pictures clicked during 9th BRICS Summit.
PM Modi went to China's Xiamen on a three-day visit last week.
PM Modi's picture that had gone viral on the internet was captured in a candid shot when he was listening to a speech during the Dialogue of Emerging Market and Developing Countries.
The picture was captured in a brilliant way by AP's photo journalist Mark Schiefelbein but soon the pic stormed the internet and turned into freshest meme.
Let's have a look at these memes:
5 saal me world tour karna tha,
2 saal bache hai aur 146 countries baaki hai pic.twitter.com/tnSxwJLzoh

— 007 (@James_Beyond) September 11, 2017
Bumrah ko no ball nahi daalna chahiye tha yaar. 🙄 pic.twitter.com/d8AI5c9HYq

— Godman Chikna (@Madan_Chikna) September 11, 2017
Doosri chappal kahan chali gayi pic.twitter.com/exPvK47vpz

— Bakwas Rider (@BakwasRadio) September 11, 2017
😹😹😹 pic.twitter.com/VrxRsjjOi8

— ★ Veer ★ (@ClawedHumor) September 11, 2017
Bore ho raha ab...next foreign trip pe kahan jaun pic.twitter.com/ZbPRFMZJv8

— SwatKat (@swatic12) September 11, 2017
Aaj fir ghar pe tinde ki sabji Bani hai 😭😭😭 pic.twitter.com/BZwEZtDSwT

— Chicken Biryanii (@ChickenBiryanii) September 11, 2017
When you're in class but have many aadhaar things in mind. pic.twitter.com/fjG1nLdmS8

— Pranav (@pranavsapra) September 12, 2017
"Woh ladki bohot yaad aati hai 🎶 " pic.twitter.com/LwTyDqSLUR

— Pakchikpak Raja Babu (@HaramiParindey) September 11, 2017
When you note bandi but the bandi doesn't note you back. pic.twitter.com/K0odR5HXJp

— Light-Say-Burr (@gotzerochill) September 11, 2017
When you have taken so many flights that even in a room you feel you are taking off... pic.twitter.com/ZUpLabty4x

— The-Lying-Lama (@KyaUkhaadLega) September 11, 2017
When she says, "WE NEED TO TALK!" pic.twitter.com/TNd2bahwx7

— Rewa Singh (@BrushUrTeeth_03) September 11, 2017