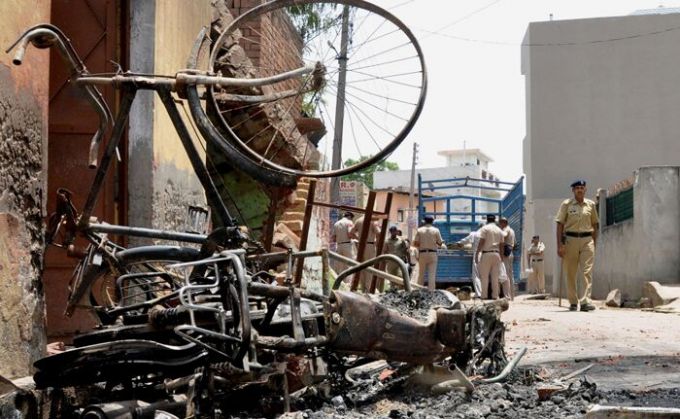 The Jat youth of Atali village in Ballabgarh, Haryana, are on the run fearing arrests. On Saturday, the police started cracking down on the accused in connection with the 25 May riots. Ten people have been arrested and many are reported to be detained.
Meanwhile, the Jats held a mahapanchayat at an adjacent village and demanded the immediate release of those arrested.
Events as they happened
- Communal violence erupts in Atali village in Haryana's Ballabhgarh district on 25 May.
- The village has 1,200 households with a population of about 7,000 according to the 2011 Census.
- 2,000 armed men allegedly set fire to the only mosque in the village. Muslim homes and shops were burnt, rendering 400 Muslim villagers homeless.
- 15 people were injured and 150 Muslims fled the village. Many camp at the Ballabhgarh police station till 3 June.
- Muslims return following assurance of protection by local authorities. However, the Jats are unrepentant and declare that the Muslims can leave the village if they feel unsafe.
- The Jats assert that they will not allow the mosque to be built at the present site. They suggest an alternate site for a mosque, close to a section of the village where Muslims are concentrated.
- Children are the worst affected by the violence. Are scarred and traumatised as they recall their loved ones being attacked with rods, sticks and broken glass bottles.
- Fresh violence breaks out in the village two weeks ago, injuring four people.
- Over 1,200 odd Muslims have left the village so far.
- About a hundred people from the village met Union Home Minister Rajnath Singh on Friday. He has promised to speak to Haryana Chief Minister Manohar Lal Khattar about their safety.
The Muslim version of the story
- That they have been brutally dragged out of the village, thrashed and left homeless by the Jats.
- After the second attack, there is no guarantee of safety even in the presence of the police.
- Are not sure if they will return before Eid, which is likely to be on 18 or 19 July.
The Jat version of the story
- The second round of riots were triggered by the Muslims who disrupted prayers at the temple.
- The Jats have been arrested because the Muslims want revenge.
- Jat teenagers are being harassed by the police which is biased against their community.
- The Muslim allegation that 2,000 men were involved in the riots is not true.
The police version
- They have a list of people who were accused in the FIRs and their involvement is being verified.
- That the arrests are only being made in cases where evidence is available.
- That violence was instigated by some youth who have now fled out of fear of being arrested.
- Relying on the testimonies of victims, the police is tracing the location of cellphones during the violence and getting eyewitness accounts from police officers present during the riots.