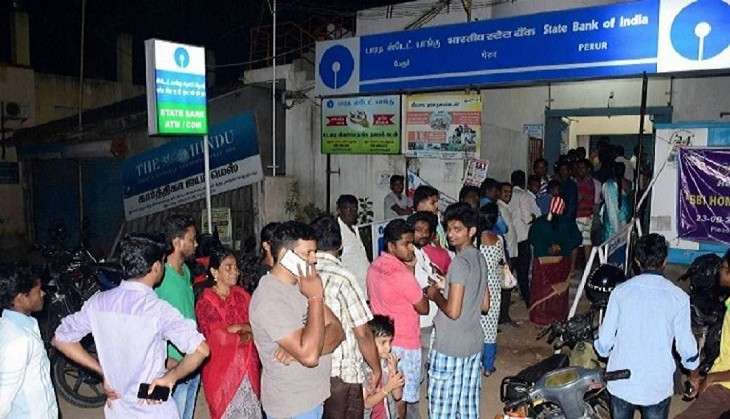 A 45-year-old man died in West Bengal on 3 December morning while he was standing in a queue at a State Bank of India ATM. According to media reports, the man collapsed suddenly and was declared dead when he was taken to the hospital.
But according to some reports, there was a delay in providing help despite several others being there at the queue to withdraw money.
However, according to the doctors at the hospital, Kallol Roy Chowdhury suffered a heart attack and was already dead before he was brought to the hospital. This incident comes just after a day where two more people died near Bandel station, Kolkata around 7:30am.
Also Read: Demonetisation death toll: 82 people & counting as note ban takes tragic turn
NDTV quoted the security guard standing at the ATM as saying, "The man was standing in a line. Suddenly he collapsed and we called a local doctor. Later, he was taken to hospital."
Soon after the report of the death came in, West Bengal Chief Minister Mamata Banerjee slammed Prime Minister Narendra Modi once again.
Unfortunate death toll continues... This morning Kallol Roy Chowdhury collapsed and died in front of SBI ATM at Bandel station 1/2

— Mamata Banerjee (@MamataOfficial) December 3, 2016
My condolences to the bereaved family. Is Modi babu listening? 2/2

— Mamata Banerjee (@MamataOfficial) December 3, 2016
According to a report in NDTV, Chowdhury, worked in the Cooch Behar district, and got off a train at Bandel station on the way to his home in Kolkata's Behala area and decided to stand in the ATM queue to withdraw some money.
"When we noticed he had collapsed, we called a doctor and he was later sent to hospital. His family was informed from contact details that were available on him," a local Panchayat leader was quoted by a leading daily as saying.