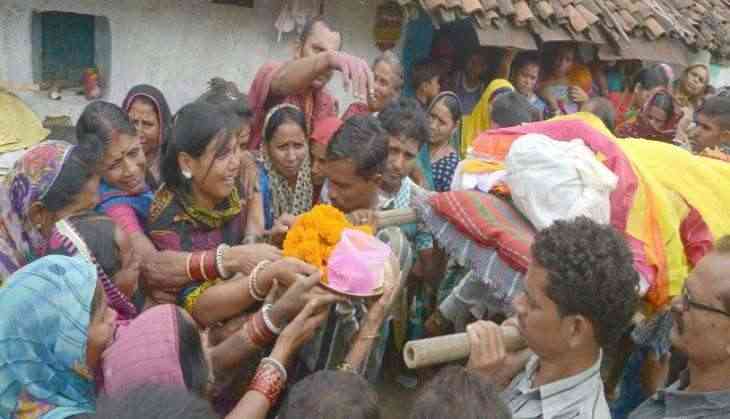 Prime Minister Narendra Modi shook up the economy on 8 November, when he announced that currency denominations of Rs 500 and Rs 1,000 would no longer be deemed valid.
With over 80% of the nation's currency now suspended, the announcement sent the nation into a frenzy, with many queuing up outside banks and ATMs in a bid to get their hands on valid currency. Reports of empty ATMs and banks running low on cash followed, as did reports of people being turned away from hospitals for trying to pay their bills with the now-invalid notes.
While many struggled to meet their needs with the Rs 2,000 - Rs 2,500 ATM withdrawal limit, others struggled to keep abreast of the long list of the government's announcements and amendments in connection with the note-ban since 8 November.
Opposition leaders have joined hands to protest the move and the Winter Session of the Parliament has seen several disruptions over the issue. Opposition leaders have claimed that 90 people have died because of demonetisation.
Also Read:70 people have died due to demonetisation, lodge a case against PM Modi: Congress
Here is the list of deaths between 8 November and 8 December that have been linked to demonetisation. This list has been compiled using data from various news reports. The total number of deaths could vary taking into account the unreported deaths.
8 November
A businessman in Faizabad, Uttar Pradesh, reportedly died of severe chest pains immediately after PM Modi's 8 November announcement. (Financial Express)
In a similar incident, a man died of a heart attack in Kanpur during the 8 November announcement. According to reports, the man had received Rs 70 lakh in advance for selling his land on 7 November - after months of attempting to do so. (ABP Live)

9 November

An 8-year-old girl died in Uttar Pradesh's Mahua Mafi village after being allegedly deprived of timely medical attention. According to reports, the minor's father was turned away from a petrol pump after he tried to pay them with an old note of Rs 1,000 and was delayed while on his way to the hospital. (Hindustan Times)
Teerthraji, 60, died in Gorakhpur after she collapsed in front of the closed gates of a bank in Chandini Chowk area of the Kushinagar disrtrict. The husband of the deceased, a washer man named Ram Prasad, said that she had two notes of Rs 1,000 in savings and had died of shock. (Times of India)

10 November

Kandukuri Vinoda, 55, allegedly committed suicide in Telangana's Mahabubabad district because she was worried about the Rs 54 lakh cash in her possession. The family of farmers had reportedly sold their land to meet medical expenses of the husband of the deceased. (Times of India)
A woman, identified as Madhu Tiwari, was allegedly killed by her husband in Burdwan after she failed to withdraw money from an ATM. (Catch News)

11 November

KK Unni, 45, an employee of the Kerala state electricity board, fell to his death from the second floor while trying to file a deposit slip for Rs 5 lakh. The incident occurred at a Thalassery building and is suspected to be accidental. (The News Minute)
Karthikeyan, 75, died after he collapsed in front of the Danapadi SBT branch in Harippad, Alappuzha. (The News Minute)
Vishwanath Vartak, 73, collapsed and died on the spot after having waited in a queue at a State Bank of India branch at Navghar, Mulund for a few hours. (India Today)
Halke Lodhi, a 70-year-old farmer from Chhatarpur, Madhya Pradesh, allegedly committed suicide after failing to exchange money so as to buy seeds and fertilisers. However, the police have blamed a family dispute for the death. (Hindustan Times)

Also Read: Bengal farmers fear a famine if demonetisation problems carry on longer

A newborn died in Rajasthan's Pali district after an ambulance refused to take the child to a hospital because the parent, Champalal Meghwal, only had notes of Rs 500 and Rs 1,000. (Indian Express)
A 45-year-old man named Ram Awadh Sah reportedly died of a heart attack in Bihar's Kaimur district after he heard about the demonetisation announcement. According to reports, Sah was worried that the Rs 35,000 he had saved, in old notes, as dowry for his daughter would not be accepted. (India Today)
A child died in a hospital in Uttar Pradesh's Bulandshahr after the minor's parents failed to deposit an advance amount of Rs 10,000 in new currency notes for admission. Representatives of the hospital - a branch of the Kailash group owned by Culture Minister Mahesh Sharma - have denied the allegations that they had refused to accept old currency notes. (One India)
Sanno, an elderly woman, died of a heart attack in her house in Kanpur. According to reports, the woman died of a heart attack. An amount of Rs 2.69 lakh in demonetised notes of Rs 500 and Rs 1000 were found near her body. (Dainik Bhaskar)

Also Read:Rural India struggles as demonetisation hits its lifeline - cooperative banks

12 November

An 18-month-old girl, Komali, died in Vishakapatnam after a private hospital in Gajuwaka refused to accept old notes her parents had offered to settle her bills. The toddler died of high fever. (Times of India)
Gopala Shetty, 93, died at Karnataka's Ajekar village in Udupi after collapsing while waiting in a queue at the state-run Corporation Bank. (IANS)
A 47-year-old farmer died in a bank queue at Gujarat's Tarapur town, where he was waiting to withdraw money to pay his workers. "Barkat Sheikh died due to a heart attack when he was standing in a queue at the Corporation Bank branch to exchange his demonetised notes," Tarapur police inspector KC Rathwa said. (PTI)
A two-year-old boy died in Odisha's Sambalpur after his father, Sudarin Surin, was denied transportation to the hospital because of the invalid notes in his possession. Upon reaching the Meghapal hospital, he was advised to take the child to another hospital 40km away. The child succumbed a few hours later. (Report Odisha)
Ravi Pradhan, 45, allegedly committed suicide in Raigarh after he failed to exchange notes to help his family in Tamil Nadu. The deceased, a farmer, failed to exchange Rs 3000 despite standing in queues for two days at a bank in Saraia. (Firstpost)

Also Read: The plight of the rural Indian: standing in a vacuum outside the bank

13 November

Raghunath Verma, 70, a retired school teacher died after waiting for eight hours at the State Bank of India's Madhogarh branch to withdraw money for his daughter's wedding. He suffered a cardiac arrest and was rushed to the hospital where he was declared brought dead on arrival. "My father went to the bank for three days. He had spoken to the bank manager many times asking him to help with the withdrawal and exchange. The manager did not listen to him. He even fell on the manager's feet on Saturday," his son Ravi told HT. (Hindustan Times)

A farmer in UP's Bulandshahr allegedly committed suicide after he failed to exchange his old currency notes to pay for his daughter's wedding. (IANS)
The family of Shabana, 20, a resident of Uttar Pradesh's Shamli, alleged that she committed suicide after she could not get her hands on valid currency to pay for her treatment. (PTI)
Rizwana, 21, allegedly committed suicide in Delhi's Khajoori Khas area. While the kin of the deceased said that she was upset because she could not exchange currency - despite having tried for three days - the police have not been able to confirm the link. (Indian Express)
A former BSNL employee, Vinay Kumar Pandey, 69, died of a heart attack while waiting to exchange demonetised currency at a bank in Makronia, Madhya Pradesh. (PTI)
Mansukh Darji, 69, died after he collapsed while standing in a queue outside Bank of India in Limbdi town of Surendranagar district. (PTI)
A retired government employee, K Lakshminarayana, 70, collapsed and died while waiting in a queue at an Andhra Bank branch at West Marredpally in Secunderabad. (Deccan Chronicle)
Kush, an infant, died in Mainpuri after being denied treatment. Parents of the one-year-old were turned away from a private doctor on account of the demonetised notes in their possession. (Times of India)

Also Read: Limited inconvenience, PM Modi? Baby dies in hospital after hospital refuses to accept old notes

Sumit Kumar, 18, allegedly killed himself in Bulandshahr because he was unable to get his hands on smaller notes. The teen, the son of a BSF jawan, failed to get his notes exchanged on two days. (PTI)
A 45-year-old cashier at the Neelbad branch of the State Bank of India in Bhopal died of a heart attack. The cashier collapsed at the bank at around 6pm after dealing with large crowds on Sunday. (Read full story here)

14 November

Sukhdev Singh, 50, died of a cardiac arrest in Punjab's Tarn Taran after he reportedly failed to use his demonetised notes for his daughter's wedding. (Hindustan Times)
Shekih Chanda Khatun, a 50-year-old mother of three, allegedly committed suicide in Gujarat's Surat after she failed to buy groceries for her family with the demonetised notes. While the woman's children claim she consumed insecticide because of demonetisation, the police have said that the death may have been brought about by a family issue. (Times of India)
A 40-year-old woman named Eshwaramma allegedly committed suicide in Karnataka's Chikballapur district after she lost Rs 15,000 while trying to deposit it at a bank in Gudibande. It is not clear if the woman - who had saved the amount by hiding it from her alcoholic husband - lost the money or if it was stolen from her. (The New Indian Express)

15 November

A bank manager at Rohtak Cooperative Bank died of a heart attack after three stressful days serving frantic customers at the bank. Rajesh Kumar, 56, was found dead in his office. (Hindustan Times)
Lal Muni Devi, a resident of Sapneri village in Bihar, died while waiting in a queue at a Nai Bazar (Khizarsarai) branch of the Punjab National Bank. (Times of India)

Aziz Ansari, 60, an employee at a power loom factory, died in Meerut after he fainted while standing in a queue at a branch of a public sector bank in Gola Kuan. His family claimed that he suffered a heart attack after waiting to exchange currency for three days. (Times of India)
Deshraj Singh, 55, a farmer, allegedly committed suicide in Bulandshahr's Muradpur village after he failed to withdraw money in time for his daughter's wedding. (Times of India)
An elderly man named Surendra Sharma died of a heart attack while waiting in a bank queue at a State Bank of India branch at Aurangabad, Bihar. (Daudnagar)

16 November

A 56-year-old, Khaliq Hasan, died after waiting in a queue in Uttar Pradesh's Bareilly. Hasan, an auto driver, died of a heart attack. (The Hindu)
Suresh Sonar, a 40-year-old man died of a heart attack in Uttar Pradesh's Ballia after he failed to exchange old currency notes at a State Bank of India branch in time for his daughter's 'tilak' ceremony. (PTI)
Tukaram Genu Tanpure, 54, a peon at the Rajgurunagar branch of State Bank of India on the Pune-Nashik Highway, died after he complained of severe chest pains during a busy day at the bank. His colleagues said that he was stressed out as a result of the heavy rush and was working close to 12 hours a day since the 8 November announcement. (PTI)

Also Read:Farm to factories, brick kilns to cane crushers. Demonetisation pinches all

Digambar Kasbe, 60, a resident of Belapur, died after he fainted while waiting in a bank queue in Marathwada's Nanded. (Hindustan Times)
Ishteyak Ahmad, 70, a retired teacher, died in Uttar Pradesh's Azamgarh after he collapsed while in a bank queue. (Times of India)
A tempo driver, Khaleek Hasan Khan, 45, died at a bank in Bareilly after waiting for three days. He collapsed after he managed to exchange his older notes. (Times of India)
A 70-year-old woman named K Vijayalakshmi died in Andhra Pradesh's Krishna district while standing in a queue at a State Bank of India branch. (Times of India)
Abhijeet Paul, the driver of a van carrying cash being transported from a bank to a tea garden estate in Assam, was killed after the vehicle was attacked. An employee of the Pengeri Tea estate - in Tinsukia district - as well as a security personnel were injured in the attack. (PTI)
Saud Ur Rehman, a resident of Old Delhi, allegedly fell ill after he stood in a queue outside a bank in Lal Kuan for over eight hours. The 48-year-old was taken to a hospital where he died. According to reports, Rehman had been visiting the bank for the last two days. He would reach the bank at around 5am but the cash would run out before his turn. (PTI)

17 November

Siya Ram, 70, a daily wage earner, died in UP's Hathras due to brain haemorrhage. His family has alleged that his death was brought on because he had stood in long queues for three days to exchange currency at the Burz wala Kuan Canara Bank branch. (ANI)

18 November

Mohammed Idrees, 45, died of a heart attack after he failed to exchange old notes. He had reportedly made the rounds of a number of banks as he did not have a bank account. (PTI)
An employee of the Gandhi Nagar branch of State Bank India, Rampantula Venkatesh Rajesh, died of cardiac arrest. The 51-year-old was rushed to the hospital where he was declared dead. (Nagpur Today)

Also Read:Dear PM, come see the ATM queues. The poor, & middle class, are not sleeping soundly

19 November

Ratna Ram, a 75-year-old former serviceman, died in a bank queue at Rajasthan's Pilani. (The Tribune)
SK Sherrif, a 46-year-old deputy manager at a Nellore State Bank of India branch allegedly died of stress following the cash rush. (The News Minute)
Kamta Prasad, 75, took ill and died while waiting in a queue before Dhikauuni branch of Bank of India in Harodi in UP. (PTI)
Babu Lal, 50, died of a heart attack in Aligarh after he failed to exchange currency notes in time for a wedding in the family. (PTI)
Kaushalya Devi, 80, a resident of Karnal, died after she collapsed while waiting in a queue at Central Bank of India's branch at Chaura Bazaar. According to reports, she was at the bank to submit her pension certificate. (Read full story here)

20 November

An 8-year-old boy died in Jammu province's Samba district after his father was unable to provide medical treatment for a lack of valid currency. Greater Kashmir reported that the man had unsuccessfully tried to exchange cash - Rs 29,000 in old notes - for three consecutive days before he carried his child on foot to a hospital almost 50km away from his village, Doonga. (Greater Kashmir)
Haider Ali, a tailor and a resident of Shafichak village of Bihar's Sherghati area died after he suffered a heart attack that had been reportedly brought about because he failed to withdraw money. (Times of India)
Dinabandhu Das, 58, allegedly died of shock when he heard that the huge sum of money he had withdrawn before the announcement, for his daughter's wedding, was not invalid currency. (IANS)

21 November

A three-year-old girl died in a bank in Uttar Pradesh after her father failed to withdraw money from an Allahabad UP Grameen Bank in Tindwari in Banda district. (Hindustan Times)
Suresh Prajapati, a 19-year-old youth allegedly killed himself in Mawai Buzurg village after he failed to withdraw money to pay his college fees on time. (Hindustan Times)
Satish Sharma, 49, died in west Delhi's Najafgarh after he collapsed while waiting to deposit money in a branch of the Oriental Bank of Commerce. 57. According to a reports, Kumar, a vegetable vendor, waited for almost six hours in the bank queue. (Hindustan Times)
Ramnath Kushwaha, 65, a resident of Gulriha village, was trampled to death in a stampede at Tarkulwa, Deoria branch of the State Bank of India in Uttar Pradesh while waiting to withdraw money to settle hospital bills. (Read full story here)
Omanakuttan Pillai, 73, allegedly killed himself in his house in Kerala's Kalaketty after he failed to withdraw the Rs 5 lakh he had deposited from the Kanamala Service Co-operative Bank. (Times of India)

Also Read:Sex workers in Bihar face the brunt of demonetisation

A minor girl from a Dalit family died in Chaapar village in Banda district after her parents failed to withdraw valid currency to pay for her medical treatment. (Amar Ujala)

23 November

Piara Singh, an 84-year-old man, died of a heart attack while waiting in line to withdraw money from a post office in Jabalpur, Ludhiana. (The Quint)
Ravinder Singh, a 42-year-old farmer of Majupura village in Punjab's Majitha, allegedly committed suicide after failing to withdraw cash from a bank at Chetanpura village after several attempts. However, police have denied that his death was caused due to the cash crunch. (The Tribune)
Manju Manjhi, a resident of Gaya's Orma village, died after being denied urgent dialysis. According to reports, the dialysis wing of the Anugrah Narayan Memorial Magadh Medical College in Gaya refused to accept his demonetised notes of Rs 500. (Times of India)
Jilubhai Khachar, 70, died after he suffered a heart attack outside a Bank of Baroda branch in Gujarat's Ranpur. (PTI)

Also Read:Demons of demonetisation haunt students; some even got groped and assaulted

24 November

The following deaths occurred between 24-26 November. The exact date of the deaths is unclear:

Indrasani Devi, 70, fell ill after waiting for three hours outside a Central Bank branch in Ratsad area of UP's Ballia and later died of a cardiac arrest. According to reports, Devi's daughter-in-law was forced to queue up at the same bank in order to withdraw cash for her cremation ceremonies. (PTI)
Murti Devi, 85, died while waiting to withdraw money from a Punjab National Bank in Muzaffarnagar's Hanuman Chowk. (PTI)
Akbar, 27, a rickshaw-puller, allegedly committed suicide at Khujra, near Bulandhahr after he failed to exchange four demonetised Rs 500 notes. (PTI)

25 November

Chiranji Lal, a 70-year-old man, died after he fell sick while waiting in a queue in Kaladera, Jaipur. He collapsed on 22 November and was rushed to a hospital. (PTI)
A pharmacist allegedly committed suicide in Karnataka after being accused of stealing. The brother of the 27-year-old man told Bangalore Mirror that the manager of the pharmacy at Subbaiah Hospital on MS Ramaiah Road in Mathikere had accused him of stealing after he refused to exchange demonetised currency. (Bangalore Mirror)

Also Read:

Plight of a banker: 'note ban has left us helpless to ease human misery'

A 19-year-old youth allegedly committed suicide in Ludhiana after the note ban rendered his savings worthless. The deceased, identified as 19-year-old Lucky, was into the rag-picking business. (Times of India)

28 November

A former serviceman died in a bank queue in Ladnu city of Nagaur in Rajasthan. Veteran Prahalad Singh, 70, fainted while waiting at a branch of the State Bank of Bikaner and Jaipur. (The Tribune)
Congress leader Darshan Singh died of a cardiac arrest while taking part in a Gwalior Janakrosh rally to protest demonetisation. (PTI)

Also Read:Exams, ATMs and long queues: Students hit hard post demonetisation

29 November

Prabhati, a newly-married woman, was allegedly killed by her in-laws in Rangipur village in Odisha's Ganjam district after her family failed to pay them dowry of Rs 1.7 lakh in the new notes. The wedding took place on 9 November, a day after the announcement. (Financial Express)
Dharani Kanti Bhowmick, 56, a resident of Bhowanipore in Kolkata died while standing in the queue at an ATM in Bhownipore for three consecutive days. (Catch News)

30 November

An elderly man died after he collapsed while waiting in a queue at a Bank of Baroda Jalandhar branch in Bhagwan Mahavir Marg. According to the Hindustan Times report, the deceased, a cloth trader, was withdrawing money fo his son's wedding. The bank manager reportedly paid the man's relative's Rs 10,000 for treatment. (Hindustan Times).
An 80-year-old man died while he was waiting to withdraw cash from the State Bank of Bikaner and Jaipur in Rajasthan's Rajgarh town. The deceased - Munna alias Mohan Lal - collapsed after he took the cash from the bank. (PTI)
A man named Shibu Nandi allegedly committed suicide in Behala after he failed to pay his labourers their wages owing to demonetisation. The exact date of the incident is unclear. (Catch News)

Also Read:Payday blues: Many unable to access salary as ATMs, banks run dry; RBI maintains 'no cash crunch' stance

A 32-day-old girl died in the arms of her mother, Arguna Khatoon, while she was waiting in a crowded room at a branch of the United Bank of India in Bihar's Balrampur. A mob vandalised the bank after news of the infant's death spread. (The New Indian Express)

2 December

Biswadeb Naskar, an 80-year-old pensioner died after he took ill while in queue to draw his monthly pension in front of the branch of the UBI Bank at Raidighi in South 24-Parganas district. A resident of Kankandighi in the Raidighi police station area, Naskar was taken to a local hospital where he was declared 'brought dead'. His body was taken to Diamond Harbour for post mortem. (PTI)
72-year-old Rabin Mukherjee died just after withdrawing money from an SBI branch at Machlandapur town. His body was taken to a hospital in Habra for post mortem. (PTI)

3 December

Kallol Roy Chowdhury, a 45-year-old succumbed to a heart attack while standing in a queue outside an ATM near Kolkata. The deceased was a state government employee, who was posted in Cooch Behar district. The incident took place near Bandel station, in Hooghly district. (India Today)

6 December

Razia, a 45-year-old mother of four, died days after she allegedly self-immolated on 20 November when she "failed to exchange six demonetised notes of Rs 500 denomination after repeatedly standing in queues outside banks". Razia, a resident of Shahjamal area of Aligarh, was a mother of four. (The Hindu)

7 December

Modu Singh Gurjar, 46, an employee of Rajasthan Tourism Development Corporation (RTDC) died after he suffered a cardiac arrest while standing in a bank queue to withdraw money. He was at a bank in Chandwaji town when he complained of severe chest pain and fell unconscious. Gurjar was soon rushed to the nearby hospital but was declared dead on arrival. (PTI)

Ibohanbi Akoijam, a 70-year-old pensioner died after fainting in a queue at the head post office in Imphal. Officials at the post office said they gave the man first aid. Since there was no sign of improvement he was shifted to the regional institute of medical sciences in Imphal. (IANS)

9 December

An elderly woman, who was standing in a queue outside a bank to withdraw money died in Ludhiana after she was allegedly pushed by a bank guard. Her kin have accused the security person for pushing the woman which leads to her injuries and death. (ANI)
- (With inputs from Nishant Saxena Blassy Boben and Sulagna Sengupta )