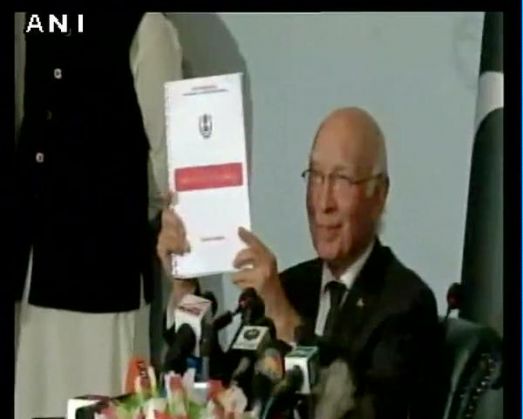 Even as uncertainty continues over National Security Advisers' level talks between India and Pakistan, here are the major highlights of the press conference held by Pakistan NSA Sartaj Aziz.
As far as we are concerned we are still ready to hold the talks.
It's strange that they will expect that discussion on meeting with Hurriyat will become part of agenda; it's not a substantial item.
When I go to India I meet different political leaders, when they come they meet opposition and other leaders.
One doesn't put such items on agenda, but the fact that they are linking this Hurriyat that Kashmir was not on agenda, is incorrect.
We agreed on discussing all outstanding issues, & who doesn't know what is the most imp outstanding issue, it's Kashmir.

We have already stated no serious dialogue with India is possible unless Kashmir is on agenda, that's the core issue.

We are witnessing continuous ceasefire violations from Indian side

Unfortunate that in past two months more than 100 ceasefire violations took place resulting in many casualties on Pak side. Pakistan only fires in self-defence.

Will carry dossiers carrying information of RAWs involvement in spreading terrorism in Pakistan.

The word 'K' (Kashmir) is very much there in that statement (Ufa), we agreed to discuss all outstanding issues.