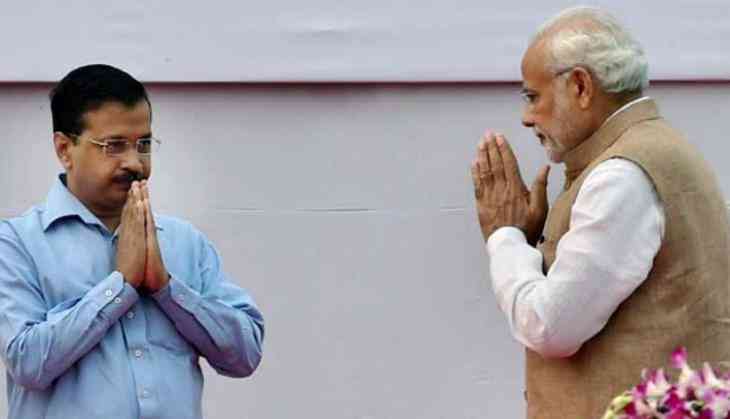 CM Arvind Kejriwal and PM Modi
Taking a jibe at Prime Minister Narendra Modi, Delhi CM Arvind Kejriwal has lodged a complaint over Twitter after an abusive tweet by a Maharashtra BJP spokesperson attacking the latter.
Kejriwal in a tweet complained to PM Modi about the tweet by BJP's Avadhut Wagh, who in his profile bio has written, 'being followed by PM Narendra Modi,' and the Delhi CM added that "our people can also abuse, but they don't because they are Hindu."
Kejriwal, while sharing the abusive tweet by Avadhut Wagh, wrote, "Prime Minister, you follow this person on Twitter. He is your pupil. He is BJP's office bearer. We can also abuse. But we are Hindu. Our Hindu culture doesn't teach us to abuse others."
प्रधान मंत्री जी। आप इसको ट्विटर पे फ़ॉलो करते हो। आपका चेला है। भाजपा का पदाधिकारी है।

गाली हमारे वाले भी दे सकते हैं। पर हम हिन्दू हैं।हमारी हिन्दू सभ्यता हमें गाली देना नहीं सिखाती। @narendramodi https://t.co/RYUpteOKnL

— Arvind Kejriwal (@ArvindKejriwal) March 8, 2019
The profile bio of Avadhut Wagh on Twitter says, "Spokesperson-Maharashtra BJP BE(Mech) MFM Engineer by Profession~Politician by Passion #RSS #Sawarkar #Shivaji followed by my living God @narendramodi ji."
It has happened in the past when journalist Gauri Lankesh was killed outside her residence in Bengaluru, a Twitter user abused the journalist and ironically, he was being followed by PM Modi.
AAP leader Preeti Sharma criticised Wagh's remark and said that it's an insult to the world's largest democracy.
"Mumbai police should take cognisance of Wagh's bid to instigate hatred and violence and take action against him," she said, as quoted by news agency PTI.
As the elections are around the corner, the Twitter warfare will only increase and the social media engineering can act as a deterrent for the political party's to influence the voters.
Also read: On Balakot air strike evidence, PM Modi's answer: 130 crore Indians are my proof